DIY Giant Cupcakes!
Uncover a land of Giant Cupcakes, fairy dust, and butterfly kisses with this adorably sweet treat of a DIY project!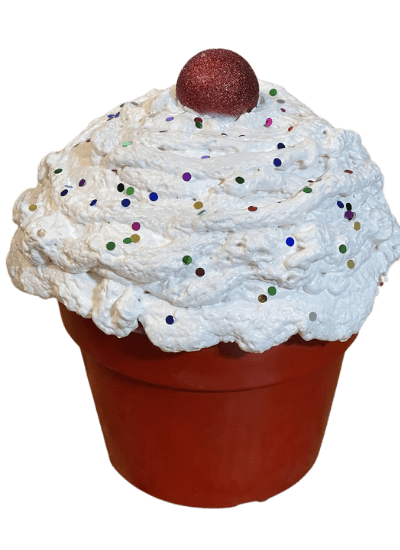 Expansion Spray foam
12″ planter pot, round plastic trash can, or plastic bucket
heavy duty cardboard
Red spray paint (or any color of your choice for the "cupcake wrapper"
White spray paint
Red Christmas ornament (for the cherry)
Glitter, colored beads, or metallic confetti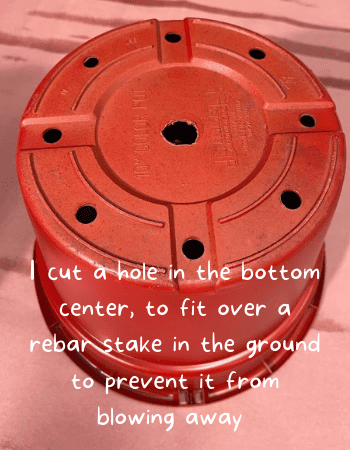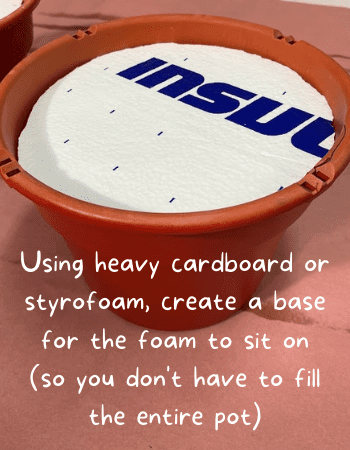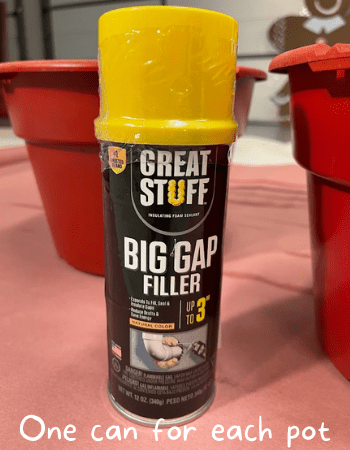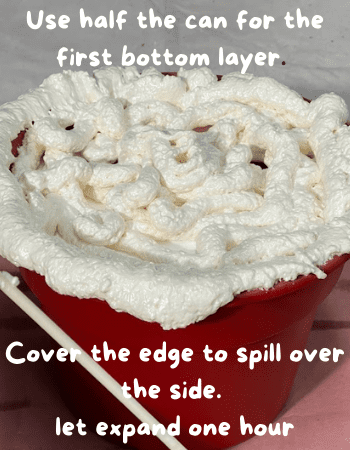 A few things to note:  The expansion foam is very messy. Wear disposable gloves and follow the directions on the can.  Hint…Shake is for at least a full minute!  Use it slowly, and don't try to rearrange it or touch the foam, it'll get everywhere.  So be deliberate with your placement.  You can practice with the bottom layer since most of that will be covered.
This can is also a kind-of one-time use thing.  (click here to see how you can extend the life of your can), so plan on making two cupcakes.  Use 1/2 of the can on the first layer of each cupcake.  That should use up one whole can.   After 45 minutes to an hour later, use your second can for the top pyramid layer of the two cupcakes.
The foam takes a couple of hours to fully expand and 24 hours to fully cure.  You may think you have frosting that melted, but it will grow, just give it time.  And if you're not happy, add a little more.
Time to paint
The expansion foam has a yellow hue to it.  I chose to paint it white. Pink or blue frosting would be fun, too.  Cover and protect the area outside of the foam from overspray – You only want the "frosting" to be painted.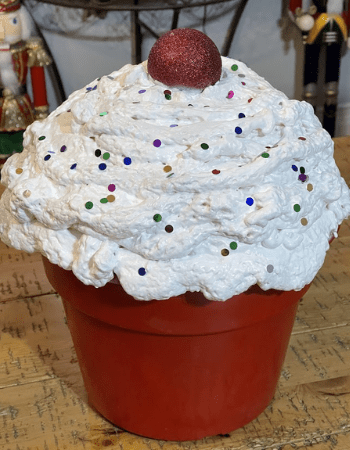 Now Decorate!
Add glitter, small beads, sequins, or confetti to your cupcake.  Any craft embellishment will work.  Use waterproof glue or Mod Podge to hold it in place. Design any fantasy cupcake your imagination can dream up!
4 fun reasons to make giant cupcakes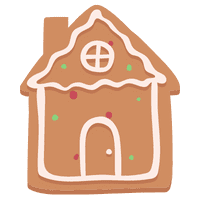 Christmas display
Perfect detail for a gingerbread display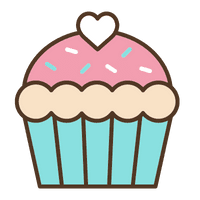 Dessert Bar prop
Wedding decoration for a dessert bar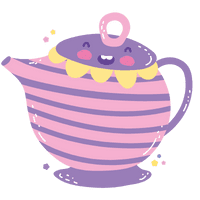 Tea Party
Think "Alice in Wonderland & The Mad Hatter" kind of afternoon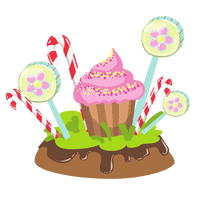 Candyland Theme
Upgrade a children's party
"When you share a cupcake, you share love." – Unknown Author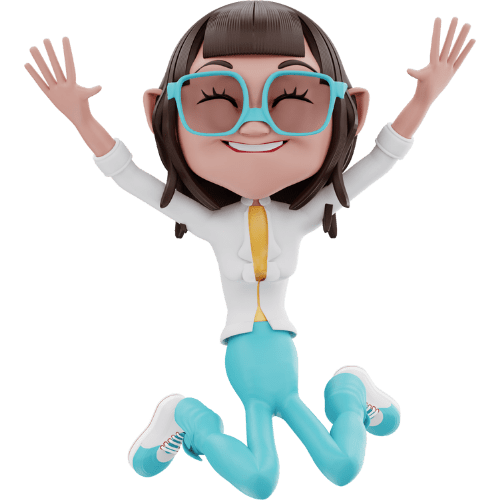 This post may contain affiliate links. Danelia Design is a participant in the Amazon Services LLC Associates Program, an affiliate advertising program designed to provide a means for sites to earn advertising fees by advertising and linking to amazon.com. For more information, please read my disclaimer here.