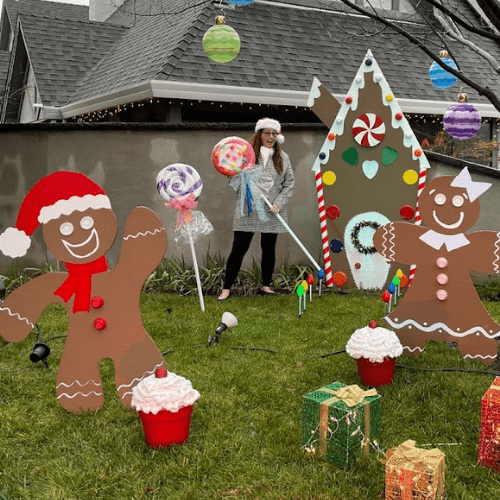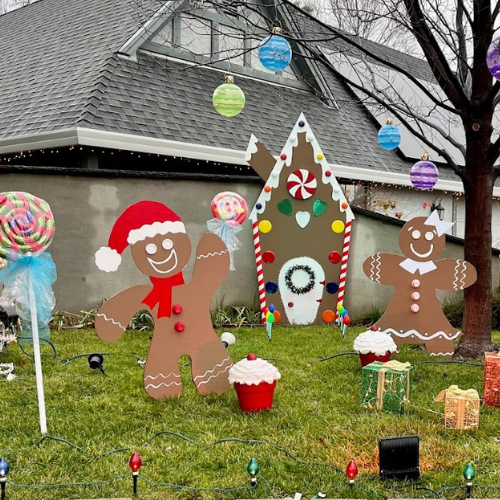 Make this giant Gingerbread display using insulated foam board. Here's A DIY project for any skill level! Give yourself a weekend or two, and you'll have the cutest lawn on the block!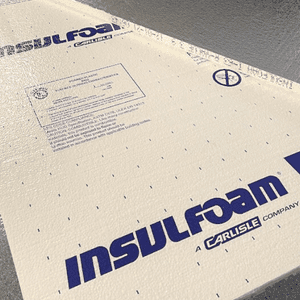 (2) Insulated Foam Boards in 8'x4′ sheets. One for the gingerbread house and a second to make two gingerbread people.  They were about $13 each @ Lowes
Quart size brown, red, and white exterior latex paint & primer combo.  I used HGTV Sherwin Williams "Kaffee" in a matte finish, HGTV SW high gloss "Extra White", and Krylon ColorMaxx "Gloss Banner Red".
1 can white spray paint
Acrylic craft paint colors or spray paint for the "candy"
Misc plastic cups, lids, small bowls, & plates (all found at the dollar store)
(2) White pool noodles
Red duct tape
Paintbrushes
(1) 3/4″ PVC and (2) 1/2″ PVC pipes (sold in 10′ lengths)
PVC cutter
Glue gun, glue sticks
E600 craft glue
Hot knife styrofoam cutter, or a long blade utility knife
Giant lollipops
A pretty quick and easy pool noodle project to add to your Gingerbread display
Giant Cupcakes
Super cute cupcakes using a planter pot and Great Stuff spray foam
INflatable Ornaments
Large beach ball size ornaments are the perfect detail to complete your Gingerbread display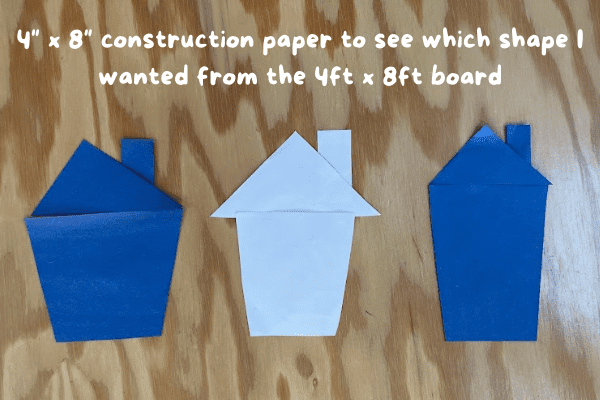 Choosing the layout
Since the insulated foam came in 4'x8′ boards, I cut out 4-inch by 8-inch pieces of construction paper to help me decide the basic layout with the least amount of cuts. Originally I was going to cut the roof as a separate piece, so I could break it down for storage. I ended up making it one large piece and reinforced it with 6 1/2 ft long pieces of PVC (see below)
Play around with it in a small model size before you start any actual cutting of your board.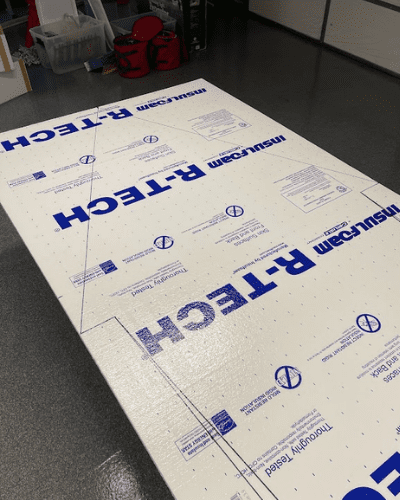 4'x8' Insulated foam board
Using a straight edge of any kind (we had extra trim board laying around) Draw the outline of your house. Don't worry about pen marks or mistakes, they'll be covered up with paint.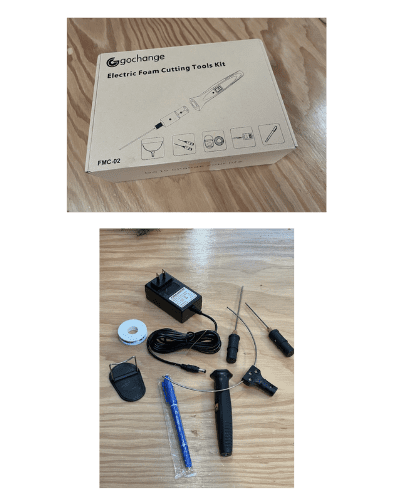 Heat foam cutting tool
You can use a utility knife for straight edge cutting, but to easily make curved cuts, this tool is a lifesaver! It's a little slow going, but melts right through the styrofoam, like butter! Click here to buy on Amazon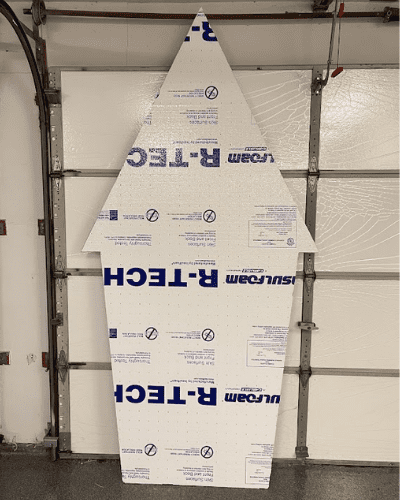 8 Ft Tall Cut Out
By using a slight angle cut (instead of a perfect right angle of 90-degrees) for the body of the house I was able to cut roof eves.
The leftover foam board became the cut-out for the chimney.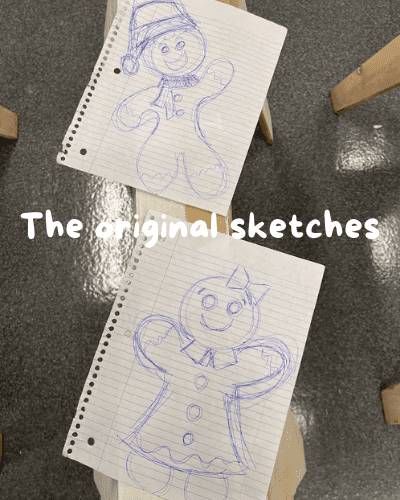 Sketch it out
The design options for your gingerbread people are endless. I looked all over the internet and combined the parts I liked the best. Pinterest is your friend here. Also Googling "Gingerbread clipart" will give you a ton of images you can use.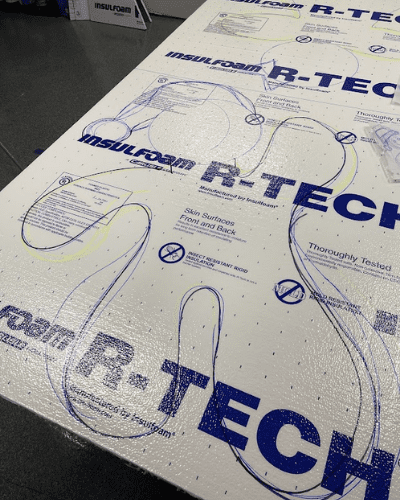 Transfer your image
Mark the halfway point on your board, to have 2 four foot sections to work with. Transfer your drawing to each half of the board and using your heat tool, cut the pieces out. You'll end up with two 4 foot tall gingerbread people.
The foam board cutouts will be painted an outdoor-rated "gingerbread" brown paint. (think exterior house paint)
A combination of paint and primer works best. One quart of brown was more than I needed for the house and both gingerbread people. I drew in the areas for the detail on the Santa hat and the dress collar and bow. Those were painted red, white, and a light blue. The light blue was leftover from another project I did a while back, so I decided to use it. Get creative and use any colors you like.
Exterior paint and primer will be what saves you from the elements. If you don't use exterior paint and choose any other product, this should be for INDOOR use only!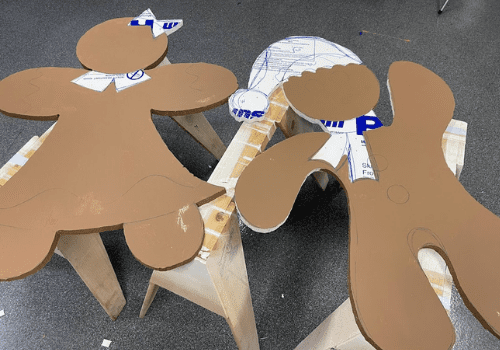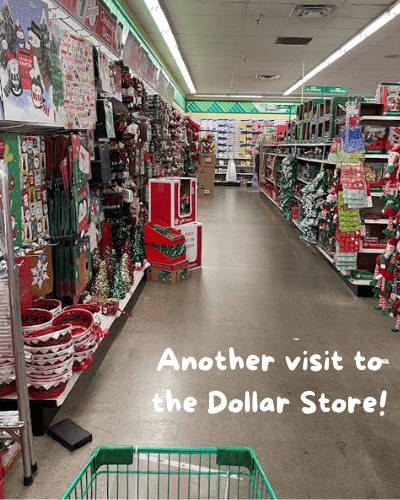 Let's go shopping
A visit to the dollar store gave me all I needed for the "candy" pieces of the house and for the buttons and eyes of the gingerbread people. I also picked up 3 tin hearts and a plastic wreath and small glittery pom-poms in the craft section of the store (see below)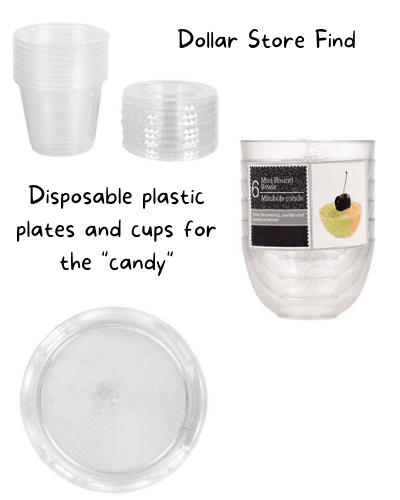 For the Candy
I purchased various sizes of small disposable dishes in the party section. Use your imagination. Anything that can be painted, can look like candy!
You'll also need 2 white pool noodles and red duct tape to create candy cane accents.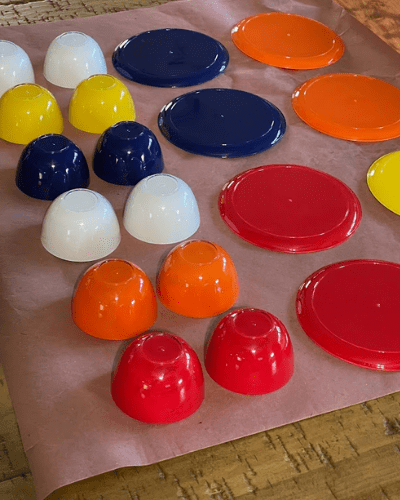 Painting
Paint the INSIDE of the dishes, so when you flip them over, the shiny plastic will make a nice impact. This will also help to waterproof them. I recommend using spray paint for this process. Craft paint will also work but expect it to be much more time-consuming and need more coats of paint.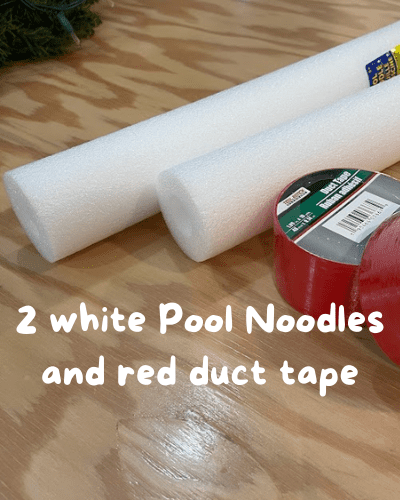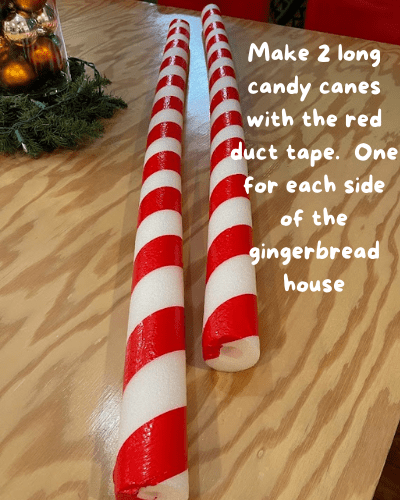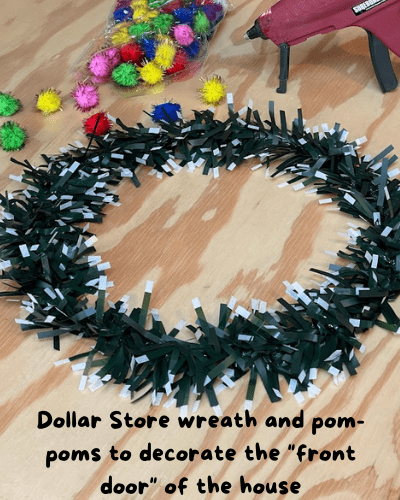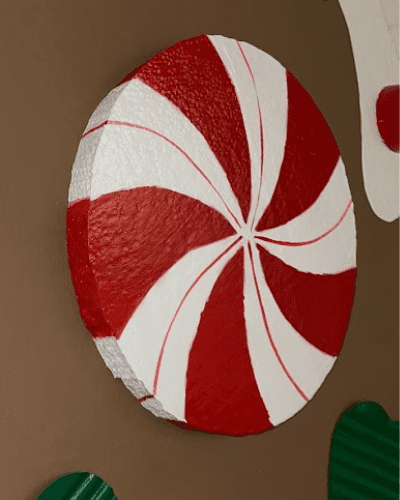 Peppermint
Using the extra leftover foamboard, you can make more candy pieces for your gingerbread. Candy canes, peppermints, or  m&m's. And 2-inch slices of colored pool noodles will look like fruit loops. The sky is the limit!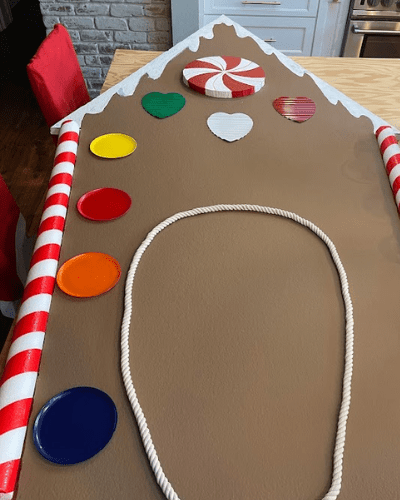 Dry Fit
Once all your candy pieces are painted, you can dry fit to find the best locations. Originally, I was going to use a piece of rope to outline the door to add a 3-D look. But with the rain, I decided that was a bad idea, and used it as a template for the door shape instead.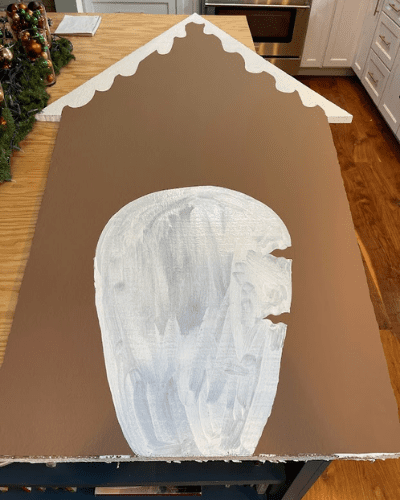 More painting
Exterior white all-in-one paint and primer was used for the snow on the eves and for the front door. Surprisingly, it took 3 coats to cover completely. I also drew in door hinges and painted them red.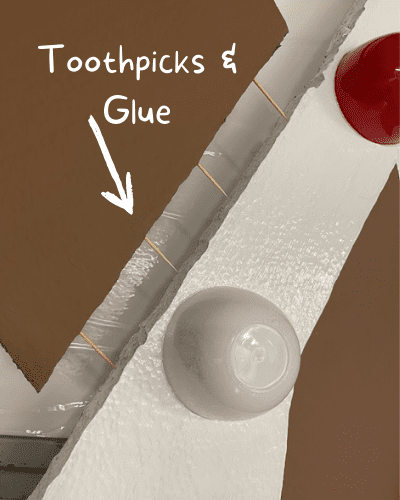 The chimney
Since the chimney was a separate piece, I attached it to the roof with toothpicks and a glue gun using Gorilla Glue gluesticks.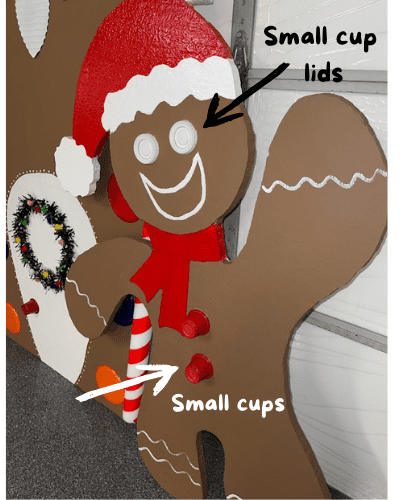 Gingerbread Accents
The small cups and lids became the eyes and buttons for the gingerbread people. Again, when painting, paint the INSIDE of the plastic. Spray paint will make them waterproof and also make for quick and easy work.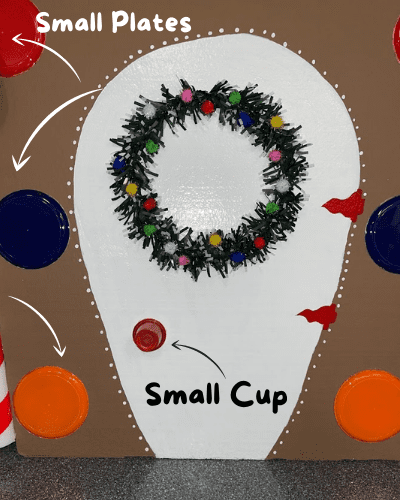 Glue
Add the other candy pieces to the areas of your choice. I glued the wreath on the door and added the "doorknob" cup.
I found that in order to use the gluesticks and make things secure, carving or niching into the foam a little bit will give the glue better hold. With our first big storm, some of the candy fell off. Dry-fit the piece and push it into the foam to indent an area for the glue. Pressing hard enough to break through the painted layer and into the styrofoam. Using the heat tool or a knife would work, as well. E-6000 craft glue may have been a better choice here, since it's waterproof.
More Candy
The mini cups became gumdrops. Gluing small clear beads on the exterior of the cups would give a "sugar coating". Outdoor Mod Podge and chunky white glitter with a clear coat sealer is another option. I don't have enough patience for that level of detail, so plain it is.  Kudos to you, if you go the extra mile!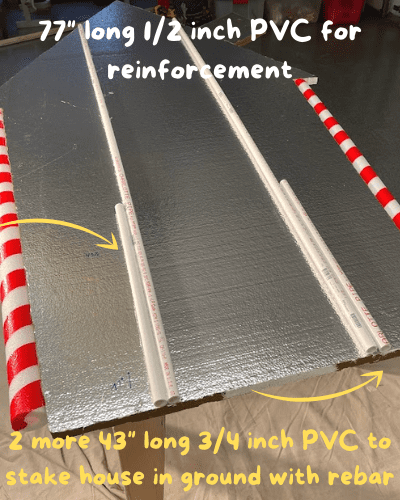 Reinforcement!
To make sure your 8-foot tall work of art doesn't snap in half under windy conditions, reinforce it with 2 long pieces of PVC from top to bottom. I used a glue gun, working my way quickly down the pipe.  This will help it from bending, breaking, or having the paint peel where it might bend.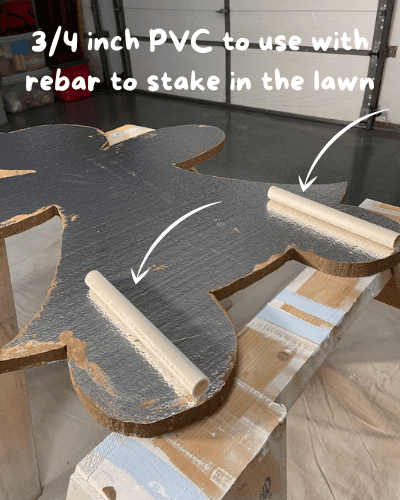 PVC and Rebar
I used hot glue to attach 3/4 inch PVC to the back of each gingerbread person. Rebar comes in 1/2″ width, so it will easily slide in.
Note: Use a long reinforcement piece for the gingerbread people from top to bottom (not shown), as you did with the house.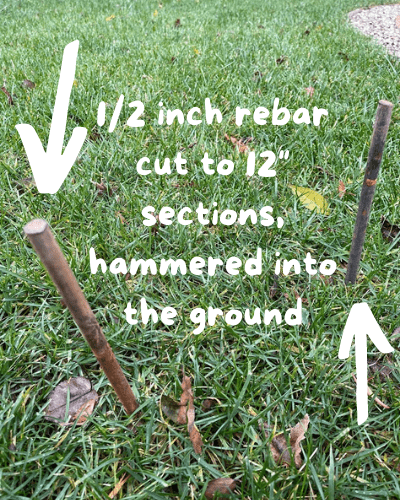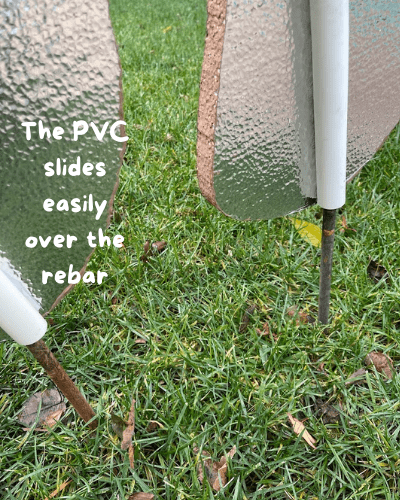 No Rebar? No Problem.
Rebar is sold in lengths of 20 feet. Lowes or Home Depot won't cut to size, but they can usually cut it in half for you (call and ask for the Contractors department to verify) If you don't have the tools yourself or can't find someone to cut them for you, look for utility stakes or shorter rebar pins. Just make sure they are a smaller width than the opening of your PVC.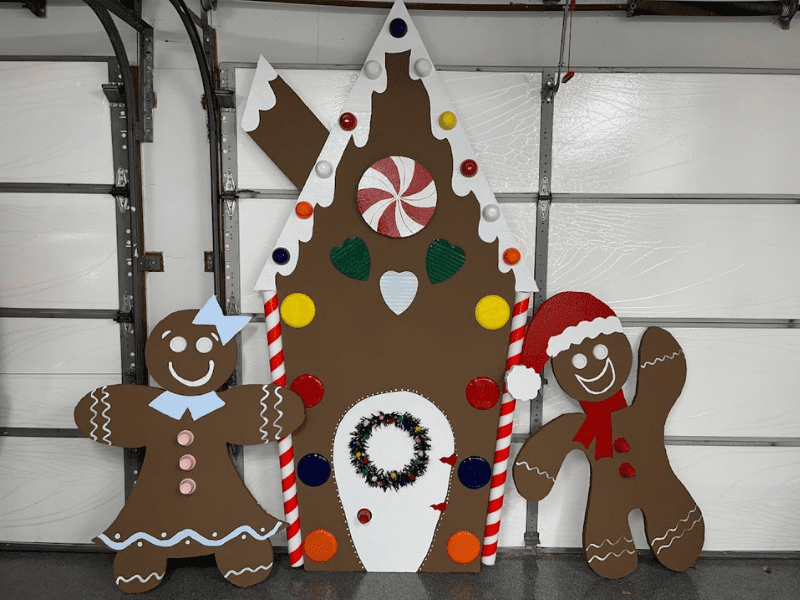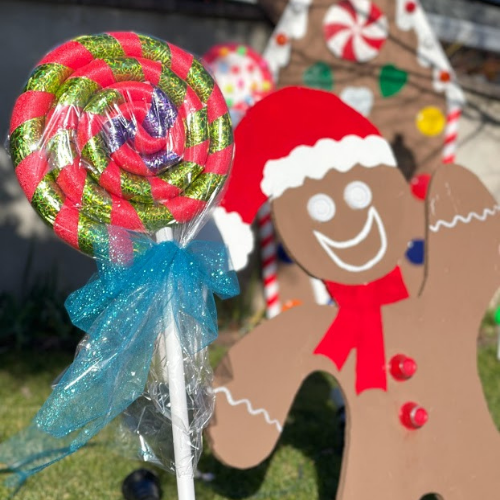 Set the Scene
Add more props!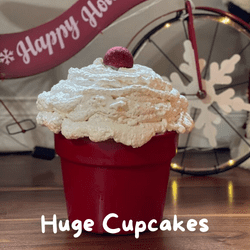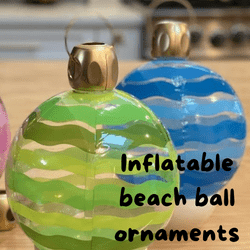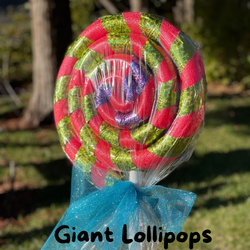 Make Willy Wonka Proud!
The candy man can because he mixes it with love
And makes the world taste good!
This post may contain affiliate links. Danelia Design is a participant in the Amazon Services LLC Associates Program, an affiliate advertising program designed to provide a means for sites to earn advertising fees by advertising and linking to amazon.com. For more information, please read my disclaimer here.