Games for Halloween: Candy Corn Ring Toss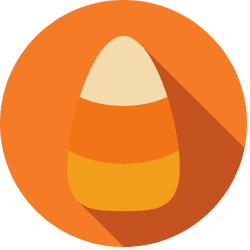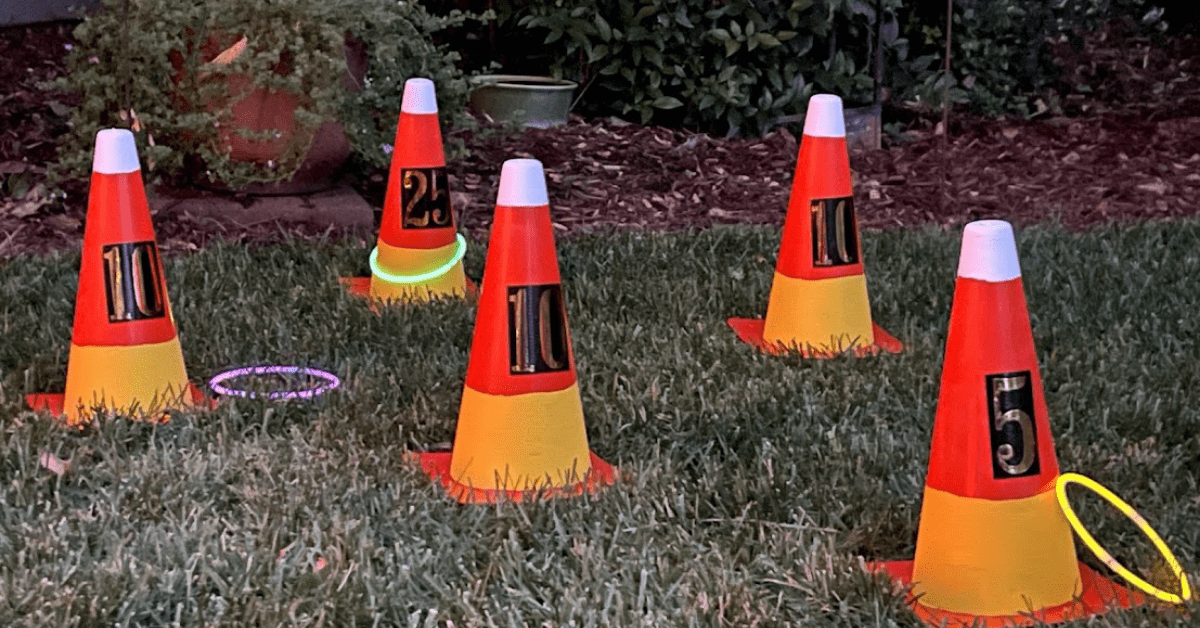 DIY Entertainment For less than $10
One trip to the Dollar Store (or the .99 cent store, to save a penny) and you've got the makings for a fun ring toss game for the kids.  And honestly, it's even challenging for the grown-ups.  Meaning, the kids may beat you and take home the trophy!  Make it a contest (drinking game?) and see who can score the highest.  First to reach 50 wins!

Other items you may already have:
Rubbing alcohol
Fine grit sandpaper
Tape
Paintbrush
Optional: clear coat spraypaint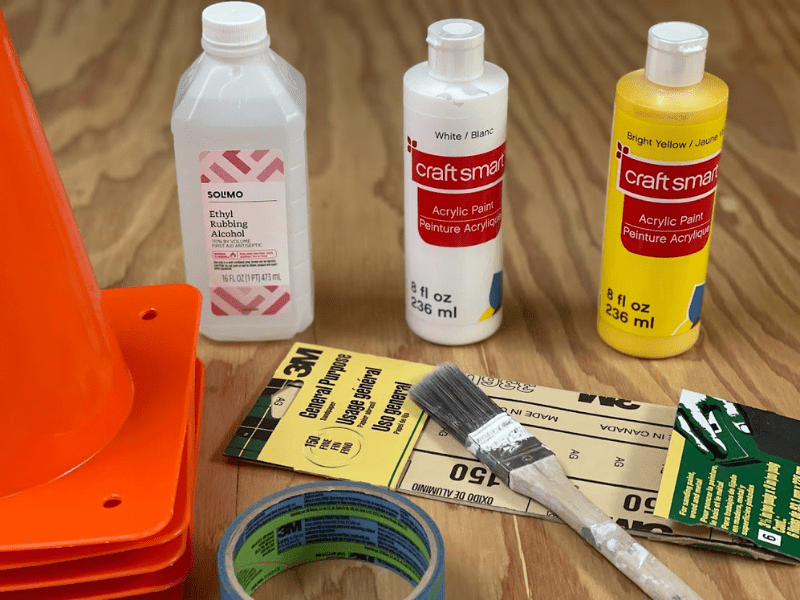 Start by cleaning your Safety Cones.  Rubbing alcohol will remove any oils or fingerprints to give you a clean slate to paint. Soap and water will also work.
Tape off the areas that you'll be painting. The top section will be white and the bottom section will be yellow.  Luckily you won't have to paint the middle, since it's already orange!
Using fine-grit sandpaper, sand the areas that you'll be painting.  The sandpaper will give the paint a rough surface to stick to.
Alternatively, you can free-hand your painting without the taped-off areas.   I found the tape to be a pain, so I estimated the general area and with a steady hand, painted the cones.   The tape will give you really sharp clean edges, but sometimes I just don't have the patience for tedious details.
Apply 2-3 coats of paint, to dry fully between coats.  Depending on how many Safety Cones you have, you may need more than a 2-ounce bottle of yellow paint. You'll use very little of the white.
Using a small amount of clear coat spray paint will "seal" in the acrylic paint, but is not necessary.  I happened to have some from another project, so I took advantage of it.
You'll want to number your cones with a point system.  For simple math, I used 5, 10, and 25.  This makes it easy for the kids, and for any adults that may decide this would be a fun drinking game.  🙂  I had leftover mailbox number stickers, but you could use a sharpie pen or any craft store will have sticker numbers in other colors.
Lastly, you'll want to get your glow sticks ready.  Since they only glow for a limited time (8-12 hours) you'll want to wait until game night.  Simple colored plastic rings can also be purchased

here.

# of players: Two players or teams
Object of the game: To be the first player or team to reach an agreed-upon total score: usually 50 to 100 points.
Play outside or indoors. Arrange the cones 1 or more feet apart (depending on the age of the players) The highest scoring cone will be the furthest away, and the lowest number will be the closest to the players. Flip a coin to see who goes first. 
Each player/team throws their rings at the cones (the amount of rings is up to you and decided before hand)
Players/teams take alternate turns, throwing one ring at a time until all rings have been thrown.
Track your points
Continue playing until one player/team reaches the target score, or get the highest points total
I originally saw the candy corn idea somewhere on the internet, as a decoration.  The idea for the ring toss game came from Target, as they sold something similar, but the cones were painted black to look like Witches Hats.  I already had the glow sticks for our Halloween party, so figured they'd make perfect rings.  I would love to source the original candy corn idea, but there were so many versions of it, I didn't know who to give the credit to!  But if imitation is the greatest form of flattery, this idea has been "flattered" over and over again!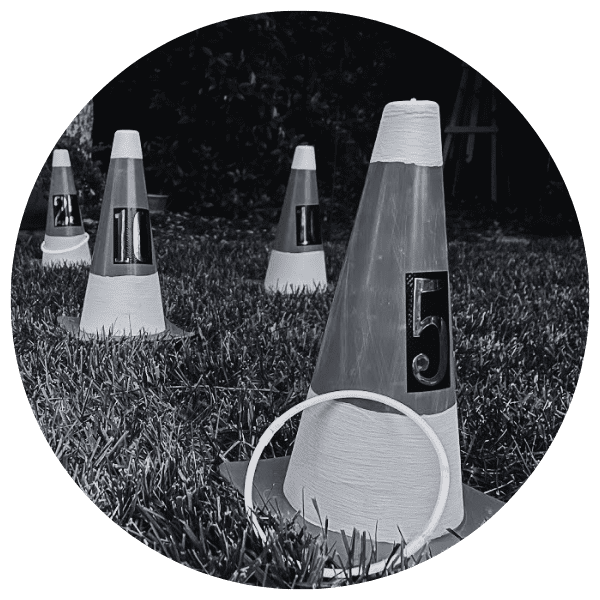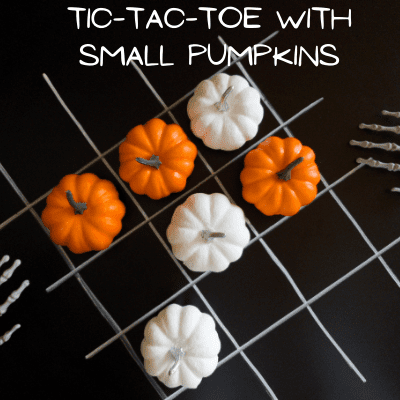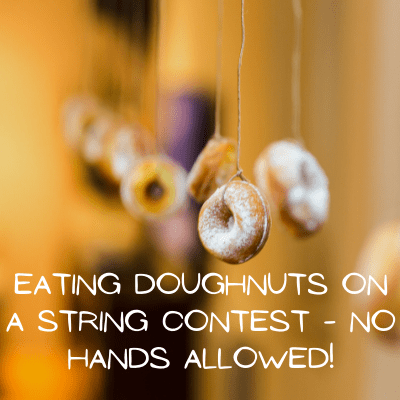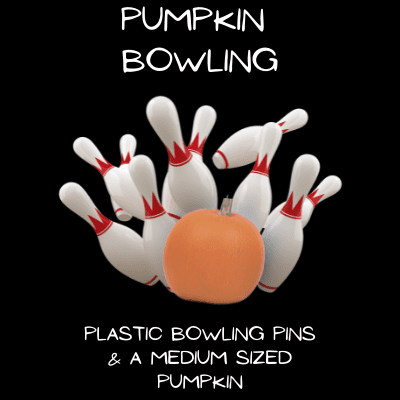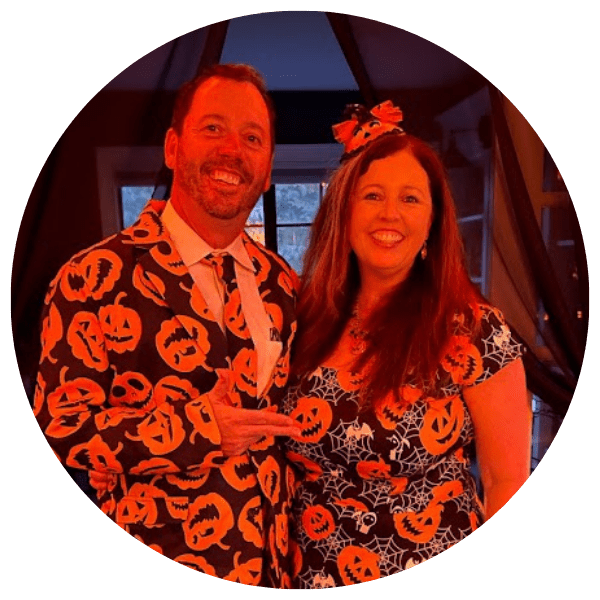 Written by Janet Danelia
Janet lives in Northern California with her husband, Matt. She has had a 20+ year career in the building industry where she developed a love for the alchemy of creating a home. Her favorite things are decorating, DIY projects, gardening, cooking, entertaining, and a love of everything Halloween. She quit her day job to blog and share her passion for all the things that make a House a Home.
This post may contain affiliate links. Danelia Design is a participant in the Amazon Services LLC Associates Program, an affiliate advertising program designed to provide a means for sites to earn advertising fees by advertising and linking to amazon.com. For more information, please read my disclaimer here.