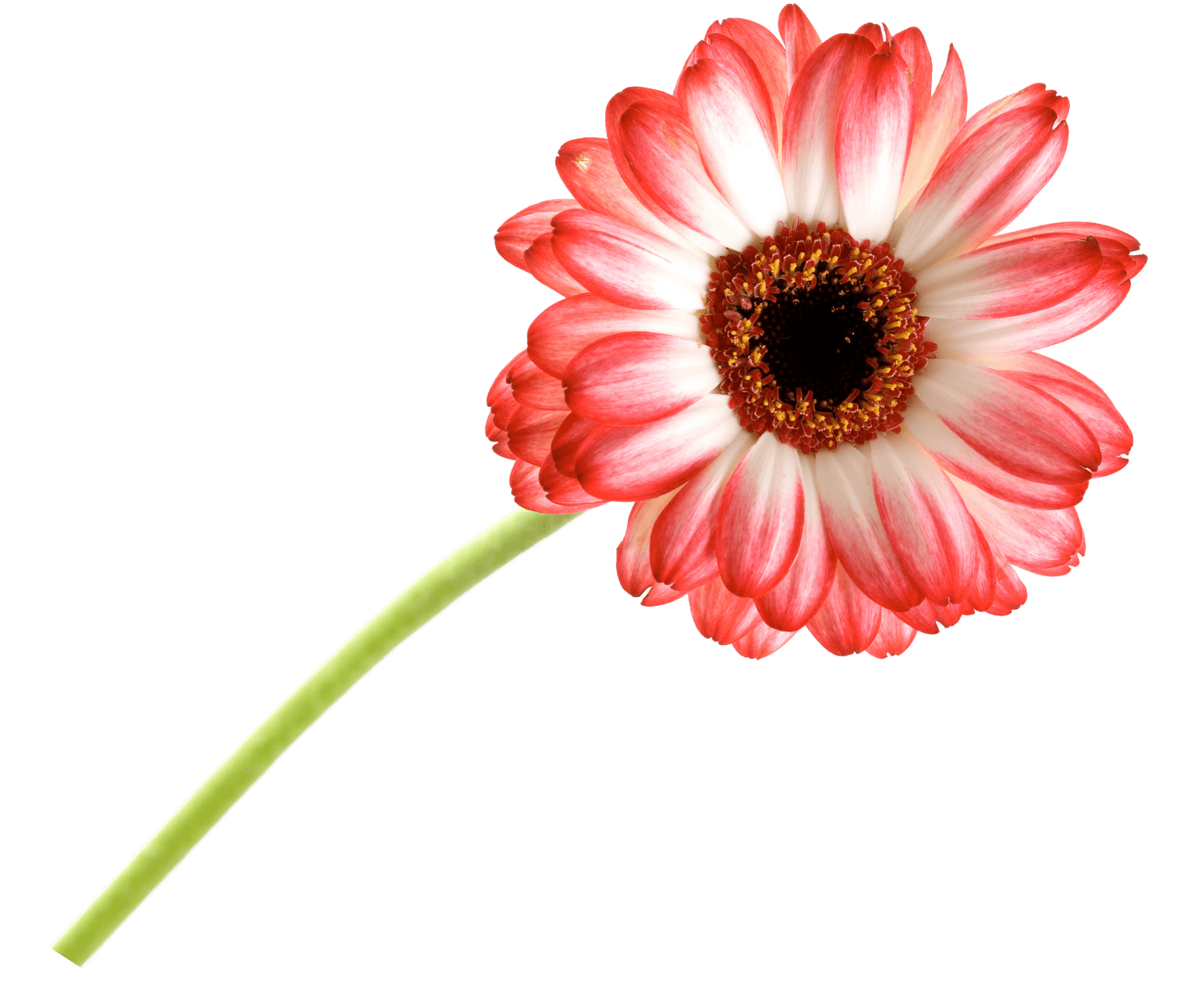 Mom deserves the world, and if we can't give her that, we can at least bring her flowers.  Florists are amazing, Delivery services are great.  But if you're on a budget, or want something more personal,  stopping by the grocery store will be your saving grace. Yes, I'm talking about the flowers sitting in buckets of water near the produce department.  Even the flowers wrapped in cellophane that you see while pumping gas can be arranged into something a florist would be proud of. 
Flowers from the market will run you anywhere from $5 to $20 on average. (Always look for the freshest flowers in the group)  And unless you find a vase that really knocks your sock off, don't spend more than $10.  I found perfectly great florist vases for $4. Keep in mind that almost anything that can hold water can be a vase. Use your imagination and get creative. We're going to take the ordinary to the next level and put a huge smile on mom's face!
Prep your flowers & Prep your water
Florists have many secrets to extend the fresh look of their flowers.  Some of their tricks can easily be done at home.
Once you've got your bag o' flowers home, cut the ends of the stems at a 45-degree angle and put them into water.  Flowers LOVE water. I'm talking about a full soak until you're ready for your arrangement.  Use the bathtub, if you need to!  Any place they can be fully submerged will ultimately extend their shelf life by days and breathe fresh new life into them. Sad or wilty flowers will really come to life using this submersion technique.
Prep your vase water by adding a few drops of bleach to ward off bacterial growth.  Vodka will do the same thing, but I'd prefer to save it for my cocktails. 
Add the packet that came with your flowers, and if you didn't get one, add a spoonful of sugar and a crushed aspirin.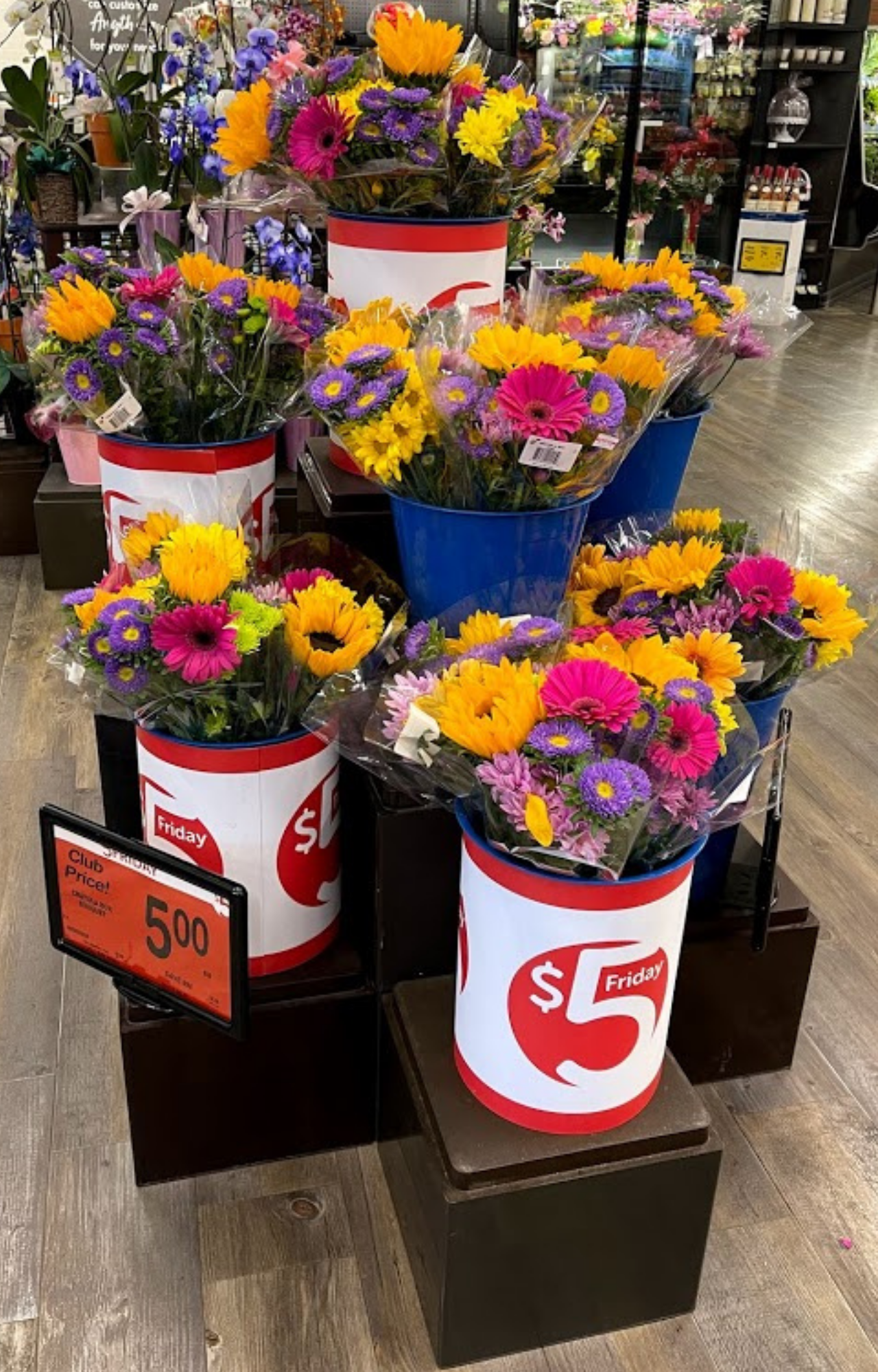 I found basic grocery store bouquets for $5 each.  I grabbed two and added three types of greenery – baby's breath, myrtle, and fern stems.  I had some vases at home but made a quick stop at the .99 cent store to see what else I could find.  I feel like I hit the motherload of choices!
Quick Tip – Take a look around your yard and your house to see what else can be a home to your beautiful flowers. A tall glass jar, a flower pot, or even a coffee can! (think rustic and add a bow)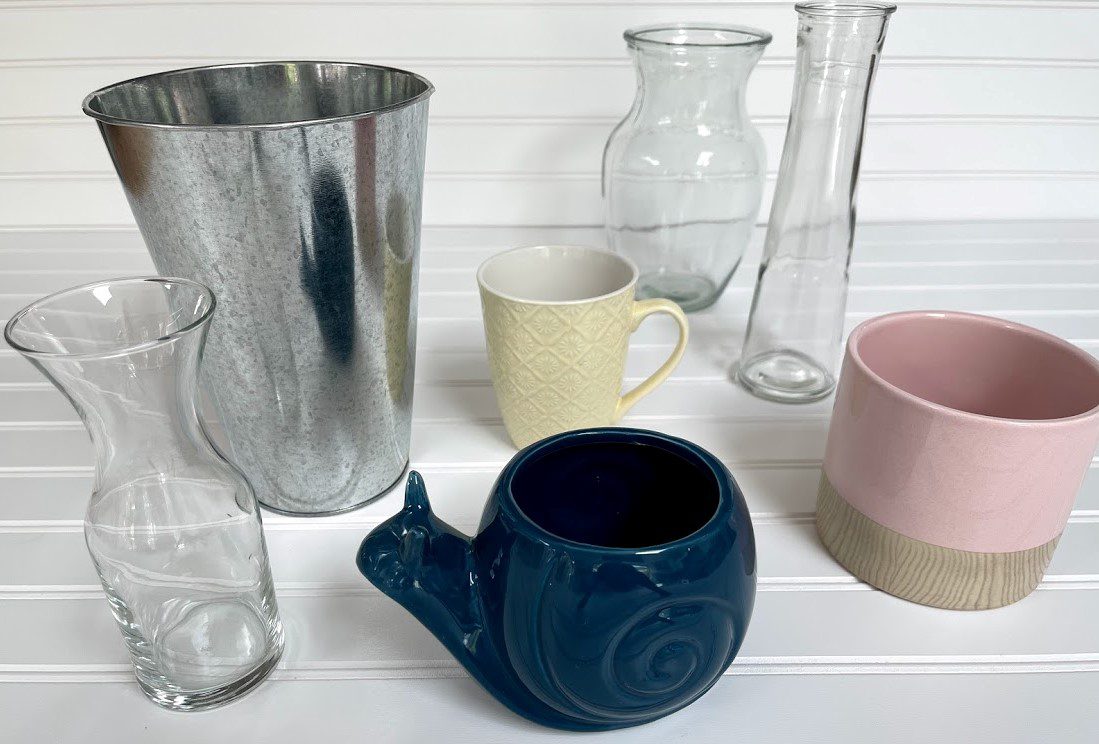 While selecting from the grocery store bouquets, there was a clear difference between the $5 and the $15 bunches.  And it was more than just 3x's the flowers. The $15 bouquet also included greenery, accent flowers, and a larger variety of flowers to work with.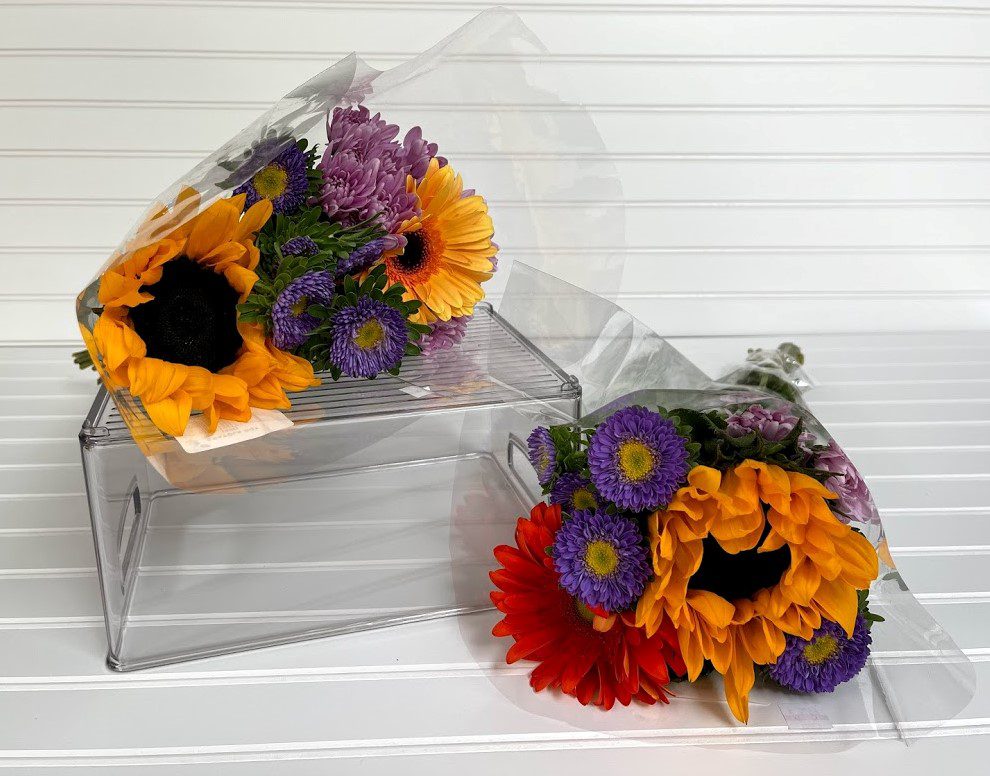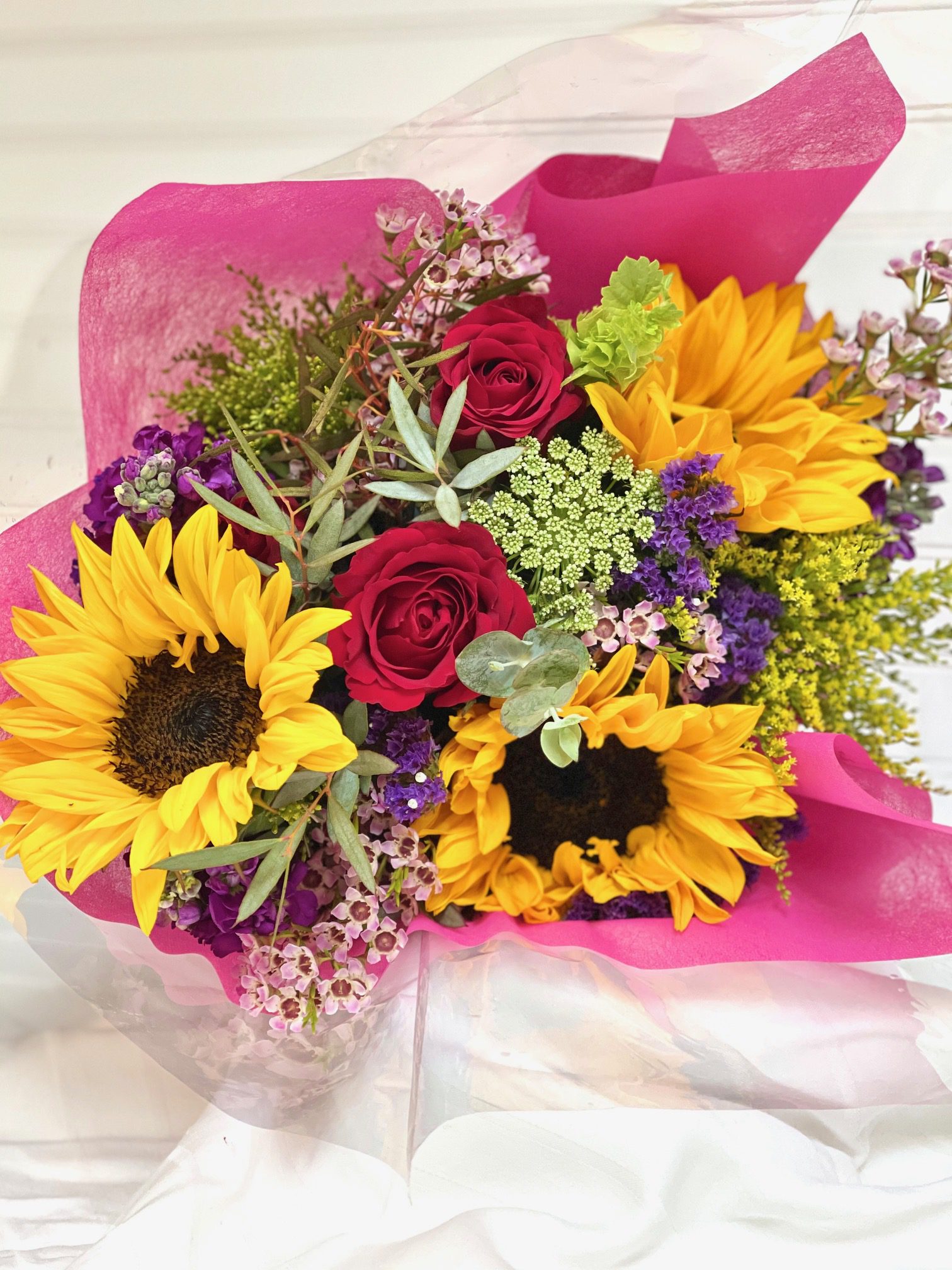 helpful TIP
To prevent your flowers from spreading all cattywampus when you're working with a large mouth container, use tape in a crisscross pattern over the top.  You can buy florist tape for this purpose, or use any clear tape you have at home.  Make sure your vase is completely dry or the tape will slip off.  Add the conditioned water you prepped earlier once your tape is securely attached.  Alternatively, you can use bunched-up chicken wire loosely formed to fit the inside of the container to hold the stems in place.  I was fresh out of chicken wire, so always resourceful, I went to the junk drawer and pulled out the scotch tape.
There are two approaches when arranging flowers in a vase.  One is to place the greenery first, to frame your bouquet, then arrange the flowers afterward.  The other is to add the flowers first and then follow with the accent foliage, placing where you feel it looks right and fills in nicely.    Either way,  have the finished shape in mind as you add your pieces.  If it's not what you want, no harm no foul. Just start over!
For this arrangement, I'm using both of the $5.00 bouquets. Intentionally creating a tapered finish and avoiding perfect symmetry gives a unique and stylish feel to the finished arrangement.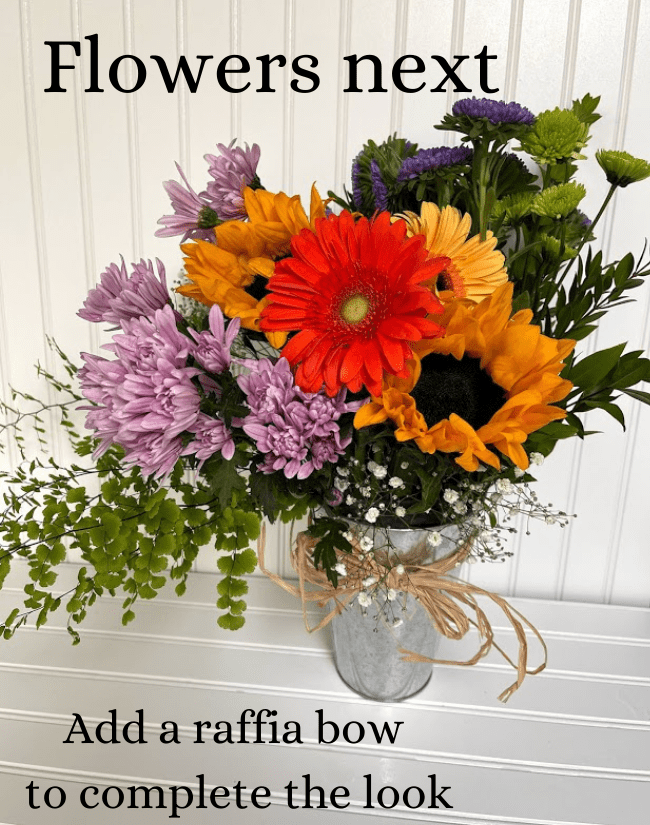 For a standard vase, you shouldn't need tape, just make sure to tightly fill the space, adding more greenery to achieve the look you want. Use different heights. Group similar colors together, and place similar types of flowers in the same area. 
Use the color wheel when choosing your color combinations. Arrange flowers by color or by type.  Think how stunning an all-white bouquet can be. Or use a variety of different colored roses.  Use different colored tulips, or a full bouquet of daisies  and it will look fantastic!
* a note about bows and other accent pieces.  Use them sparingly. Take a look at any professional florist's website and they usually let the flowers speak for themselves.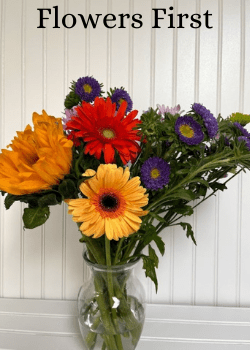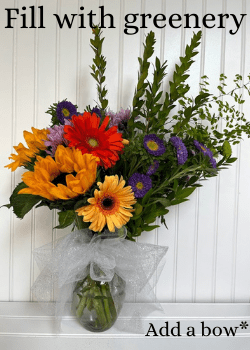 Using flowers from the previous bouquet, I arranged smaller versions. One, using a flower pot and the next, a coffee mug.  For these, I cut the flowers to size and tightly wrapped a ribbon around the stems to hold them together.  This allowed them to just "sit" in the containers.  With the smaller vases, they have more of a round and lower profile. Only the flowers are visible, not the stems.  Small, but mighty!
Wildflower Bouquet
Timeless as it is beautiful, a wildflower bouquet tied with a simple bow is an elegant way to deliver your gift.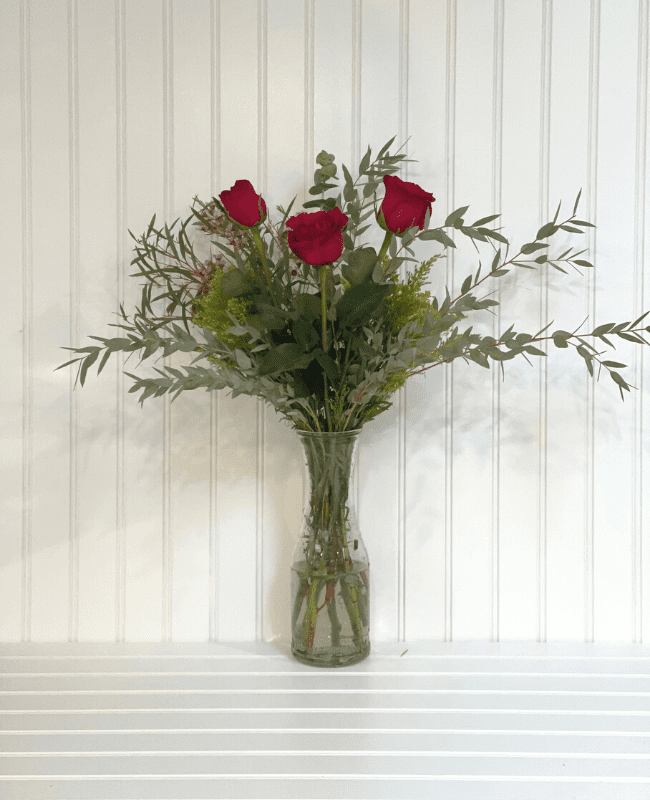 Star of the Show
For this arrangement, the roses are the star.  The greenery acts as a backdrop and allows the beauty of the red roses to show off and stand out.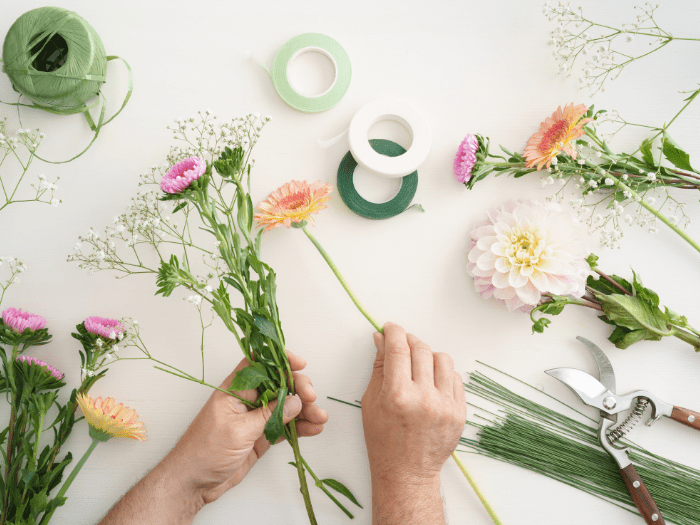 There is no wrong way to add flowers to a vase, but there are definitely better ways.  Use Florists websites as inspiration for your finished product
DO SOMETHING
FOR YOURSELF
Don't forget to add beauty into your own home.  Fresh flowers don't have to be for a special occasion.  A bouquet doesn't have to be a gift from someone else.  You deserve to be surrounded by beauty, so treat yo'self!
No time?
Make it easy.
Find a local florist.
And have them delivered!
Whether you design a bouquet yourself or have one delivered, make your mom's day.  Fresh flowers as a gift to her, or as a gift to yourself, will always bring a smile and make someone happy. Adding to the beauty of the world, one bouquet at a time!
This post may contain affiliate links. Danelia Design is a participant in the Amazon Services LLC Associates Program, an affiliate advertising program designed to provide a means for sites to earn advertising fees by advertising and linking to amazon.com. For more information, please read my disclaimer here.