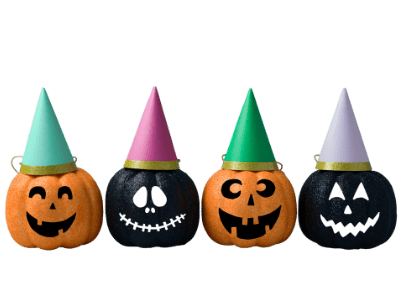 It's October!
Time to plan for the spookiest holiday on the calendar!
Bring out yer dead!
Monty Python aside, bring out your ghosts, mummies, skeletons, zombies, witches, and vampires. There's going to be a party!
The Basics of Spooky Party Planning
The Decor
Set the tone. Spooky, Gruesome, Fun, Whimsical, Haunted, Eerie, Vintage, Sophisticated, Autumnesque, Creepy, Magical, or Macabre
Costumes Required
It's not a great Halloween party without a variety of costumes. Ribbons or trophies for the "best of" categories
The Food
Plan on feeding the crowd with spooky finger foods.  Anything orange or black.  Anything creepy
Ask Guests to Share
Have guests bring a spooky appetizer or dessert
The Boos
Have a blood-red signature drink among the usual suspects of beer, wine, and cocktail makings. NA Punch, bottled water and soda for the young ones or the DD's
Glasses, Dishes, & Serveware
The perfect occasion to use kitschy dishware
The tunes
Get your spooky playlist ready.  A mix of scary and Halloween inspired dance music
Activities
Plan games, contests, or movies based on the age and the size of your group
Mood Lighting
Turn off the lights, dim the room, & set the scene for spooky
Invitations
Whether your party is an intimate dinner party for four or a guest list of 100, go old-school formal and send out invitations.  Order from any print company.  Create your own and use Snail Mail, stamped,  with personal handwriting. Or Use an online service like Evite, which tracks the RSVPs for you, allows for email or text invitations, photos, videos, & personalized messages.
Choose an invitation that matches the theme of your party.  This is the first impression and it should tell them what kind of party you're throwing.  Gruesome, spooky, sexy, or fun.  And give plenty of notice, people are busy and calendars fill up quickly!
Set The Scene
To Theme or Not to Theme?
Themes are great.  I'm a huge fan.  A theme gives you direction for decor, for food, for music.  But changing the Theme of your Halloween party every year can get expensive. Haunted Carnival one year, 80's Blacklight the next, and Horror Movie Night the year after that.  My theme is simply – "Halloween Party."  I like to go with a "feeling" over a Theme.  Meaning, HOW do I want my guests to feel when they walk through the door? What memories or stories do I want them to tell months down the road?
Is it Scary or fun? Gorey or Whimsical? Dark & Macabre or Kid-friendly and silly?  Are you going for something terrifying or more old-fashioned, like carving pumpkins and drinking hot apple cider? Consider your guest list and ages.  Is this a sexy adult costume party or a fun-filled family event?  Spend time creating the scene for the vibe you want to have.
Have a few items that make a big impact.  Maybe it's your epic front yard display, a life-size, satin-lined coffin, or dry ice in the punchbowl. Is it a 12-foot tall Skeleton, or a light show with fog that would make a DJ jealous? Make sure to have something that's a bit surprising or unexpected to wow your guests.

"Best Of" Awards
Costumes should be highly encouraged, so reward your guests for their effort. Take a poll, ask your guests to vote, and have the ribbons ready.
Scariest
Most Creative
Funniest
Cutest
Best Couple
Laziest
Best Costume Overall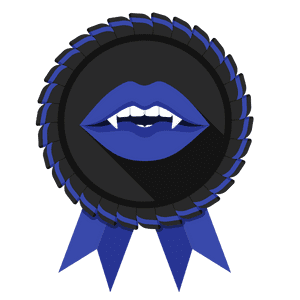 Eerie Eats
For a party, you'll want easy grab-and-go items.  You may not have seating for everyone and anything that can be eaten while standing is best. Food that can be eaten while holding a beverage is a plus.
If you're throwing a small dinner party, go with a color theme.  Make all black or orange food and serve it all on black or orange dishes, light black or orange candles, and have black or orange placemats, napkins, and serveware.
When you send out the invitations, ask your guests to bring their most haunted recipe dish.  It will save you a ton of work and give them a chance to show off their most chilling concoctions.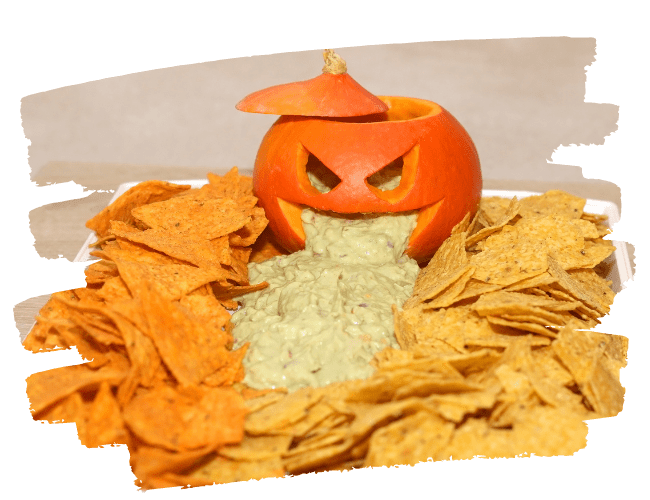 Deviled eggs
Creepy cookies
Spooky dips
Pigs in a blanket
Crockpot meatballs
Queso & tortillas chips
Squid Ink Pasta salad (served in individual clear cups)
Pizza rolls
Monster munch (Chex cereal, mini-pretzels, m&m's, & candy corn, & peanuts covered in white chocolate bark)
Caramel apples
Halloween candy (which is ALL the candy)
Orange, Black, & Purple food coloring will turn any ordinary appetizer into horrifying hors d'oeuvres. Adding black food coloring to Rice Krispy treats is my favorite! Look for Gel Food Coloring, it goes further and has a deeper color to it, and you'll use less.  And for true black, it has to be Gel.
Any food that is expected to be orange or black – carrot sticks, orange bell pepper, cheese dip, Ritz crackers, clementines, cheese puffs, Doritos, squid ink pasta salad, black olives, black licorice, Halloween Oreos, cupcakes, or cookies.
Signature HALLOWEEN BOOS
Blood Red Sangria

(you can find the recipe HERE)

Witches Brew

  Neon Green beverage (

Midori melon liqueur, Cointreau, lemon juice)

Vampire's Kiss Cocktail

This one is vibrant Red in color (

Vodka, Chambord, black raspberry liqueur, cranberry juice, lemon juice, grenadine)

Halloween Punch

(Cranberry juice, apple juice or cider, ginger ale, rum

Death in the Afternoon

  Invented by Ernest Hemmingway, an iridescent green-colored cocktail (

absinthe, Champagne or Prosecco, simple syrup)
FOR THE Kids
Sparkle Punch  (Tang orange-flavored drink mix, cold water, & ginger ale)
Rotten Pumpkin Punch (orange juice, carrot juice, ginger ale) & throw in some gummy worms while you're at it
Vampire Juice (red fruit punch, lemon-lime soda – for the fizz, & pomegranate juice)
FOR THE TEENS
Glycol Punch (Mountain Dew (high in caffeine, you've been warned) & blue raspberry Kool-Aid). This combination creates a sickly yellow-green antifreeze color.  Using Diet Mountain Dew will make it less sugar-loaded. For more of a gross factor, scoops of orange sherbet floated on top will add a layer of "scum" as it melts. 
A hand in the punchbowl
Using food-grade or medical vinyl gloves, add juice or water and fill the glove. Secure the wrist with a rubber band and freeze.  When ready to use, cut the glove off with a sharp pair of scissors and float in your punchbowl.  Don't worry if a finger breaks off, that's just part of the creepiness!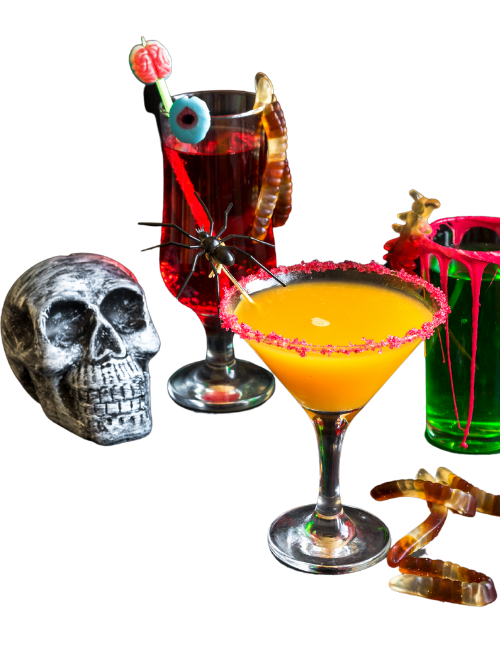 Spider Candy Bowl
Use creepy bowls and dishes to serve candy, nuts, chips, and dips
Pumpkin Drink Dispenser
Serve your wicked brew out of a fun drink dispenser, or use a plastic black cauldron as a punch bowl
Coffin Shaped Serving Platter
Black is the new black and coffins are cool- use any black platters, bowls, plates, cups, and cutlery for your guests
Glow Sticks, Cups, & Accessories
Glow sticks and accessories will add another level to your nighttime event.
The Tunes
Mix up your playlist and include dance music, creepy movie soundtracks, and old school favorites
Give your guest something to do when they aren't being amazed by your awesome and incredible Halloween decorations and food.
Halloween-inspired games, movies, or contests that include everyone will give your introverted wall clingers an opportunity to join in on the fun, meet new people, and leave the party knowing they had a good time.  For the extroverts who mingle naturally, this is a chance for them to show off their mad socializing skills.
And remember to have some sort of prize for the winners!  A Halloween DVD, an award ribbon, a spooky mug with a packet of instant hot cocoa or powdered apple cider in it, a Halloween recipe book, or full-size candy bars wrapped in black ribbon. Make it unisex and age-appropriate for your guest list.  For the "guess how many candy corn" game, send them home with all the candy corn! (and then you won't have it in your own house anymore)
Photo Ops
With all the hard work and dedication your guests put into making and wearing their costumes, designate an area for the perfect photo op. Make it obvious by marking the area with a sign & arrow, or start the photo session yourself so others know to follow your lead.
Create a backdrop with a black Creepy Cloth or a Halloween cardboard standup. 
Cover the wall area with an inexpensive preprinted plastic wall backdrop scene.
Make it a selfie station.
Hire a friend with a great digital camera.
Set up a digital camera on a tripod with a remote.  
Rent a Photo Booth
Mood LIghting
You want to have an eerie dimly lit space for the extra spook factor and with the availability of inexpensive LED lighting options, this is an area where you can really shine! 
Add motion sensor lighting, color-changing bulbs, LED light strips, and Black Lights to your party area. 
Switch out current light bulbs for orange or purple bulbs.
Flickering Flame Lights are available in most bulb sizes.
Battery-operated flame candles. (If you're using real candles, place them out of the way in areas where they can't be accidentally knocked over.  Nothing will break up a party faster than your living room going up in flames. So use caution)
Hang orange or purple string lights. 
Use black lighting and hang blacklight reflective posters, white spider webs, or make your own blacklight decorations with blacklight paint.  Mod Podge makes a clear Black Light paint that you can add to any surface.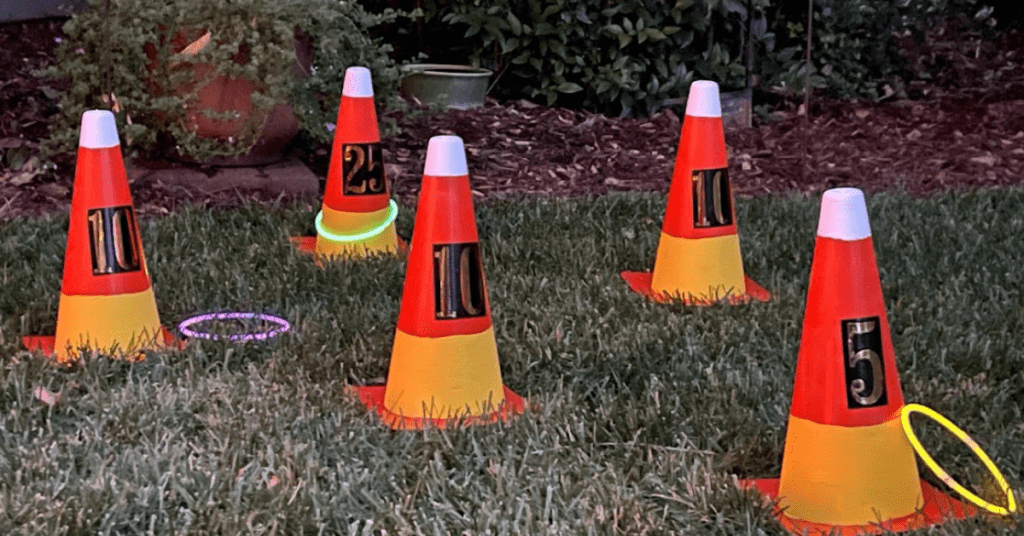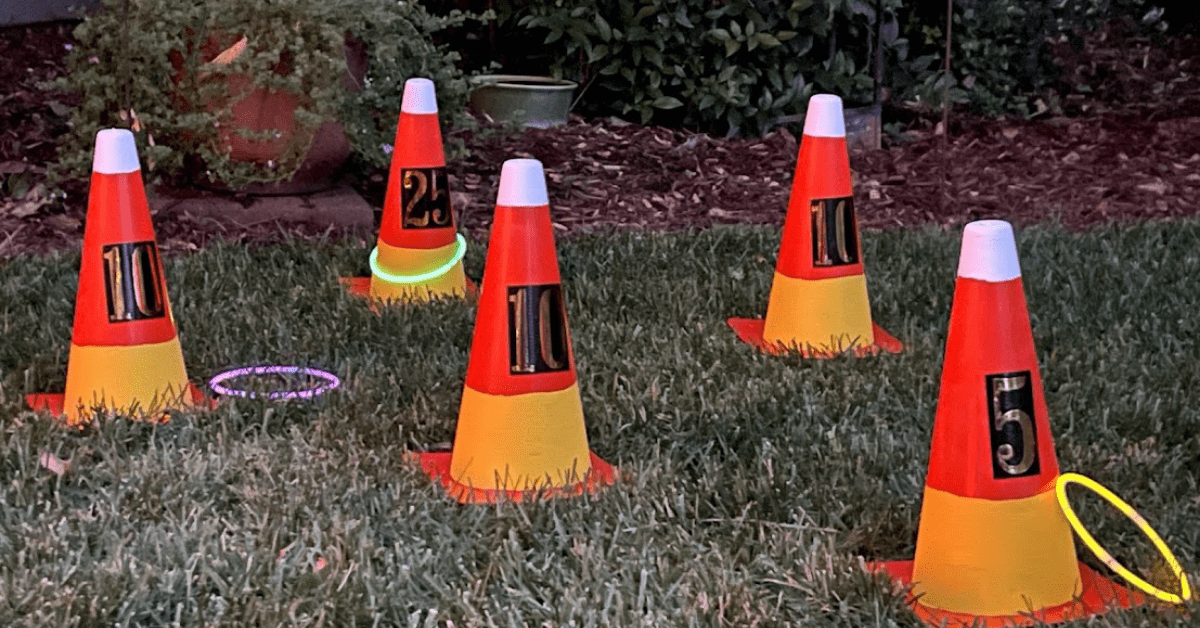 Simple and budget friendly, these DIY candy corn safety cones can be used for ring toss or as Halloween decorations. And you can find everything you need at your local dollar store!
This post may contain affiliate links. Danelia Design is a participant in the Amazon Services LLC Associates Program, an affiliate advertising program designed to provide a means for sites to earn advertising fees by advertising and linking to amazon.com. For more information, please read my disclaimer here.