I love all the Fall decor and Autumn vibes that cover the pages of the internet in September.  I want my home to be a cozy cocoon of earth tones and pumpkins. Yet I know on September 3oth I'm tearing it all down to put up ghosts, skeletons, and a graveyard scene. Only to turn back around in another month to put the pumpkins and artificial leaves out again for Thanksgiving.  So it's a "bring everything out, take it all away, put it back up again" kind of commitment.  And then it's back up to the attic yet again to haul down boxes of ornaments and garland for December.
The next several months are a Holiday Decorating Frenzy that only the fittest of athletes can compete in. Do you have what it takes to survive the hurricane of all three holidays pouring down on you in every store you walk into? It takes stamina.  It takes work.  And it's going to take a whole lot of Pumpkin Spice Lattes!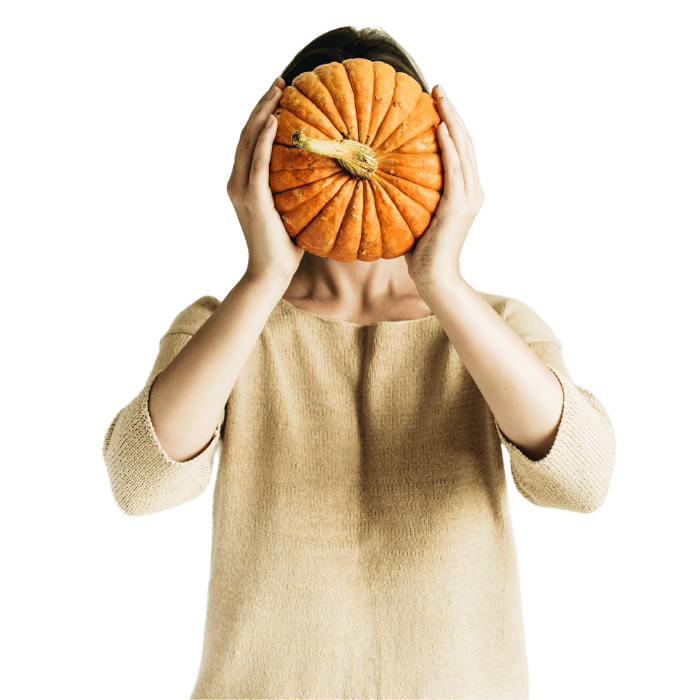 For a classic look, get yourself a wreath, swags of Fall leaves, and some pumpkins.  Up they go, and your front door is done.
If you have the space, adding a hay bale or two and dried  cornstalks will transition your decor through October and then into November. 
Work smarter, not harder.
Gone with the Wind
You gotta be quick when you're getting your Fall On. It's going to be over before you know it!  Keeping organized labeled plastic tubs for each holiday will make for quick work. Focus on your front entrance, porch, or front door.  This is the area that will be seen by the most people.  The biggest bang for your buck, so to speak.  Do this first.  Then get started inside.  Even if very few people see all the work you've done inside, you can sit back and enjoy the fall colors and the cute glittery pumpkins you've adorned your fireplace mantle with.  Do it for yourself, sister! And for Instagram. Or Facebook.  Or Pinterest. Or Tiktok. Because if it doesn't hit social media, did it ever really happen?

Make it easy
Simplify your September Decor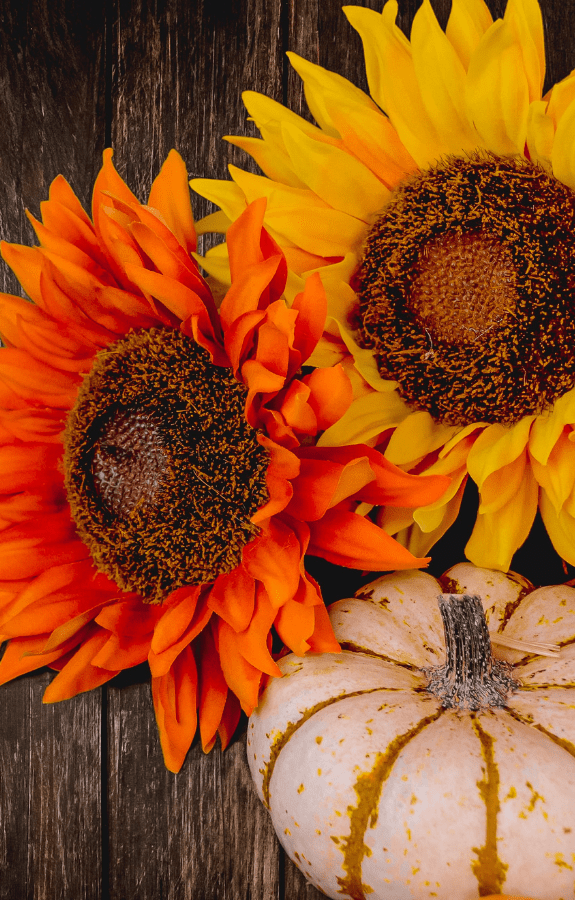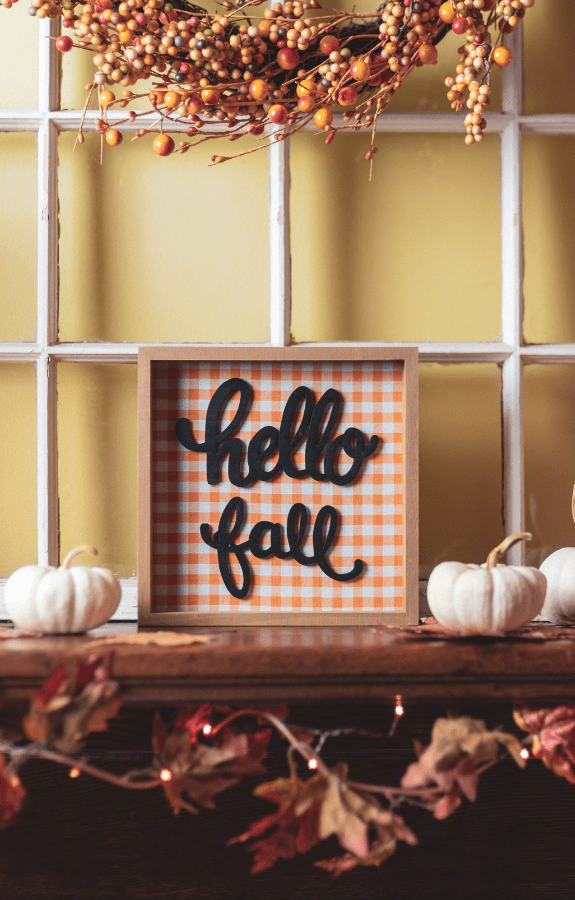 Seasonal decorating should be fun.  if it's a chore, you'll put it off.  Go simple.  Go classic. Make it easy. 
A "Happy Fall" sign.  Some pumpkins. A thick knitted cozy blanket over your sofa. Change out your throw pillows for orange, yellow, and green earth tones.  Plant chrysanthemums. Show off a vase of sunflowers. Add a candle and leaf centerpiece to your table.  Decorate with mantel with leaves and small gourdes.
Want an entirely different look? Choose NEUTRAL!  White pumpkins, eucalyptus leaves, pale sage green accents, rustic fabrics like burlap and muslin, and if that still isn't enough, those neutral tones will look great with a little silver or gold mixed in.  Candleholders, glitter, or paint…Bling it to your heart's desire!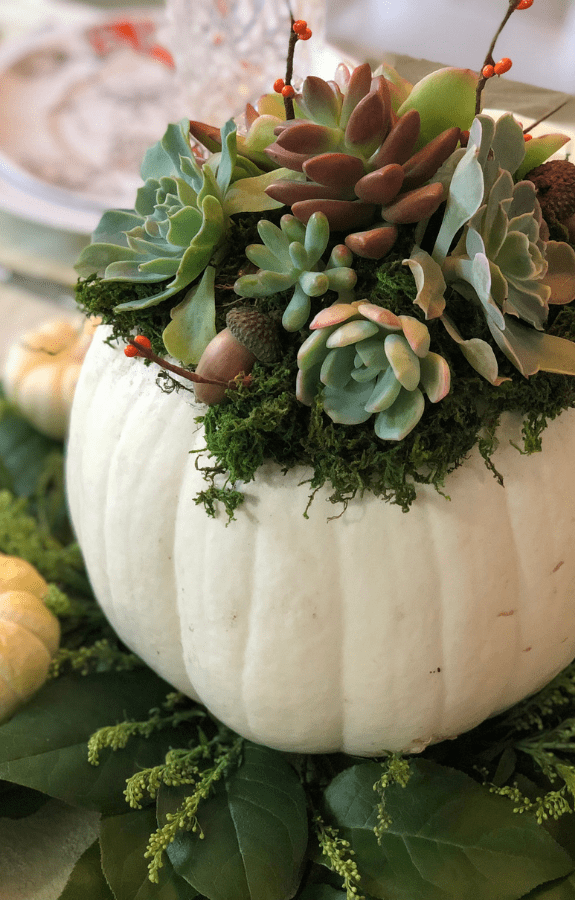 Front Door
Hang a wreath and place a pumpkin (or several) near your entrance.  Corn stalks and hay bales are another great way to greet your Fall visitors.

Leaf swags
Swags are your friend.  Add to a mantel, a dining room centerpiece. Cover a window casing.  Fill the dead space at the top of your kitchen cabinets.

Cute Signs
A "Happy Fall Y'all" throw pillow.  Hang a wooden sign to announce the autumn season. A changeable letter board is a great purchase and you can use it for every season, every holiday, and every occasion.
Every season brings a change.  Change to the weather. Change in the air. The growth cycle of trees, as they drop the old to make way for the new.  In September, you can feel the change.  Capture that feeling in your home and decor.  The summer is fading and a cozier season is headed our way.  The holidays are a moment away, so embrace this time.  This relaxed, calm before the storm, coffee, and cozy socks kinda season.
Before all the craziness of gift buying, party planning, carb and alcohol indulging, in-law visits, and before the stress of not enough time and a million things to do hits hard, enjoy this reprieve.  Take things slowly.  Take some deep breaths.  Learn from nature and let this be a time to unwind and brace for the coming winter.
Buy a few pumpkins, hang a garland, light some caramel-scented candles, plan a trip to a local apple orchard, and enjoy your Pumpkin Spice Latte.  You deserve it.  Life is about to hit the fast forward button, and as Ferris Bueller so insightfully let us all know:
Life moves pretty fast. If you don't stop and look around once in a while, you could miss it.

Saying goodbye to summer
To Welcome the beauty of fall
"It looked like the world was covered in a cobbler crust of brown sugar and cinnamon."
– Sarah Addison Allen
"Winter is an etching, spring a watercolor, summer an oil painting and autumn a mosaic of them all."
– Stanley Horowitz
"There is something so special in the early leaves drifting from the trees–as if we are all to be allowed a chance to peel, to refresh, to start again."
– Ruth Ahmed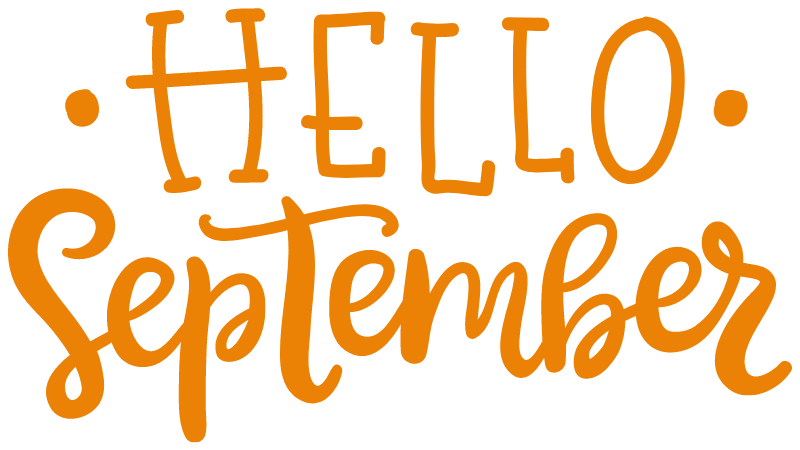 This post may contain affiliate links. Danelia Design is a participant in the Amazon Services LLC Associates Program, an affiliate advertising program designed to provide a means for sites to earn advertising fees by advertising and linking to amazon.com. For more information, please read my disclaimer here.