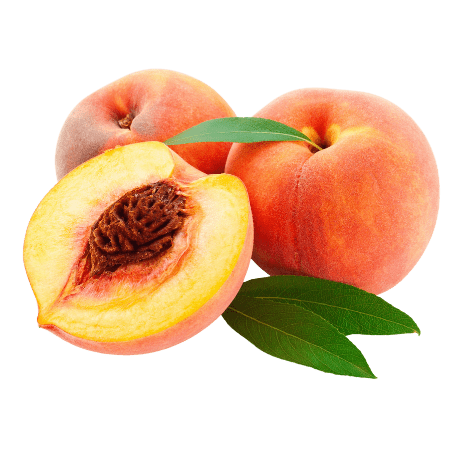 Fresh Peaches
There's nothing like the taste of fresh peaches picked perfectly ripe right off the tree! And even better when you can find a great recipe for those perfect peaches. 
This is summer in a jar!
Chico State University
Each year in August the College of Agriculture department hosts a U-Pick Peach Event.
Picture a perfect early August morning. The air is still crisp from the night before, but the morning sun is working fast to heat the day. You follow a slow parade of cars kicking up dust down a long dirt road. A pasture with black and white cattle graze on dry grass to your left. Further up the road, you can make out acres of healthy and full green fruit trees. Traffic comes to a stop, cars park, and families grab cardboard boxes, crates, or bags, and disburse into the thick of the peach orchard, followed by the sound of their green metal utility cart's rattling wheels.  Get lost in the sea of low-growing peach trees, their branches bowing heavily with fruit. Listen to the laughter of families with children giddy to discover the most perfect peaches to take home as their treasure. All along the rows of trees, there is quality control, as the reward of sweet and sticky peach juice drips down smiling faces.  It's a full emersion of fruit picking delight.
Knowing where your food comes from is a great reminder of the work that the farmers, field laborers, and harvesters do to bring food to our tables. And that real fresh food just tastes better. And since you've picked them yourself, it guarantees the freshest and best bite of peach you've ever had.
So. Many. Peaches.
This year, the popular variety of Elberta peaches (best for canning) were $2 a pound, pick as many as you like.  The proceeds go to the department, and the peaches go into our bellies!
There are certain tastes of summer that bring back memories of your childhood. And if you were lucky, you had a grandmother who made peach cobbler.  Served warm and sweet with ice-cold melty vanilla ice cream. A lick the bowl kind of good memory
So many peaches. What to make? A peach crumble, peach salad, grilled peaches, peach tart, peach sangria, peach daiquiri, peach pie, peach lemonade, peach salsa, peach ice cream, and the simplicity of a straight off the tree fresh fuzzy juicy peach fruit itself.
Not wanting any of the 30 lbs of peaches we hauled home to go bad, I started in right away with the peach desserts.  Peach crumble the first night (and for breakfast the next morning) Peach cobbler after that. Peaches with vanilla ice cream.  A peach Panzanella salad next.  I blanched and sliced several pounds for the freezer. We ate a ton!  And then the peach pièce de résistance…THE PEACH & PEPPER JAM!
Tools you'll need
6 half-pint mason jars, sterilized with new lids
4 qt.  nonreactive saucepan
canning funnel
measuring cup
large mixing bowl (for the peaches)
small mixing bowl (for the peppers)
sharp knife
wooden spoon for stirring
food-grade gloves
Canning accessories, if you choose to use the water bath method
Annual U-Pick Peach Event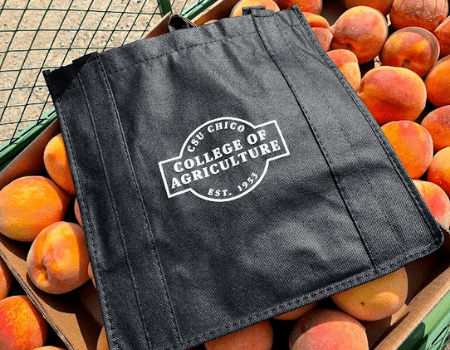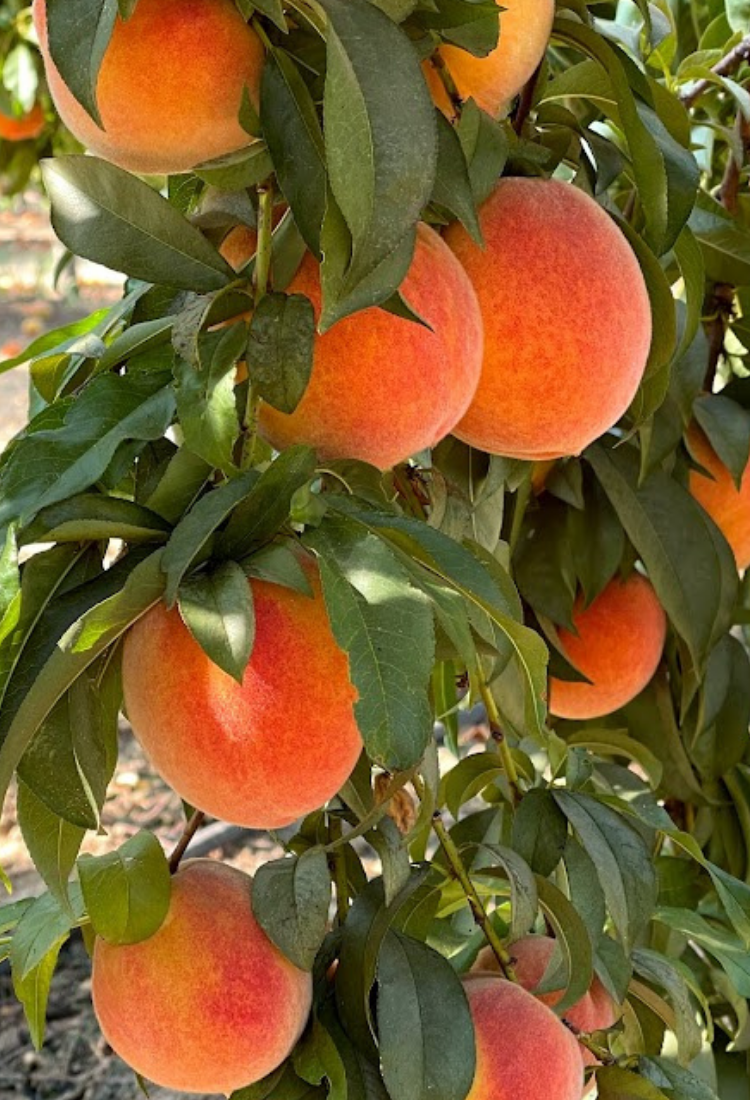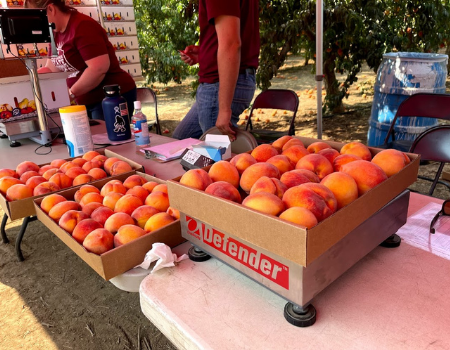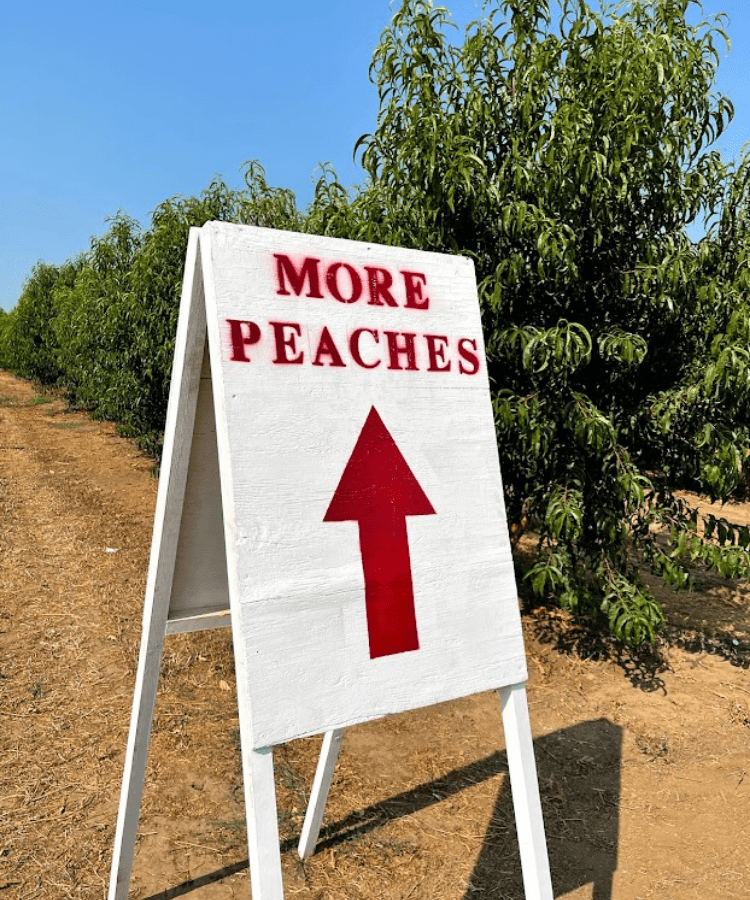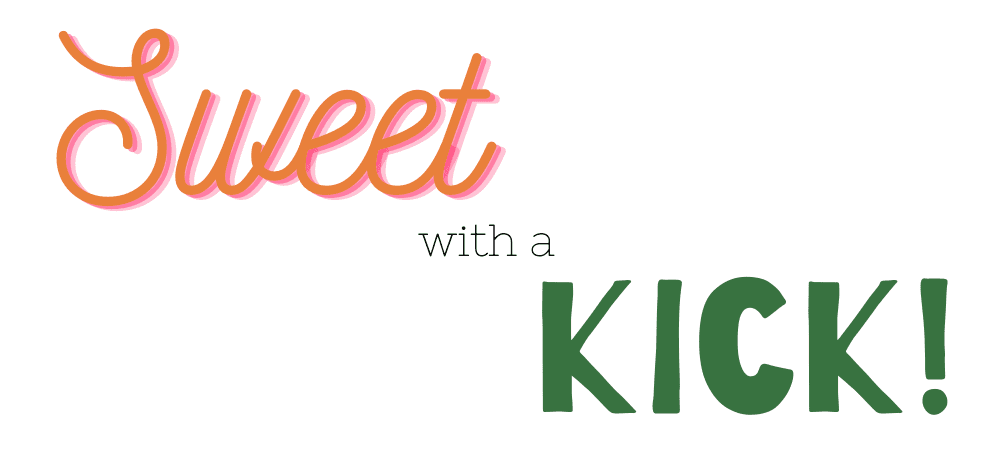 INGREDIENTS
2 lbs. fresh peaches, peeled, pitted, and sliced (7-8 peaches)

1 cup apple cider vinegar 

5-10 jalapeno peppers, (or a combination of any hot peppers of your choice)  finely diced

½  yellow or red bell pepper, seeded and finely diced

3-4 cups sugar (Taste for sweetness before you add the pectin, and adjust your sugar accordingly)

1 pouch 3 fl. oz. liquid pectin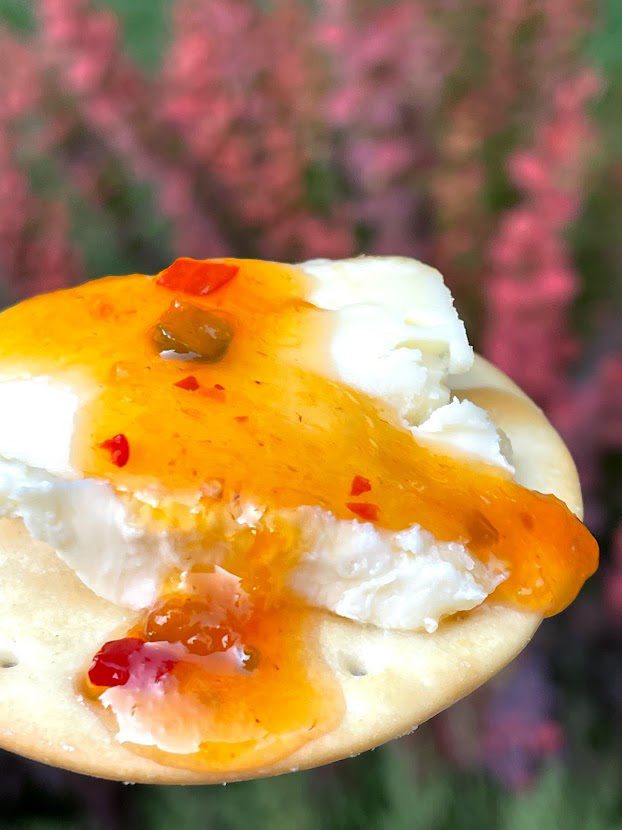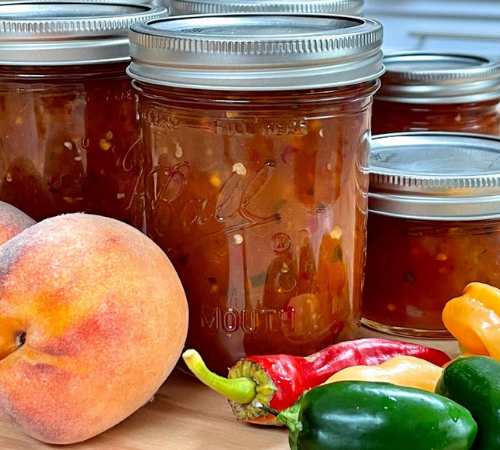 Prep the peaches by blanching and peeling the skins.  Remove the pit and slice into sections
Finely dice the peppers, discarding the stem. Wear food-safe gloves or eyewear if you're sensitive (gloves are a good idea, regardless)  Remove the seeds if you want less heat.
Any hot pepper will work for this recipe.  Jalapeno, Serrano, Chili, Habanero, Scotch Bonnet, Sugar Rush Peach, or Cayenne, to name a few.  The number of peppers and the heat of each one will determine how hot your jam is.
If you plan on canning, please follow all the rules of food safety!
In a 4 quart saucepan,  add the peaches, peppers, and vinegar, bring to a boil, then simmer for 10 minutes.

Use an immersion blender (or a potato masher) to puree or mash the fruit.

Add the sugar and simmer for another 10 minutes. (for a total of 20 minutes cooking time)

Skim off the foam from the top. 

Add the pectin and boil for another minute.

Remove from heat

Pour hot jam into clean warm, sterilized jars, filling to within 1/4-inch of rim.

Use the water bath canning method, or refrigerate your jars.  

They will keep for 3-4 weeks in the refrigerator

Properly canned jars will last up to 2 years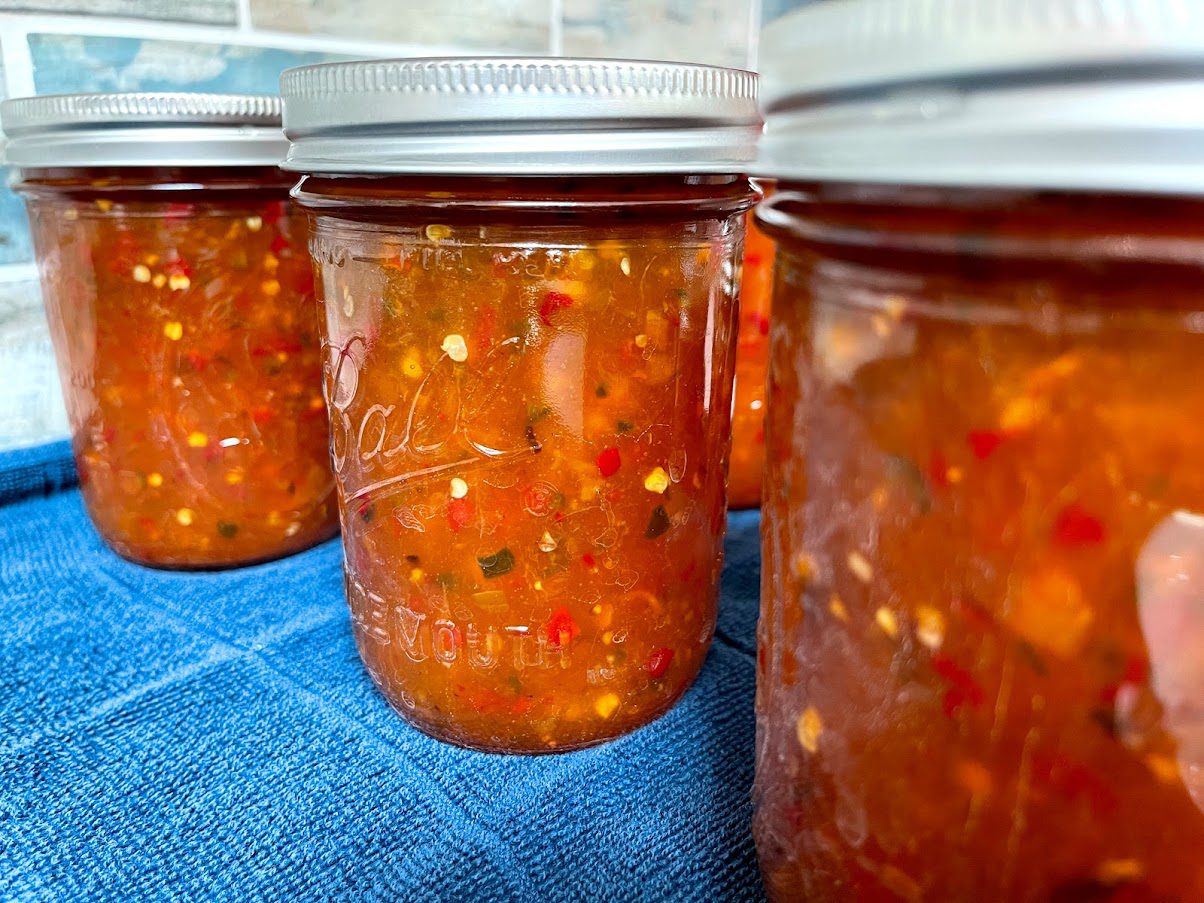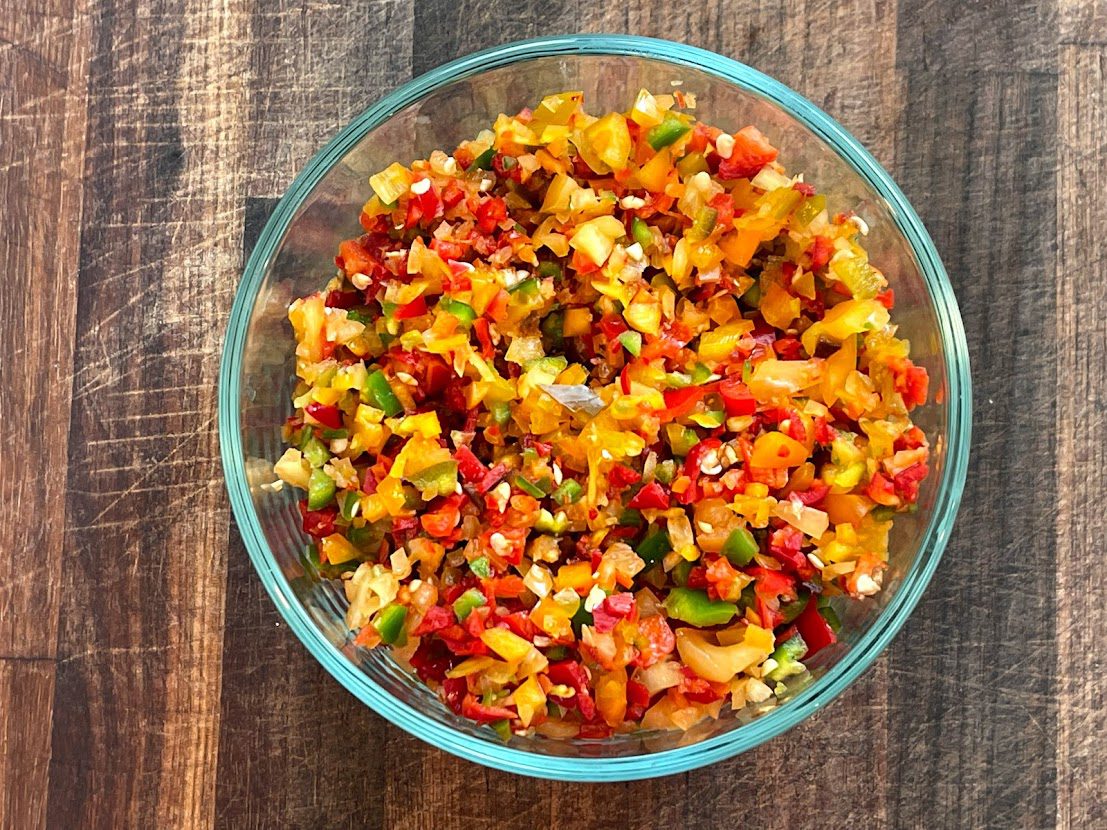 Safety Disclosure:  I am not a canning expert. I've learned by watching, by reading, and by making mistakes.  The ingredient ratio matters for the correct PH levels to prevent contaminated food.  If you've never canned before, I highly recommend doing your research and having the right tools.  It's not hard, but there is a science to it.  Just another reason to really appreciate those homemade handcrafted jars of yumminess you give or receive!  So take the time to learn how to do it right.  🙂
Sterilize your jars
A run through the quick cycle of your dishwasher or plunge them in the canning pot of boiling water. When using a 10 minute or longer water bath, you do not need to heat the lids ahead of time.  But make sure they're clean and unused.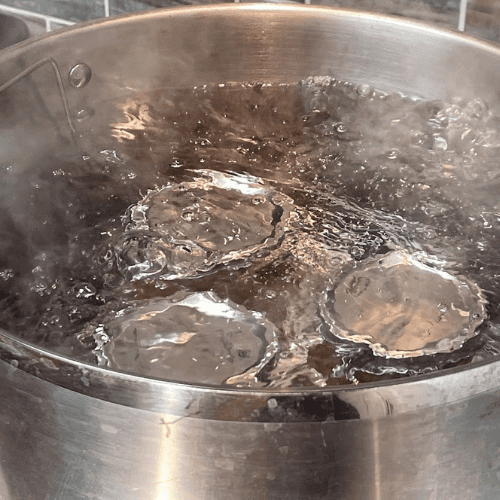 Prep you canning accessories
Fill your canning pot with water, keep at a low simmer until ready to use.  A canning rack is a must!  The jars cannot sit on the bottom of the pot, or the glass may break.
Fill your jars
Using a canning funnel, with everything sill hot, fill your jars to 1/4″ of the top. Run a non-metallic spatula around the sides to remove any air bubbles.  Add lid and hand tighten the band. (do not overtighten)  Add your jars to the boiling water and submerge.  Make sure they are in boiling water covered by at least 2 inches 
The bath and storage
This recipe calls for a 10-minute water bath. Carefully remove the jars with your jar lifter and set aside.  You should hear the "pop" of the lids to ensure they're sealed properly. If any jars did not seal, you can refrigerate and use within 3 weeks.  Let the sealed jars sit for 2-3 days, undisturbed, to set. Tighten the bands, label your jars,  and store.  Shelf life: 18 months to 2 years.
Make a double batch to assure you supply doesn't run out too soon!  And if there's anyone you love enough to share with, having more jars in your pantry will guarantee that you'll be their BFF for life!
Serve with brie and crostini
Pour over cream cheese and serve with table water crackers
As a glaze for chicken or pork chops
On cornbread served with your favorite chili
Makes fantastic hot & sweet wings
For burgers, add brie, bacon, & caramelized onion
Use on a turkey sandwich, in place of the mayo
As a dipping sauce for coconut shrimp
Makes an amazing glaze on salmon
Use as a sauce the next time you make ribs
As a spread for scones, English muffins, or biscuits
Add vinegar for a sweet & tangy vinaigrette
This post may contain affiliate links. Danelia Design is a participant in the Amazon Services LLC Associates Program, an affiliate advertising program designed to provide a means for sites to earn advertising fees by advertising and linking to amazon.com. For more information, please read my disclaimer here.