4th of July along the Atlantic Coastine
Independence day
East Coast Celebration
Traveling from California to South Carolina over the 4th of July holiday, one notices a very different vibe of the American Spirit.  For one, SC doesn't burn down every year which means there is an abundance of fireworks.  Secondly (and maybe it was simply because everyone was on vacation at the resort) there was exhilarating energy that I only remember from when I was a kid.  I mean, this state has firework stores that are open year-round!  And with the high humidity in summer, they're not too worried about the place catching fire. Families show off incredible firework displays, unlike anything I've ever seen! Hours and hours of 4th of July viewing pleasure, over the entire stretch of beach.  Plop down in a beach chair and enjoy the show!
Fireworks
We walked down to the beach at dusk and were met immediately with the familiar sounds of pops, whistles, and the crackling of fireworks. It's a tradition on Hilton Head Island to watch families as they provide onlookers with a personal and up-close fireworks production.  Within a few minutes, the sun had set, and we were fully immersed in a powerfully orchestrated explosion of pyrotechnics. We were dead center of all the action. Fireworks to the left, to the right, and directly overhead.   These folks not only spent some money but really planned for something incredible that everyone could enjoy.  It was AMAZING!
For something fun, this website for the "Fireworks Supermarket" will let you add fireworks to a "show" so you can see what they do ahead of time and plan accordingly.  They can't ship, but if you're in South Carolina, you can order for pickup.
RED, White, & Blue
We watched the show from the beach for about an hour and then headed back to our condo.  We had a great view of the beach  and the fireworks from our balcony, so we sat outside and listened to the neighbors play every song ever writting about America. And we sang along, smiling. Toby Keith, James Brown, John Mellencamp (back when he was John Cougar Mellencamp), and Bruce Springsteen. 
'Cause, we were BORN IN THE USA!
The fireworks went on until 1 am.  Four solid hours of the coolest homemade show we had ever seen! We finally dragged ourselves to bed around 2 am. Exhausted, but happy.   Full Fireworks Satisfaction!
4th of July People
On the beach, earlier in the day, there was a sea of American flag t-shirts, hats, and flags.  Red, white, and blue bathing suits and flip flops.  The beach was packed. A sea of umbrellas and beach chairs covered the beach in either direction for miles. Just like Florida on Spring break, but with an average age closer to retirement.  (Meaning a lot of people, but they kept their clothes on and didn't pass out drunk)  It was a fun family atmosphere. Babies, teens, parents, grandparents – all happily swimming in the warm Atlantic ocean.  Boogie boards, skimboards, chairs in the water where the waves gently glide in and kiss your feet. Barely audible music playing in the background, a warm breeze, the ocean's familiar hypnotic pattern of it's back and forth sound, and the smell of salt air, sunscreen, and American Spirit surrounding us all.  Hilton Head is a magical place and we were lucky to have been a part of it!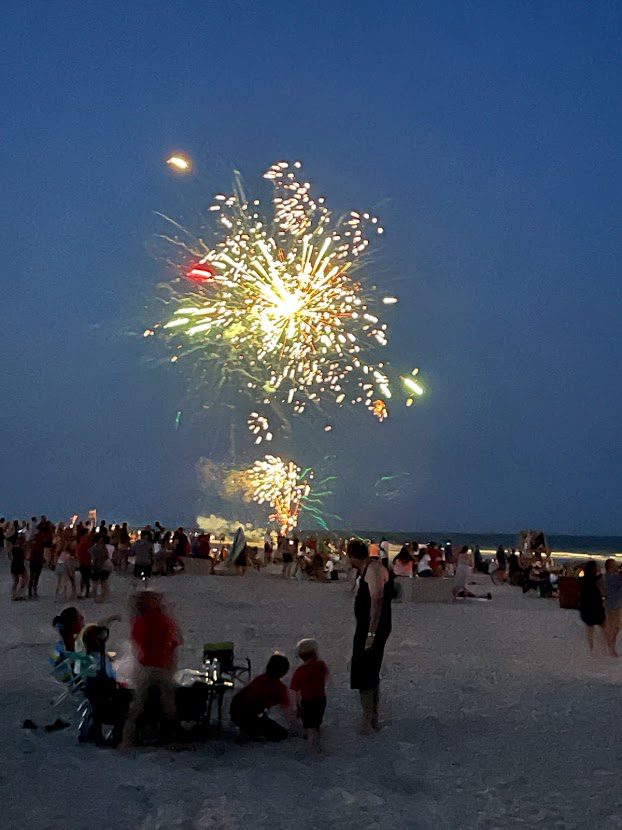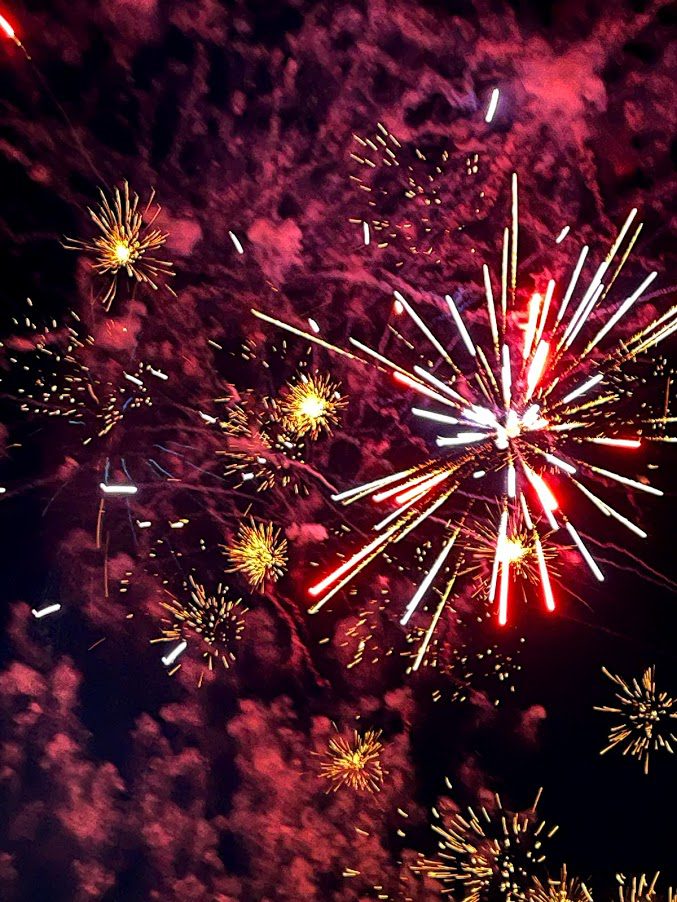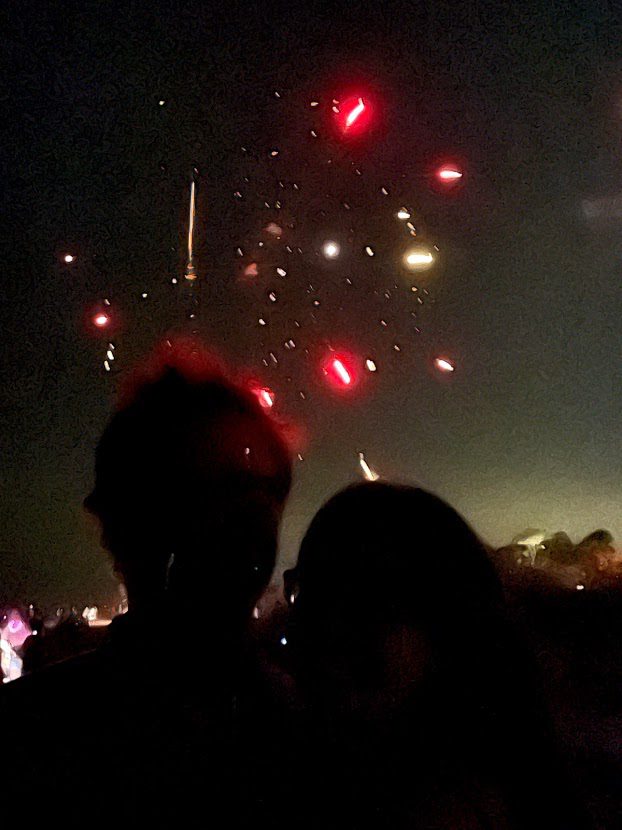 When you're near the coast, you have to go for the fresh seafood.  We ate at Poseidon's for our Independence Day meal – Not the requisite 4th of July hamburgers & hotdogs dinner kind of place.  The menu is extensive, the food was presented beautifully, and the service was top-notch.  You're not here for the health food, so forget about the calories and ignore your diet. (you can eat vegetables again when you get home) Indulge yourself and enjoy the flavors of the South!
Low Country Jambalaya
Smoked Kielbasa, Local Shrimp, Smoked Ham, Chicken, Bell Peppers, Onion, Okra, Rice, Simmered in a Savory Tomato Broth
Fried Green Tomato Caprese
Battered and fried green tomatoes, goat cheese, balsamic glaze, micro basil
Southern Tomato Pie
Fresh Tomatoes, Mozzarella, Parmesan, Garlic – baked in a crust.  Our server described it as a "Pizza who married a quiche"
Hush Puppies
Small deep-fried balls of cornmeal batter, served with honey-butter.  Indulgent little bites of yumminess
Fireworks Galore. Southern Hospitality. Great Food.
4th Of July in the South
Piggly Wiggly, Hilton Head Island
No trip to the South is complete without a visit to the Piggly Wiggly.  You can find fresh, locally caught seafood, local produce, an extensive selection of Pig gear, and beach goods.  
Pig Gear!! Seriously!  A whole section dedicated to the Pig.  Pig merch galore! Tee-shirt, sweatshirts, keychains, magnets…Whatever your Piggly Wiggly tourist desires are, they probably have it.

So next time you are on the south end of Hilton Head, stop on by!
We found real sparklers at the Home Depot the day after the 4th – $2.00 for 6 boxes!  Anyone in California knows that these are gold! (and illegal in the Sunshine State) – It was a small thrill to relive my childhood, trying to write my name in the air with fire.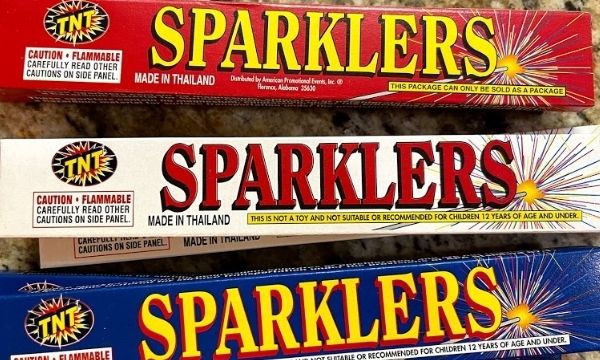 Final Thoughts about the 4th of July in South Carolina
It was fantastic celebrating our country while on vacation in a place where there is a heck of a lot of American pride – Stars and Stripes kind of patriotism, folks who bleed red, white, and blue, (and who really enjoy their pyrotechnics!) Watching kids wave around sparklers, parents whooping & hollering, walking along the beach with fireworks all around was a one-of-a-kind experience for me and my family.
Enjoying the South, swimming in the warm salty Atlantic, and taking in a slower pace while we salute our Country's Independence is a worthwhile experience. And one I'd gladly do again!
This post may contain affiliate links. Danelia Design is a participant in the Amazon Services LLC Associates Program, an affiliate advertising program designed to provide a means for sites to earn advertising fees by advertising and linking to amazon.com. For more information, please read my disclaimer here.