Not every New Year's Eve is a party.
Home is a lovely place to celebrate.
Even if you're alone
in your pajamas
with a cat.
It doesn't matter how popular you are, how much money you have, or how cool you look. Sometimes a nice quiet evening at home is the most enjoyable way to spend your time. Even if that night happens to be on New Year's Eve.
So if your plans for the last night of the year happen to involve Netflix and your fuzzy slippers, there are still some memorable things you can do to make this night stand out as a great one!
Let's look at 10 fun things you can do to ring in the new year that won't require a lot of makeup,  an Uber, or bail money.
Cook a Fancy Meal
Hit up all the Youtube cooking videos and find a recipe that you've always wanted to try.  Buy the good cut of meat, the lobster tail, or the exotic hand-rolled pasta and treat yourself and your family (or friends) to a dress-up formal dinner with the good china. Practice plating a dish that is worthy of  Alain Ducasse (arguably the best chef in the world). But even if your meal resembles something closer to Mickey D's, enjoy the meal prep and celebrate making something new. It'll be less expensive and you can stay as long as you like!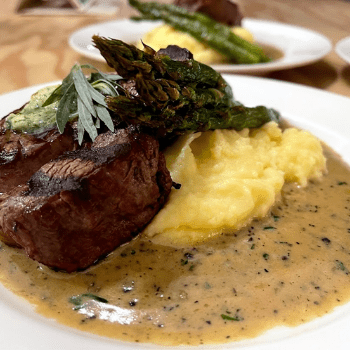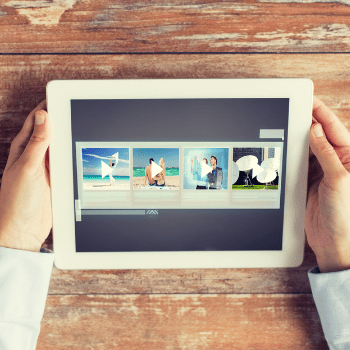 Create a Slideshow
Go through your phone and upload your favorite moments of last year to create a memory collage.  You'll have fun reminiscing while you put together a video and select the best music to go along with your pictures. Bring laughter and tears to the people closest to you by sharing it over email, or through a live Zoom call.  Don't be too anxious to move on to the next year, stop and remember the best times of the year gone by.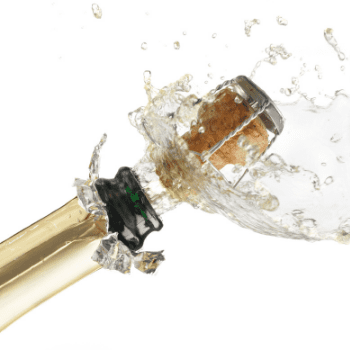 Pop the Champagne
Nothing says "Celebration" more than a glass of bubbly.  Even if your Dom Pérignon comes in the form of Sparkling Apple Cider, bring it out at midnight and pop that cork! (midnight can also be anytime you want it to be, no judgement for those with an early bedtime)  Use actual champagne glasses for this.  We may be at home in our pajamas, but we're not uncivilized.  And remember the point of ringing in the new year is to mark the moment in time, so let's do it right. 
Get The Calendar out
Print out the new calendar and start to plan your vacation.  Go through travel blogs, start looking at airfare, throw a dart at a map.  If you don't plan for it, it will never happen.  Choose a place, pick a week to go, and commit. "A journey of a thousand miles begins with a single step" – Lao Tzu.  Take the first step by writing it down.  It doesn't have to be monumental, although it could be.  Any experience curated at this time could end up being life-changing.  At the very least, it'll give you great pictures for your memory collage at the end of next year.
Choose a great movie
Since you're already home, cozying up on the sofa for a good flick is a great way to end the year.  But make it something epic!  Is it An American in Paris?  When Harry Met Sally? An Affair to Remember? Ocean's 11? If you were told you could only watch one more movie for the rest of your life, which one would it be? And yes, a Monty Python flick is a perfectly acceptable answer. (at least in my household)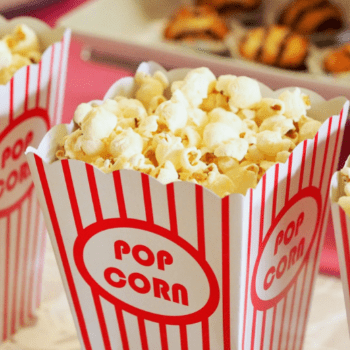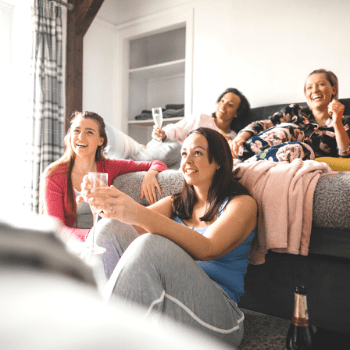 Have a Slumber party
You're never too old for silliness with friends.  And a sleepover will ensure that no one is on road after a few cocktails.  Set up airbeds, the couch, the guest room, and let everyone hang out in their jammies.  Make some signature cocktails, do each other's makeup, play Truth or Dare, blast the music and dance like no one is watching.  Buy matching jammies for a theme, get out the Ouija Board, or put your crush on speakerphone. There's no reason to sneak out of the house at your age, but I'm not one to stop you.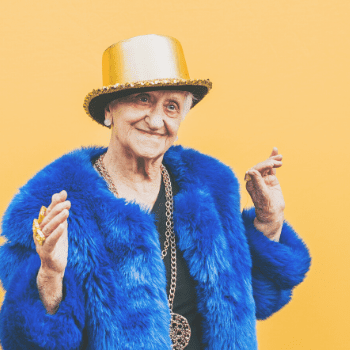 Get Dressed Up
Just because you're not going out doesn't mean you can't look the part. Bring out the formal wear and get your hair done.  Buy some new makeup and paint your nails.   Starting the new year off while looking your best is a great self-esteem booster.  YOU are worth the effort! And you'll feel as fabulous as you look! Facetime your group, invite some friends over, or kick it alone, but don't forget the selfie at midnight with your fancy duds and new 'do!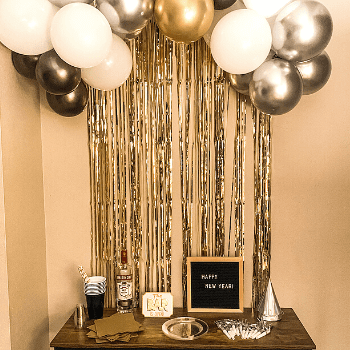 Buy helium balloons
Make your home feel like a party, no matter what the size of your group.  Black and gold balloons, streamers, party horns, hats, and a New Year banner will put you into a scene from NY Times Square. (minus all the drunk screaming women bundled up in puffy jackets and falling over in stiletto pumps) Serve frozen, from-the-box fancy appetizers and play the part of Greatest Host in the World.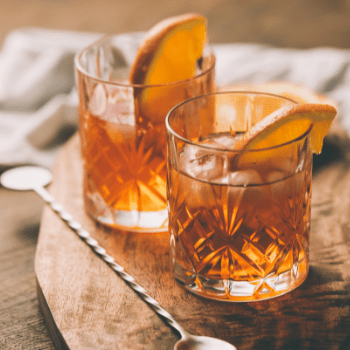 Learn to make a Perfect Manhattan
Or any other signature cocktail.  Tonight is the night to step up your mixology skills.  Pick one sophisticated drink, buy the ingredients, and sip it like you mean it.  I'm talking about a drink that is shaken, not stirred, comes in a crystal glass, and may or may not be sipped alongside a Cuban cigar.  This is NYE, not just a random Tuesday.  Let's be glitzy.  You need a signature drink in your life.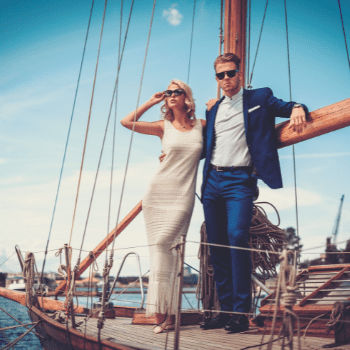 Play the "As If" Game
Spend the evening pretending "as if" you are living your dream life.  Include your friends and family. Be like a child and use your imagination to spend the evening acting like the person you truly want to be. Talk about your dream job, make conversation about the new car you just bought, The novel you wrote,  the vacations you went on. (in the private jet, of course!) How you lost all the weight. Met your soulmate. How you started your own successful business. How great it was to learn a new language. Take your written New Year's resolutions to another level.  Talk the talk and walk the walk for one night.  Because you might just like it. And there's a new year right around the corner.
Live "as if" and watch the magic happen.
This post may contain affiliate links. Danelia Design is a participant in the Amazon Services LLC Associates Program, an affiliate advertising program designed to provide a means for sites to earn advertising fees by advertising and linking to amazon.com. For more information, please read my disclaimer here.