One thing which seemed consistent, no matter where I lived, was that the place rarely had the perfect spot for the television set.   True, newer built homes may have an obvious location, but for the most part, the TV location was an afterthought.   With today's flat screens they can go almost anywhere, but finding the ideal place with the best seating doesn't always work with the layout of the room.
Here are some ideas for challenging design that will be functional, yet won't have you trying to squeeze into a corner, or hop over a coffee table to reach optimal viewing pleasure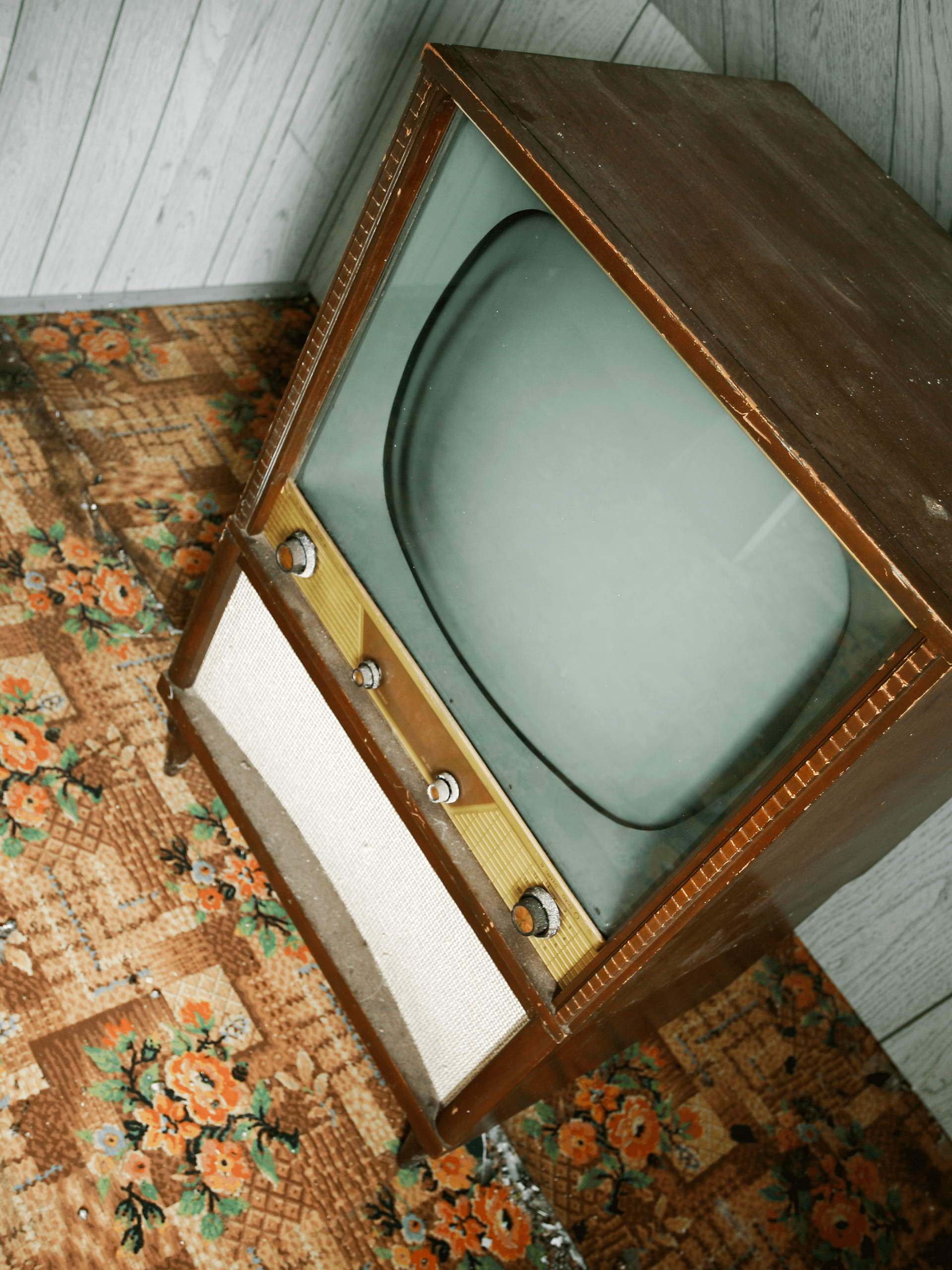 Back when I was a kid, I remember our old box TV (my daughter refers to them as "Fat TVs") that was eventually replaced with a larger box TV and then to an even larger box TV (that no one could possibly lift and move…Do you remember the first big screens? They were over 1000 lbs!).  Houses weren't built to stare at one area of a wall, so the TV had to go in some awkward corner where the furniture didn't quite work to get the best view.  TV sets could be purchased with a surrounding cabinet and if you were one of the lucky few, your television cabinet might have also come with a record player and a bar.  Seriously….a BAR!  Cocktail hour was taken quite seriously back then.  🙂   
Unfortunately, unless you designed the house yourself to account for the TV location, the perfect seating for visual and audio perfection,  as well as your built-in 7.2 surround sound speakers, flush with the walls.  And unless you have a full-on home theater, you'll need to arrange the room to optimize your binge-watching or a Sunday with your friends watching the Big Game.  Start with the obvious, seating needs to be opposite the television set.  Ask yourself these questions: 
How much seating do I need?

What furniture do I currently have, or do I need to find something different to fit the space I have? 

What size is the room?

How big is the TV? 
Instead of both a sofa and a smaller loveseat, opt for a single sofa and chairs.   This will give more direct viewing and still have room for guests who may not want to get too cozy and like their space.  Individual chairs will also give you the opportunity to add your personal designer touch.  Look at bright floral patterns, or more traditional solids or tartans.   Throw in some whimsical pillows for fun, or as seasonal statements.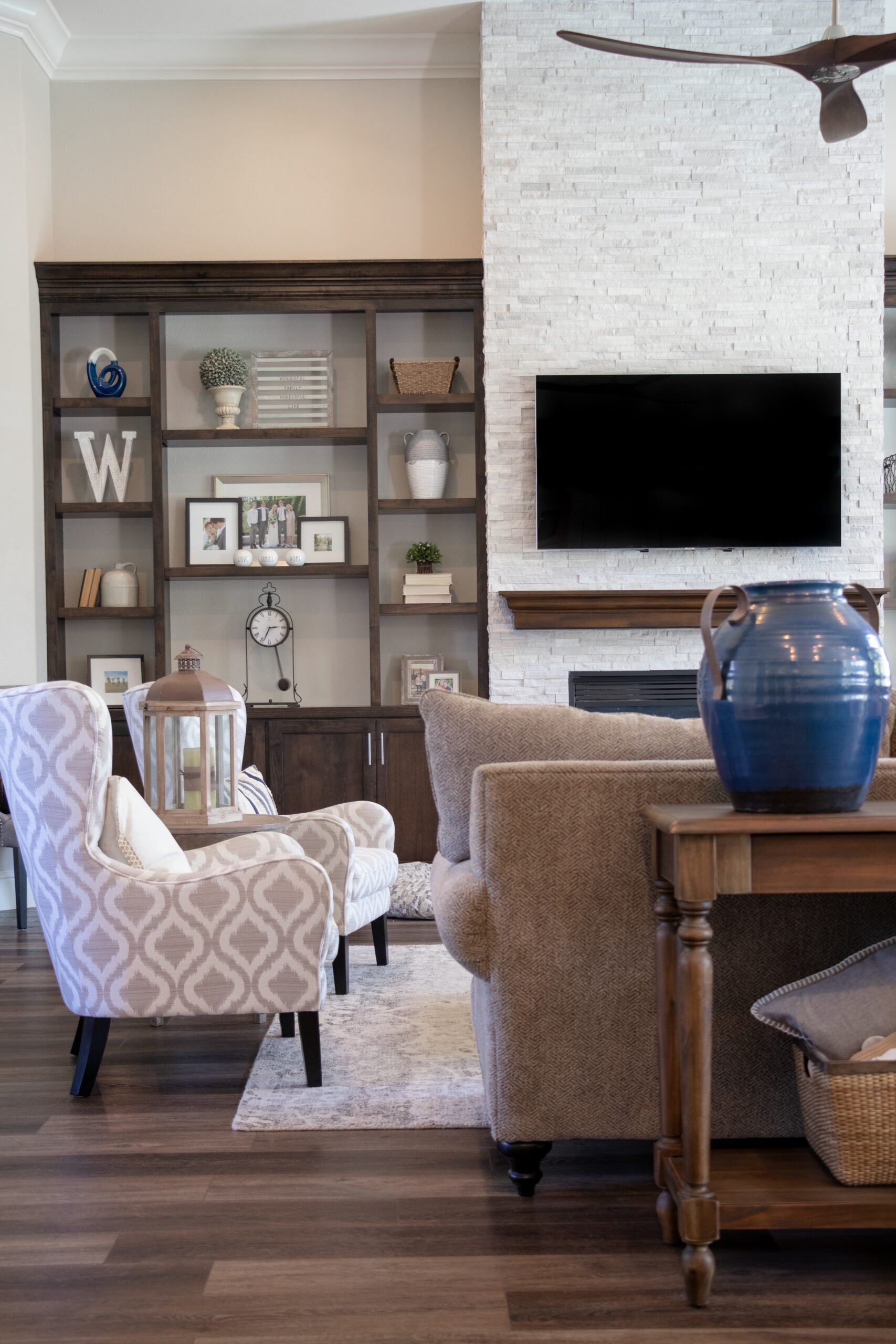 Pretty standard, but quite functional, is to own a sofa set that will allow for anyone, in any seat, to see the TV.  A wall-mounted flatscreen is the simplest solution for any room.   Floating media centers or a low console will hold all the miscellaneous media equipment, hidden from view.   This layout works in both small or large living areas.  If you're looking to fill space, add a decorative chair.  Or if your spouse is in love with his recliner and you have to find a spot, you can make that work too.   I can't help you with the naps and snoring…you're on your own there!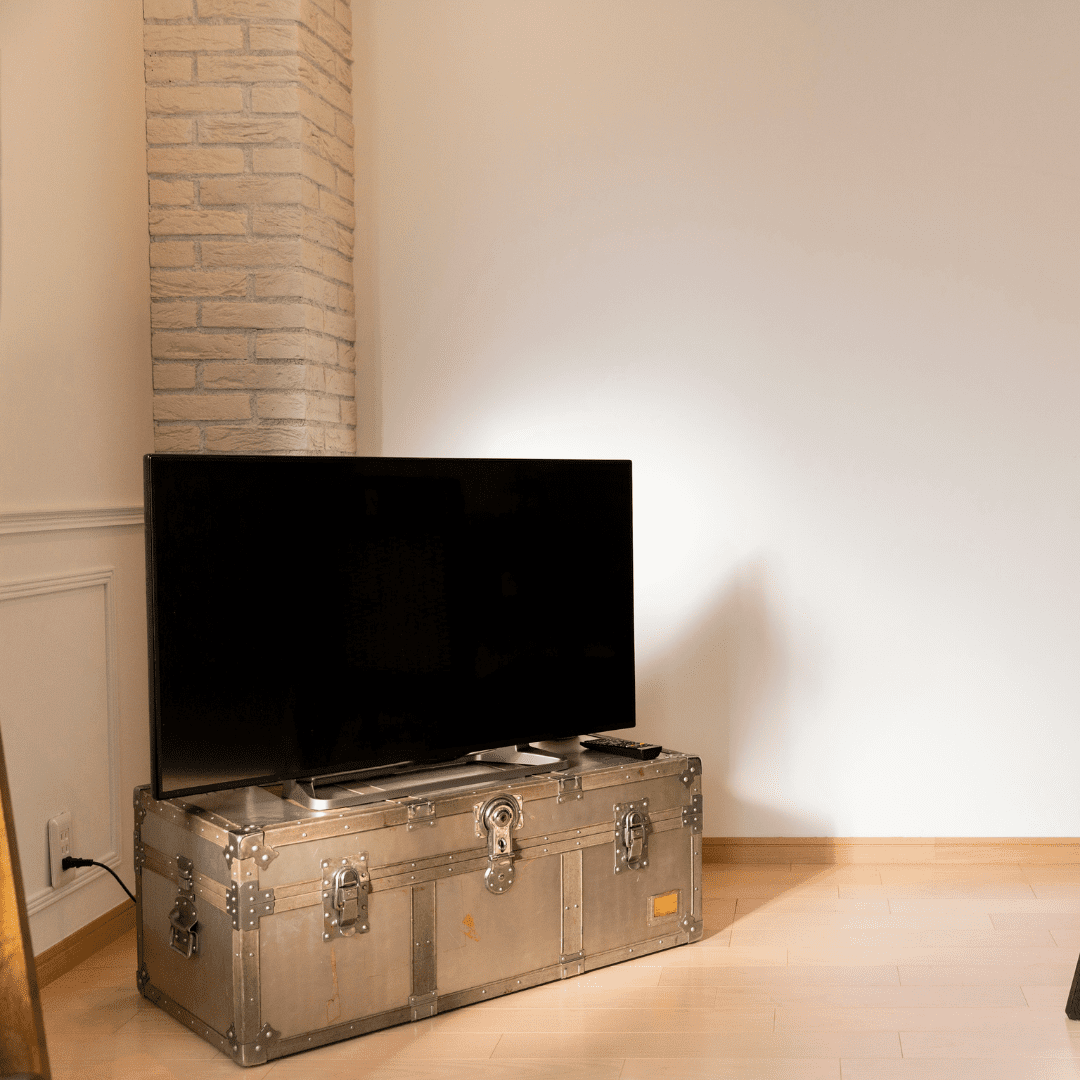 Get creative when it comes to choosing your TV stand.  Thrift stores & garage sales can give you the inspiration you need to up-cycle an old piece of furniture. Keep an eye out for an old console table or a cute vintage dresser.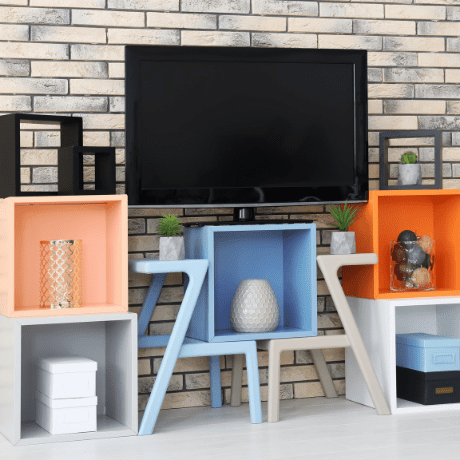 Mounting your flatscreen over the fireplace (if you have one) is typically the best location.   It does, however, have its challenges.  Cords being the biggest.  The Frame TV by Samsung has addressed that by only having one thin wire running from the TV to your equipment, making it almost invisible.   Hiring an electrician to add a power outlet may be an option, as well.  Some of the latest equipment is wireless, so a bookcase or shelf alongside the fireplace can hold everything else you need.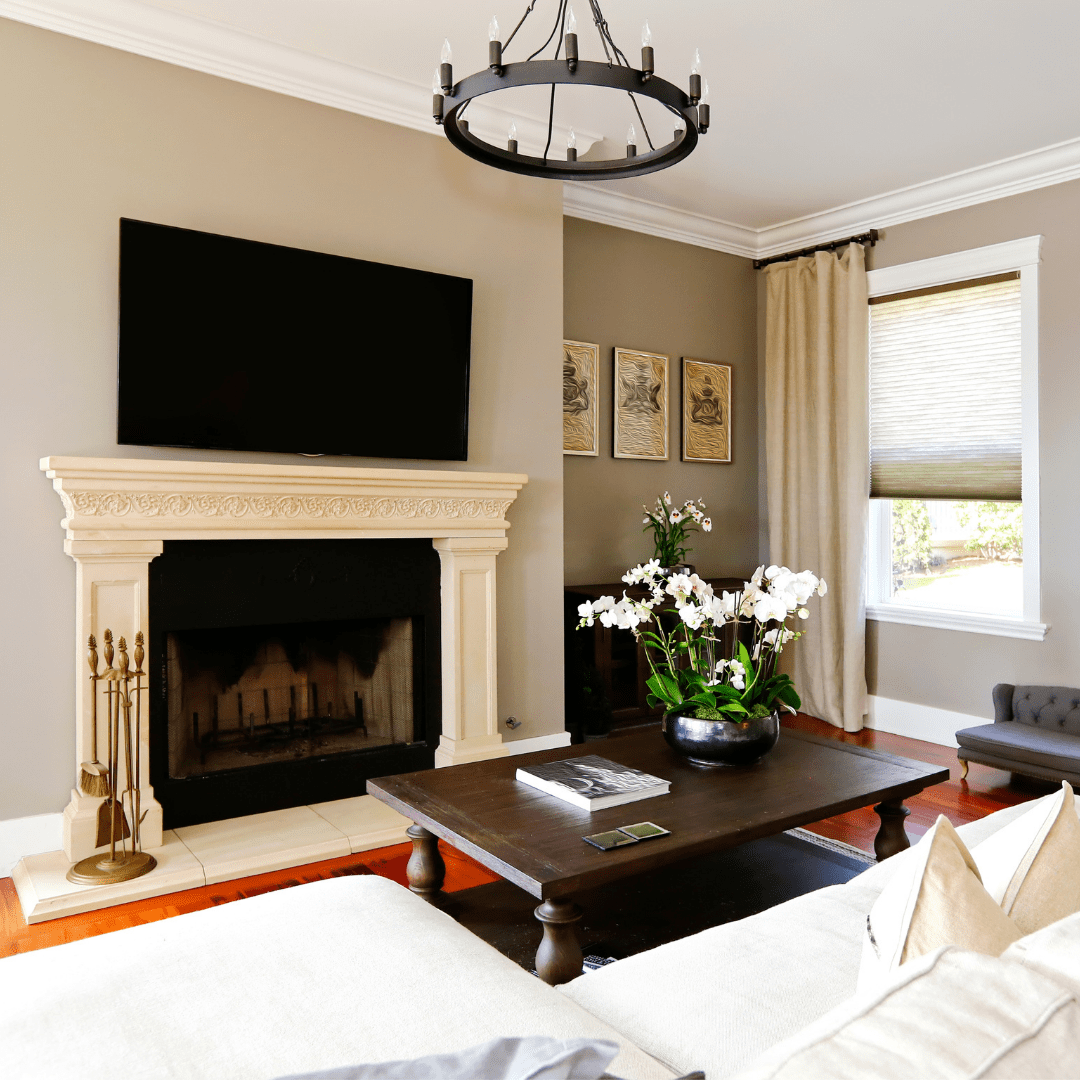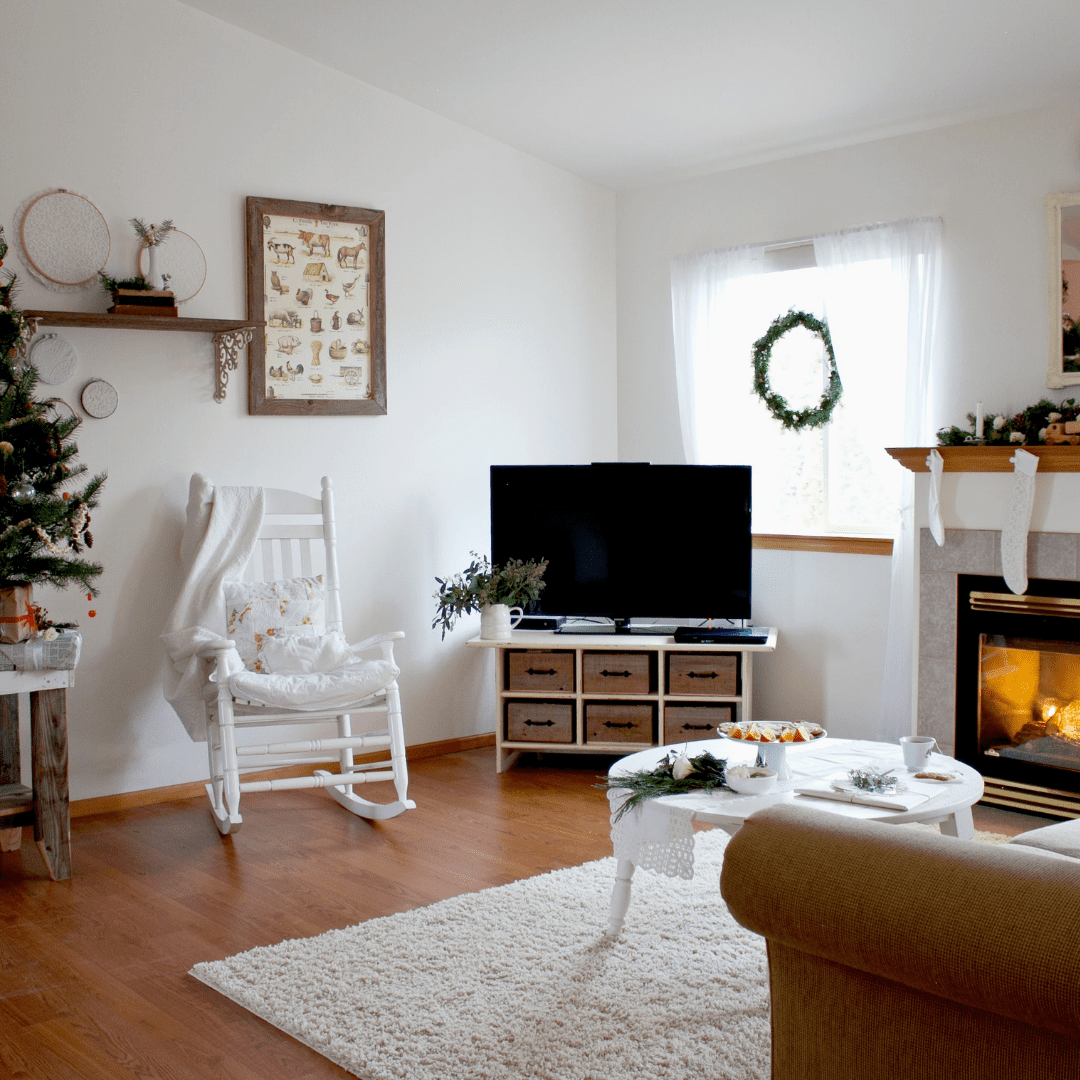 Don't let the fireplace design the rest of the room, though.  If your furniture fits better with the television in a corner, do it.  For some room layouts,  angling the furniture can open the room and give you more seating options.  Look at placing the TV offset in the center of the room, or in a corner.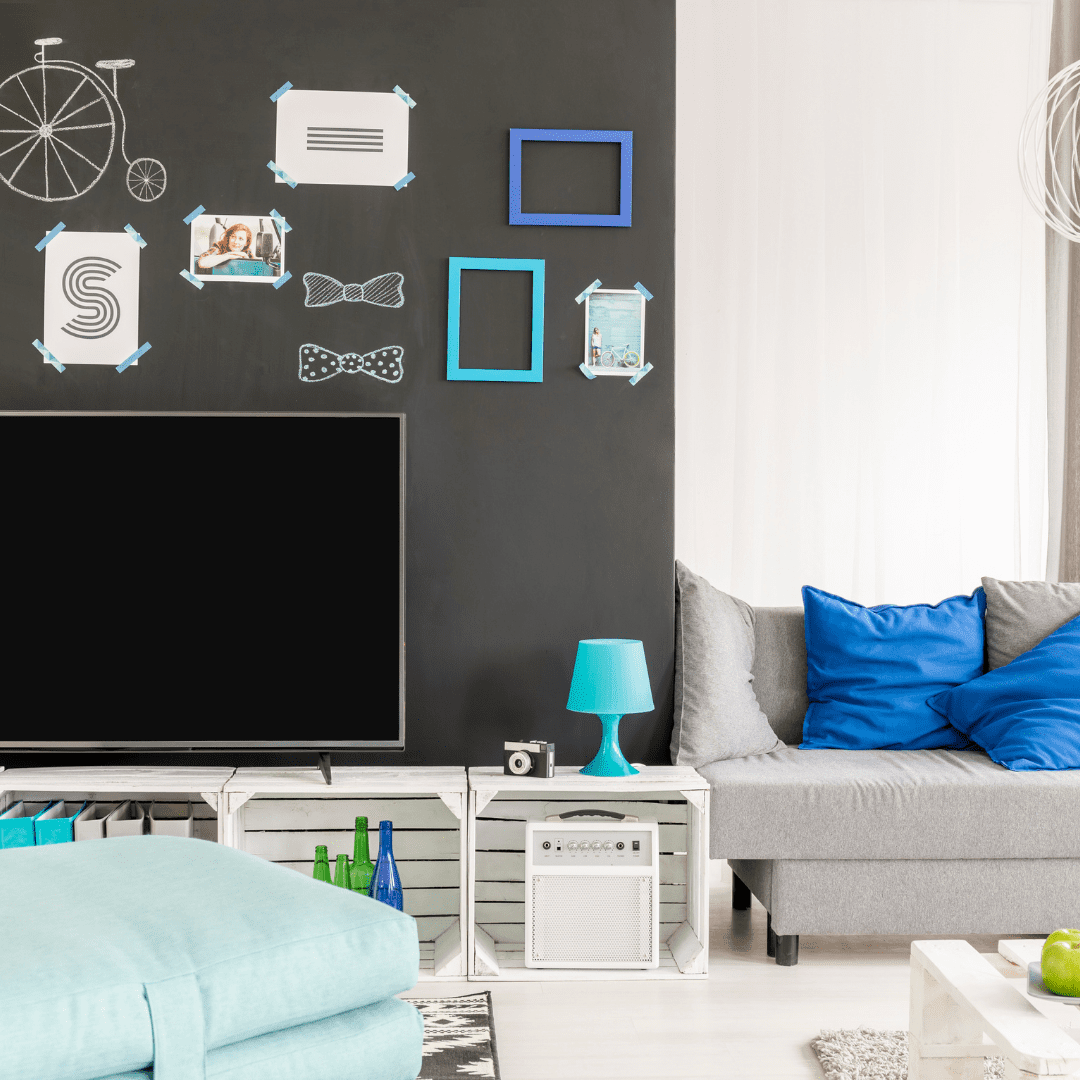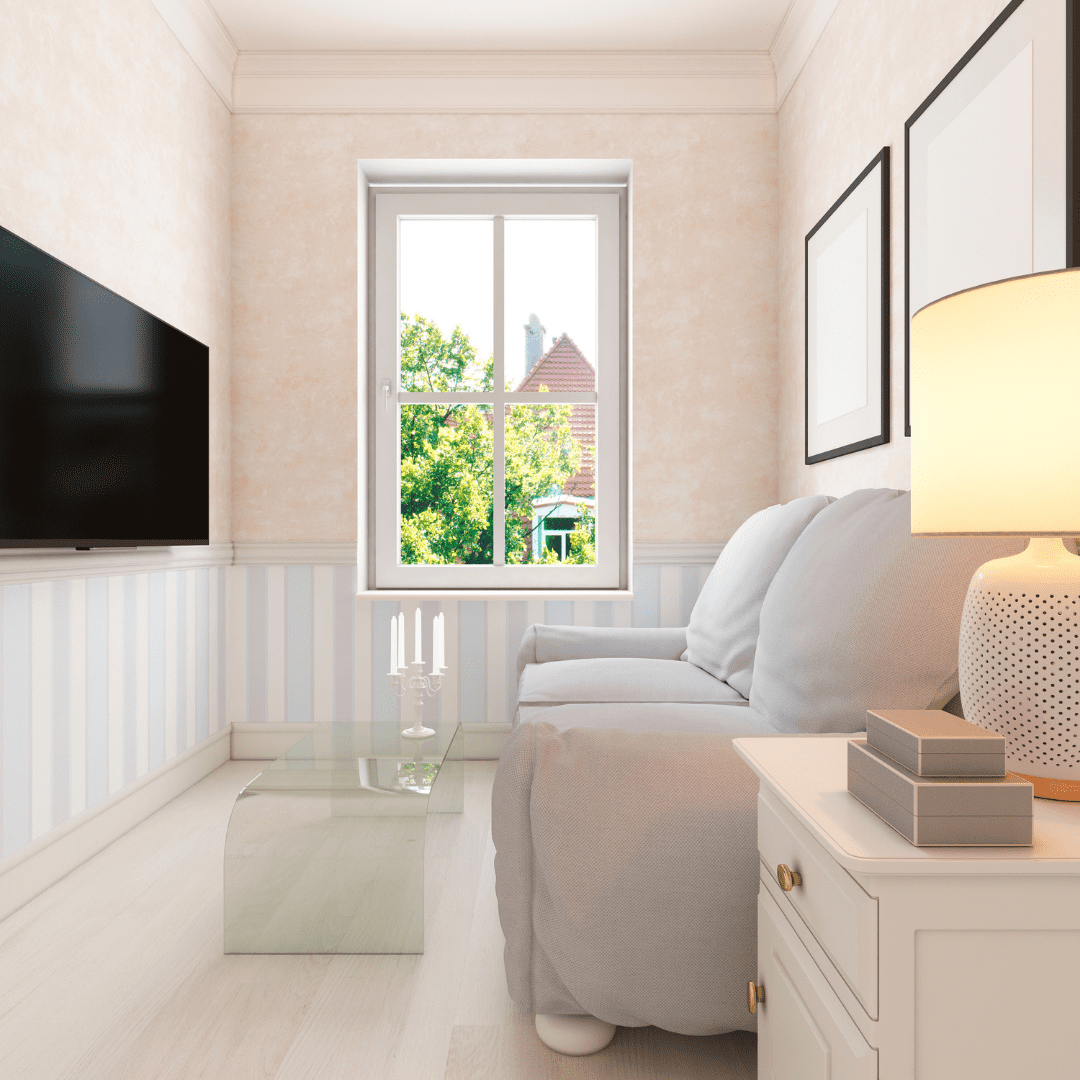 Very small rooms can have huge benefits with a wall-mount and eliminating the TV stand altogether.   If you need a separate space, don't discount a bedroom or alcove for a 2nd TV.  You can still have comfy seating and room to walk around the coffee table.  
By strategically placing your furniture, you can have the best of both worlds for viewing pleasure and for the warmth from your fireplace. Wall mounts can do just about anything for the perfect visual location.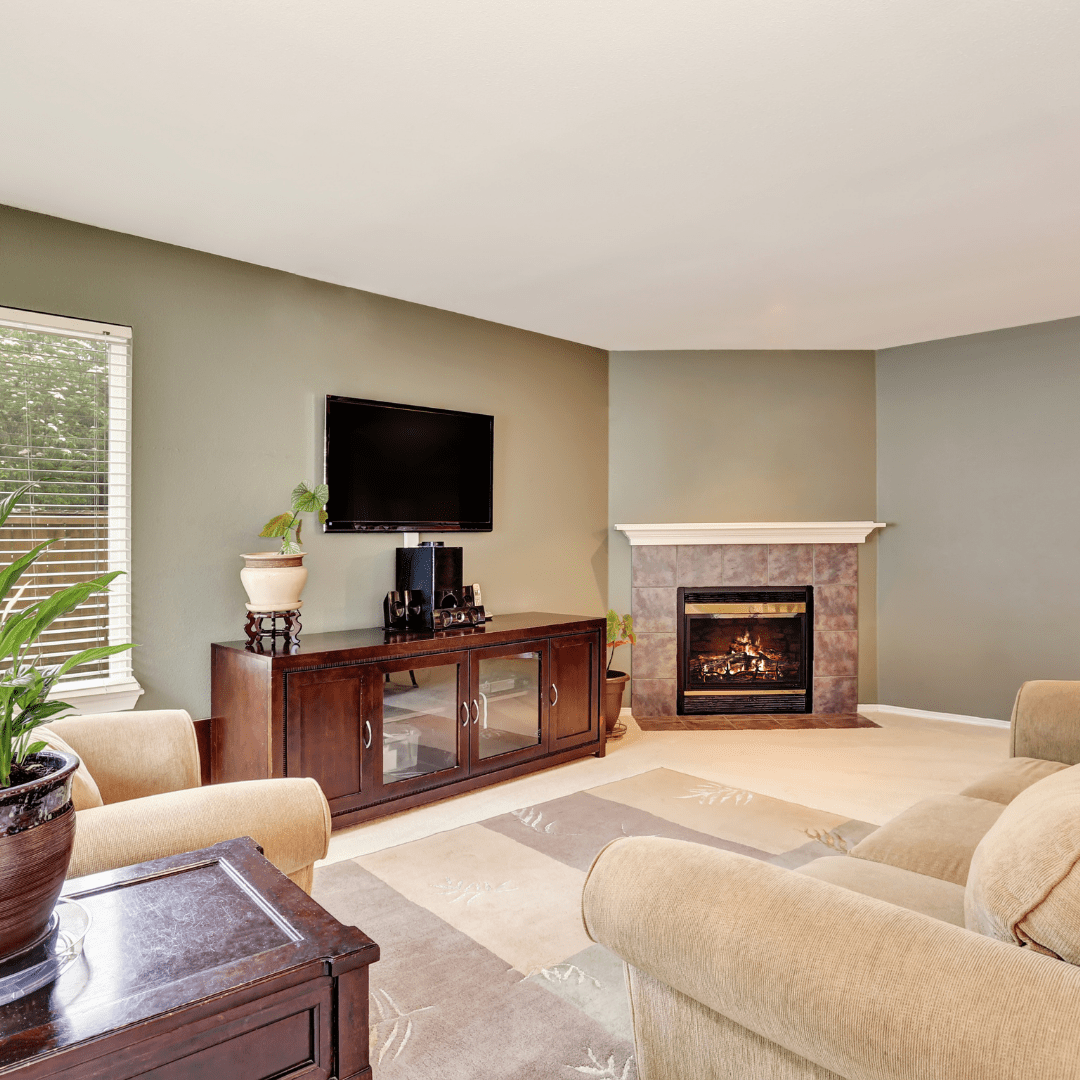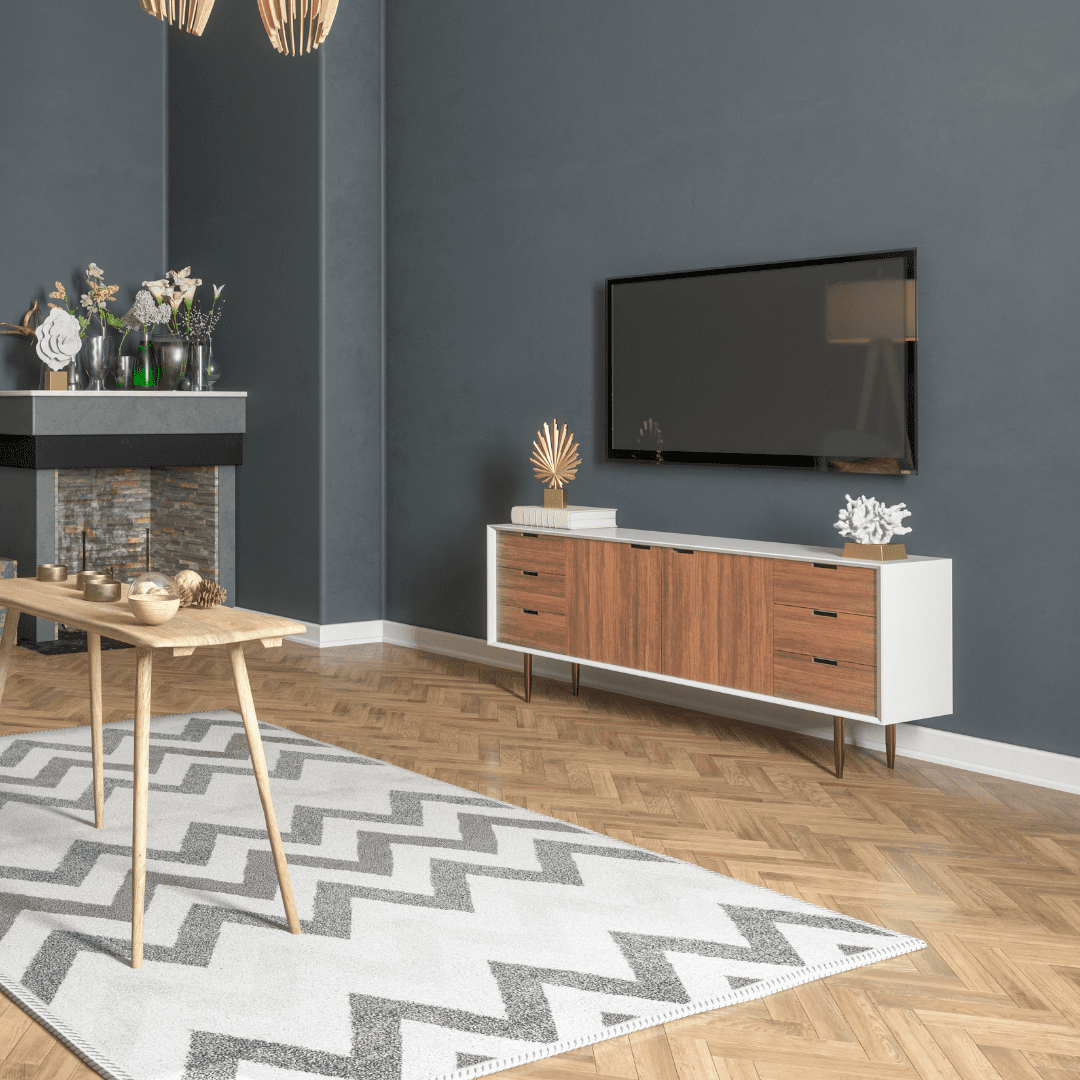 Lastly, with the endless options for TV stands and consoles, a piece of functional furniture can also be stylish and the centerpiece to your entertaining enjoyment!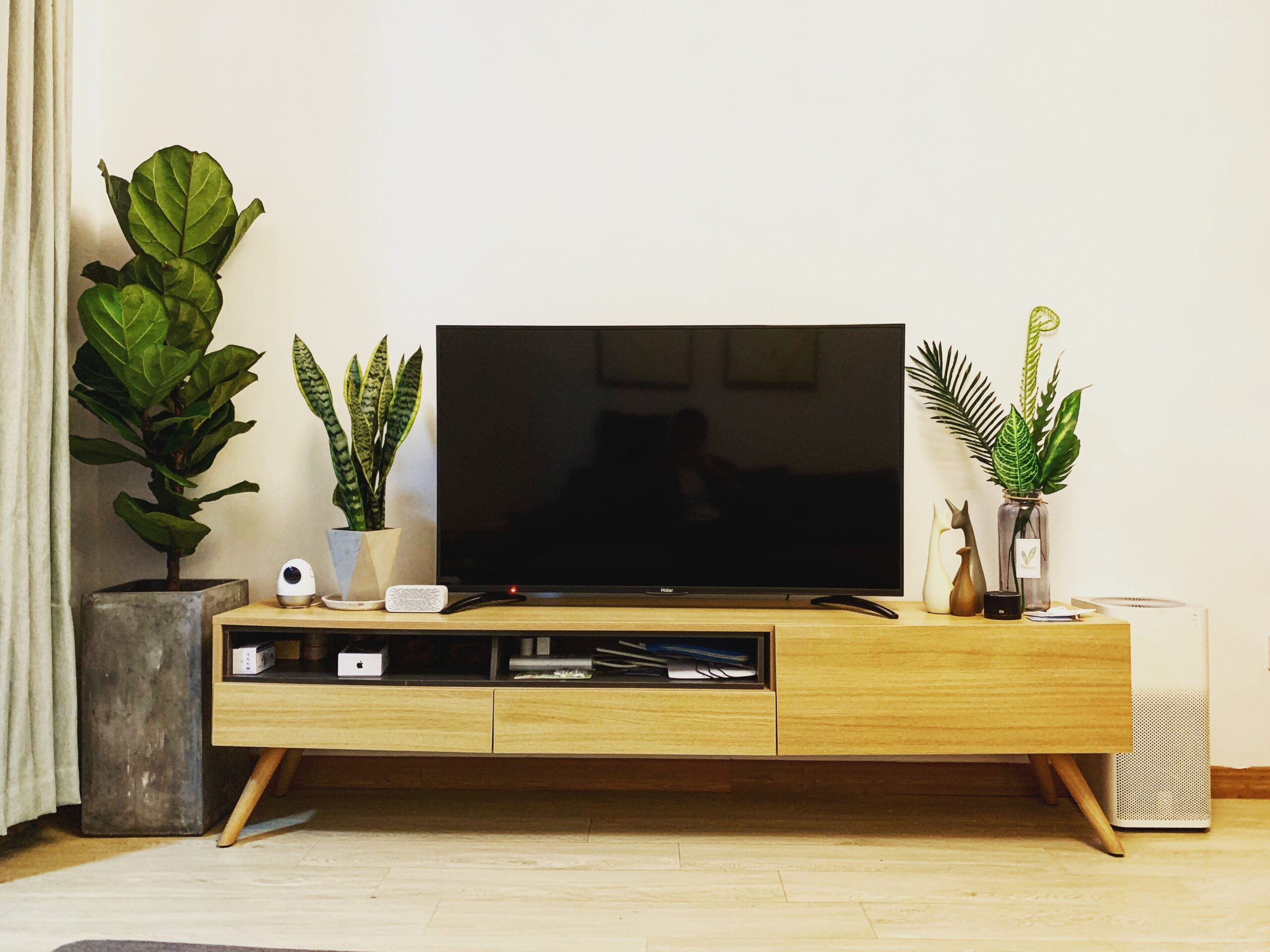 No matter the layout of your room, there is always an option.  You may need to get creative, but with technology ever-evolving, the options have grown.  Flat screens with minimal wires can go just about anywhere.  Look into wireless speakers and equipment.  Wall mounts come in a multitude of configurations.  Your television set no longer has to be an ugly centerpiece controlling your room.  Your TV location can be the focus of fun and entertainment for family and friends, while still allowing for a  functional and beautiful room design. 
This post may contain affiliate links. Danelia Design is a participant in the Amazon Services LLC Associates Program, an affiliate advertising program designed to provide a means for sites to earn advertising fees by advertising and linking to amazon.com. For more information, please read my disclaimer here.