WHY did we do it?
My husband likes to say that we took a perfectly great house and tore it apart.  Which I guess is what a full remodel is all about.   We spent over 2 years searching for our forever home and when a house came on the market that checked most of our boxes, we weren't going to let the 1980's oak-filled house steer us away!  So we started working on a plan that would update the interior to fit our wants and needs.  The plan was to gut it, remodel, and move in once it was done.  But 2020 had different plans for us, so the timetable was thrown out the window, and about 75%  finished, we moved in.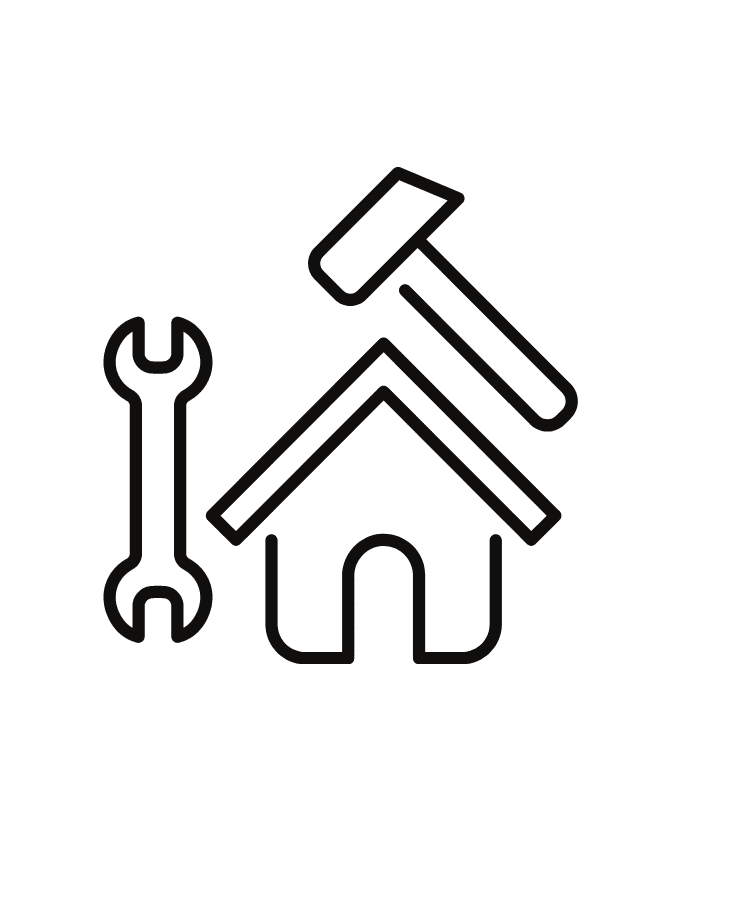 Working with a local architect and a lot of sketches at home, we redesigned the original kitchen, and the sitting/sun room to build our dream kitchen.
it was a lot of work but so worth it!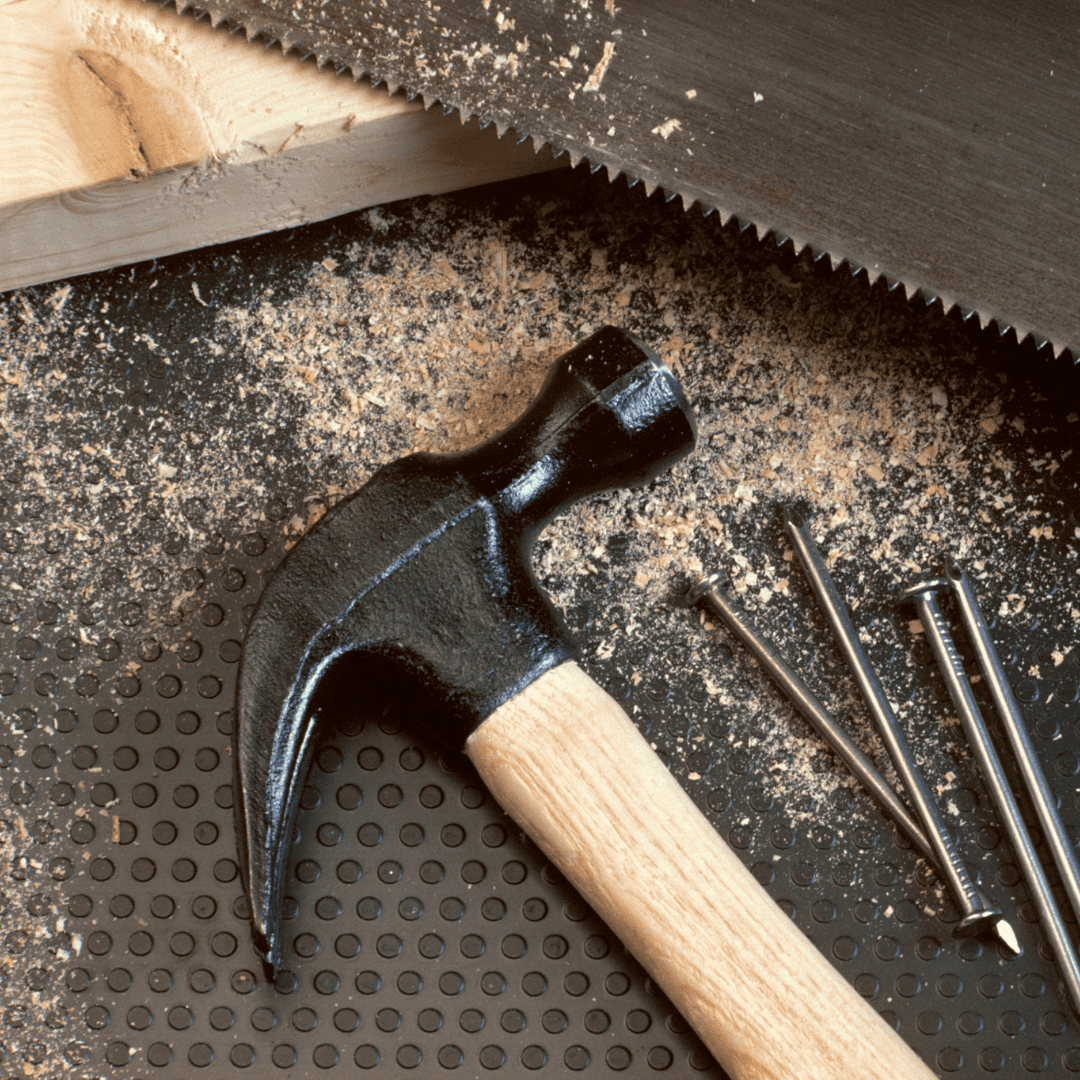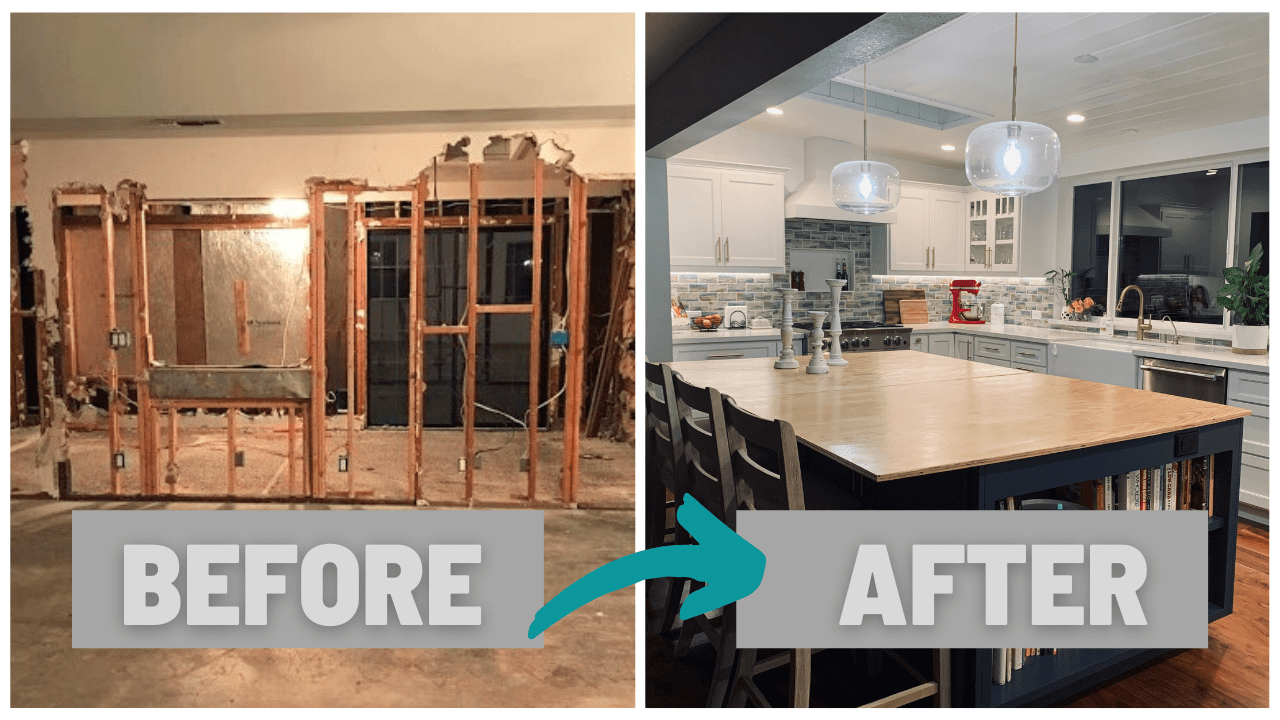 the decision to move the kitchen
Before we closed escrow, the previous owners gave us a 2-hour tour of all the ins and outs of the place that we should know of.  The different plants in the yard, the added electrical outlets, where they kept the leftover paint.  The best thing they showed us was a set of architectural plans they had drawn up years before.  It was this current layout drawn on paper that gave us the idea to relocate the existing kitchen and add a library. The house is on a concrete slab foundation, and after learning that the utilities came down from the attic, we knew we could move water and gas lines with little effort.
We met up with the original architect and hired them to redesign the drawings, engineer the new wall with a structural beam, and submit the plans to be stamped and approved for the necessary permit to do the work.
The original kitchen was pretty small.  The prior owners called it "a 2-butt" kitchen because only 2 people could be there at once.  For a 2,100 sq ft house, the original builder didn't use up much real estate for cooking (or in the bathrooms…but that's another story).  What was originally a covered patio has been walled in, and given a huge bay window and slider. It was used as a sitting room.  This room had the best view of the yard, so moving the kitchen to that location made a lot of sense.
In addition to the utilities, we would have to jackhammer a new sink drain line in the concrete floor to meet up with our septic tank.   The wall we needed to remove was load-bearing, so the beam would have to be engineered to hold the weight.   For these things, we called in the professionals.
Our DIY skills only go so far!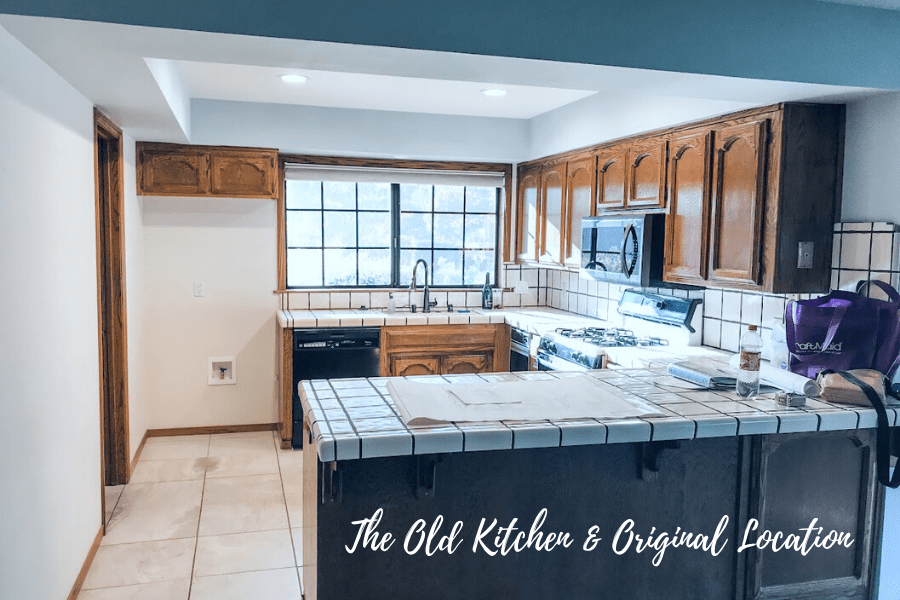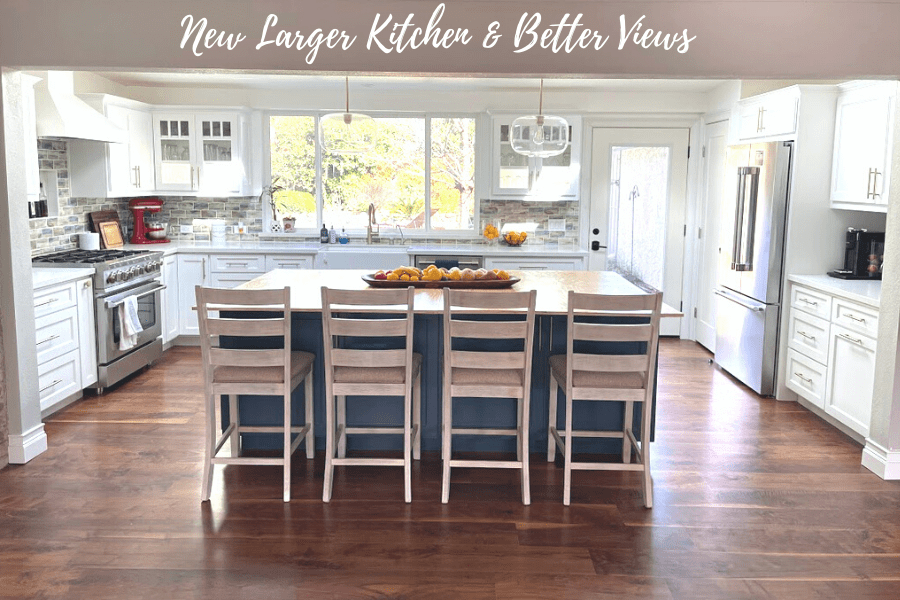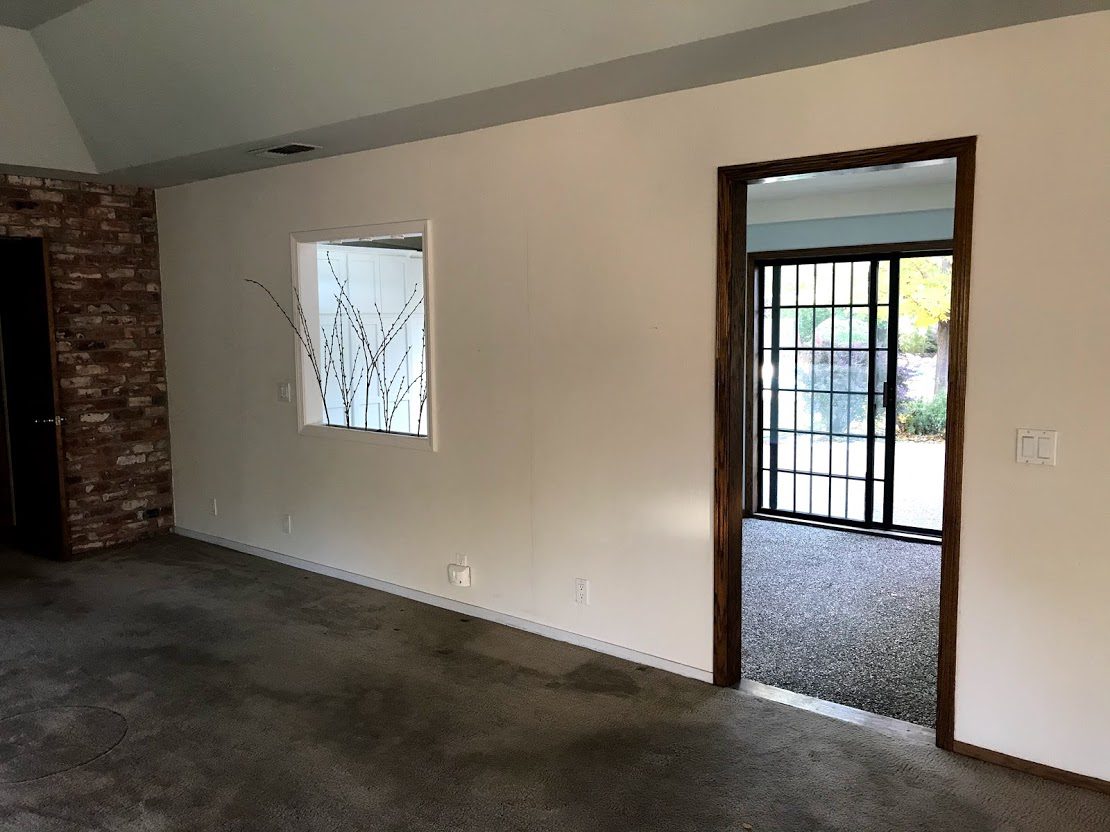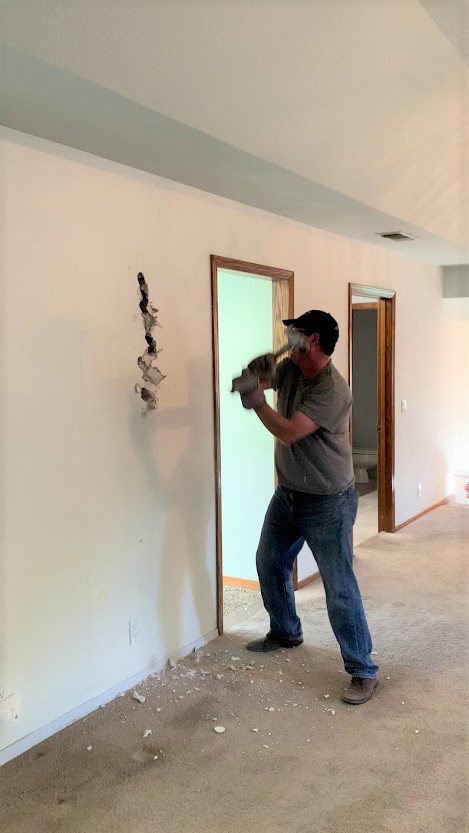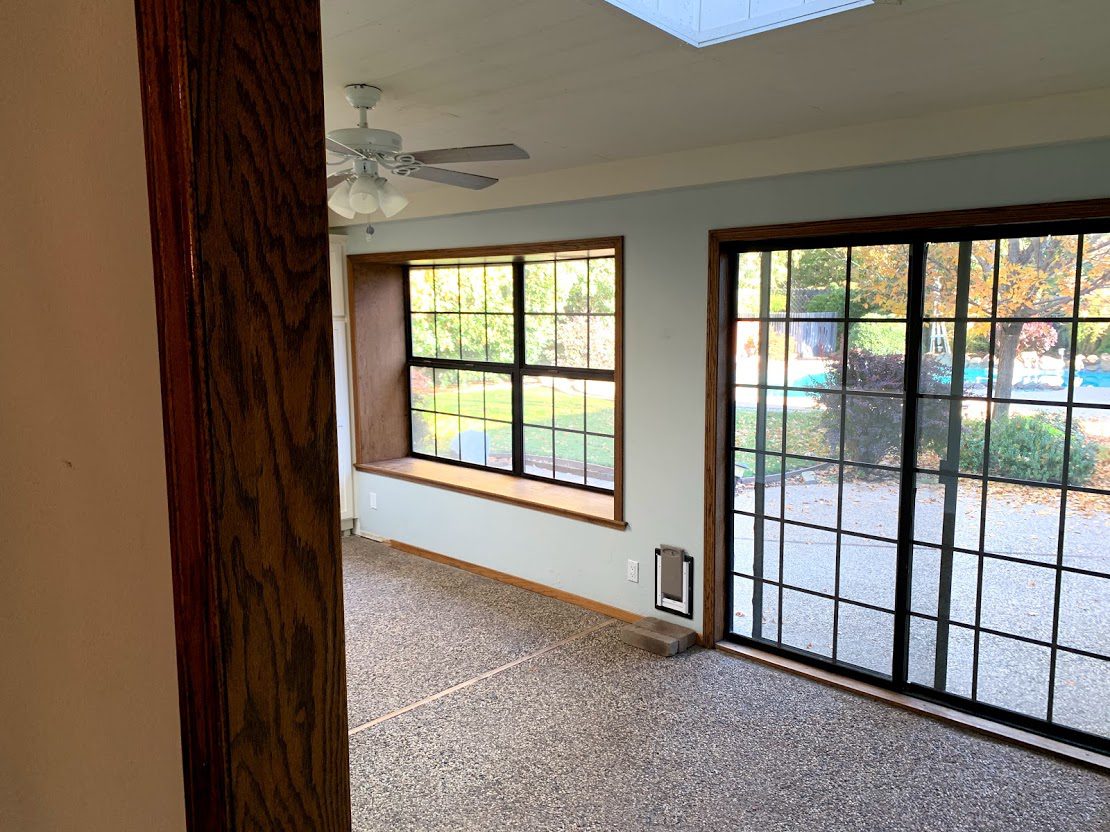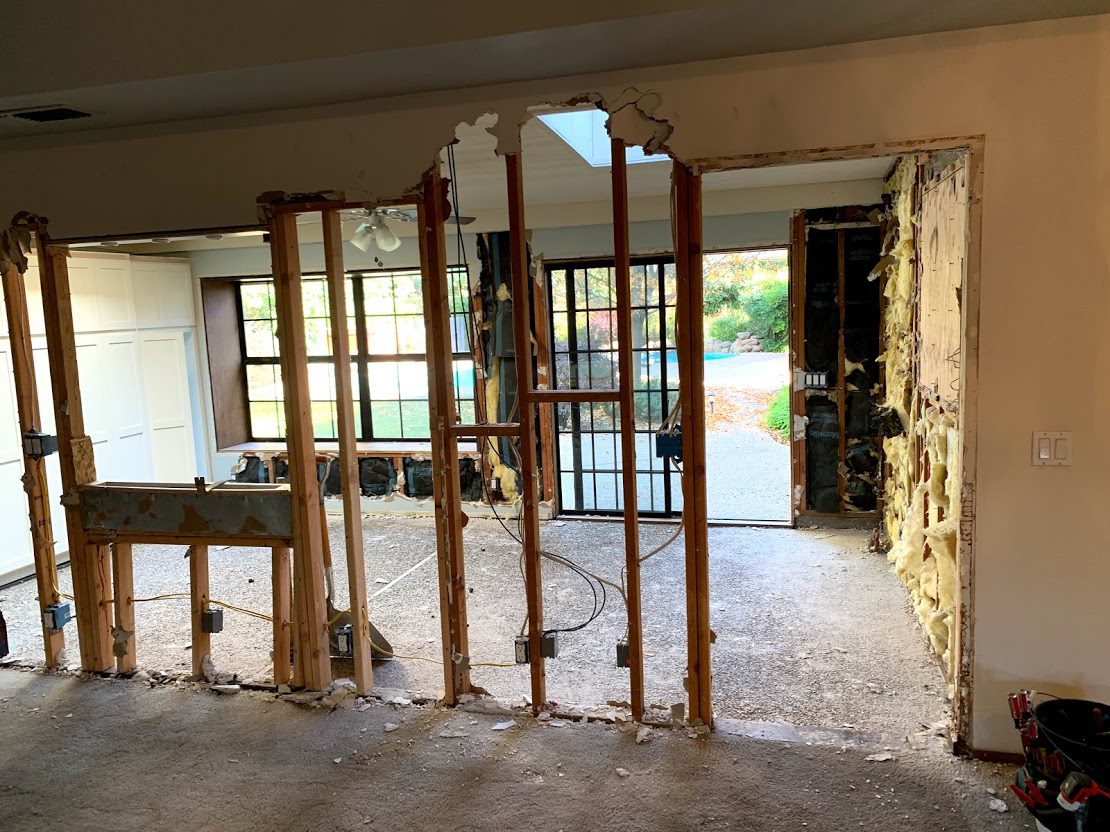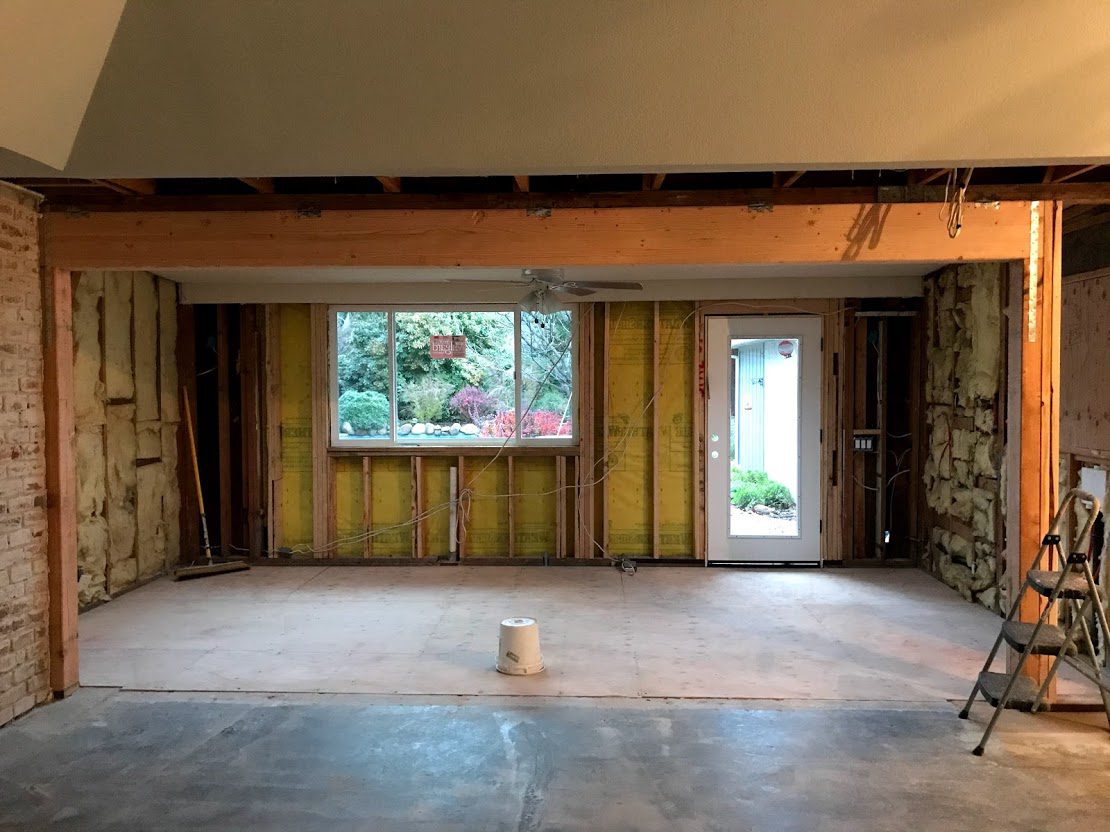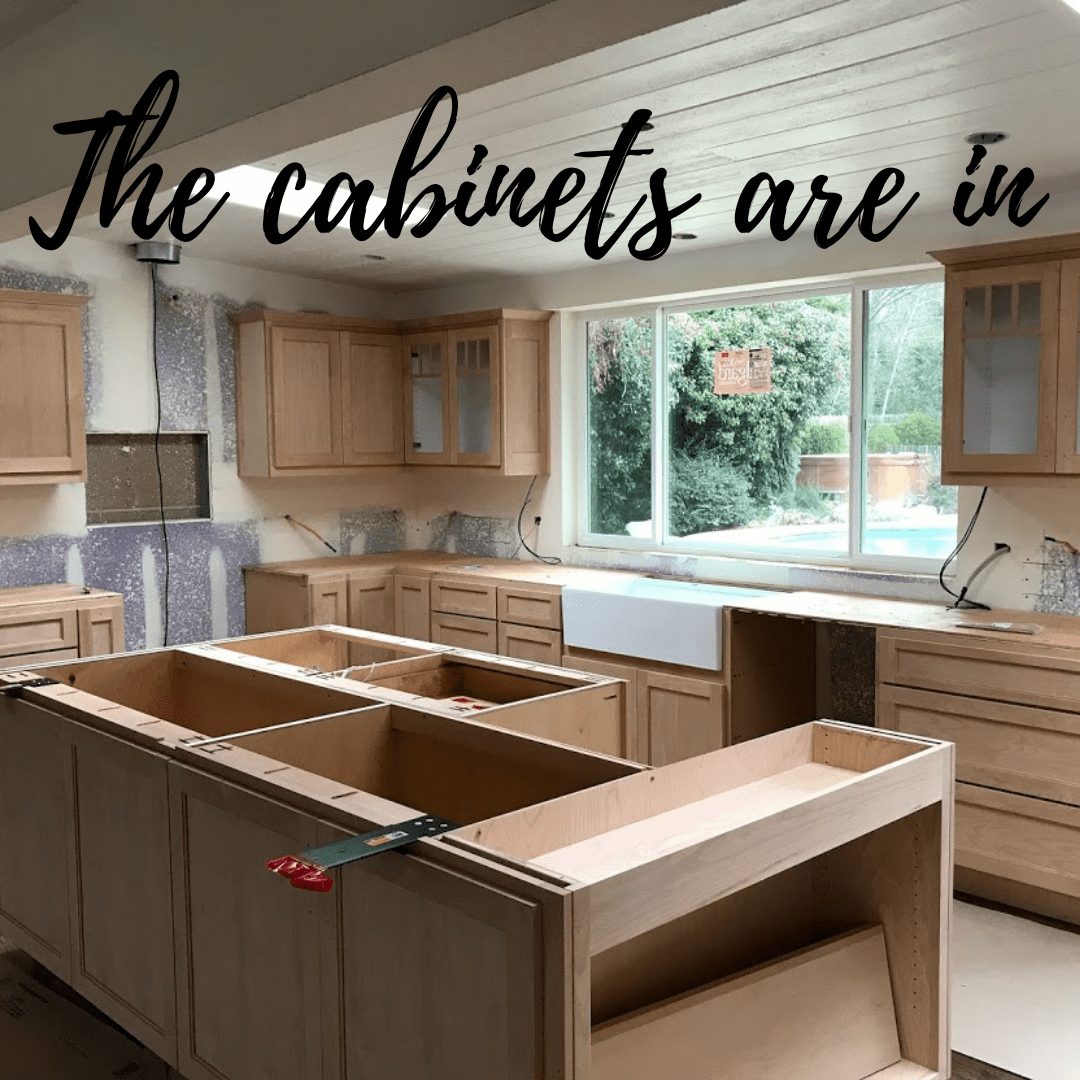 Custom built cabinets with modified Shaker doors
"Campbell" frame ~  soft close with maple interior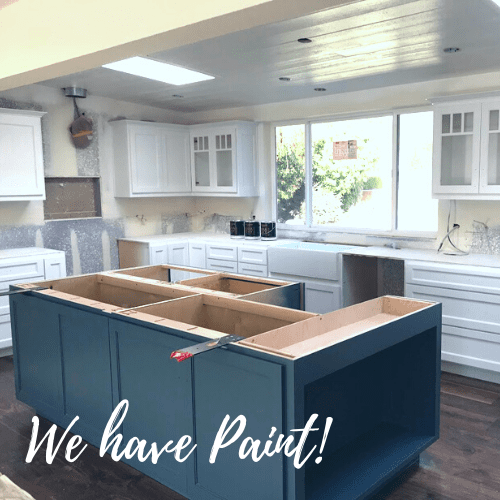 Island – Kelly Moore, Steiglitz Fog HLS4227
Cabinets – Kelly Moore, Apollo Landing KMW50
We're not 100% done yet.  As I mentioned we gutted pretty much the whole house (minus the bathrooms) and as 2020 can testify to our world, things slowed down and there is more work to do.   The next item will be the island countertop.  We're going with a Pacific Coast non-finger jointed maple.  And this sucker is going to be HUGE.  63″ x 96″.   It will weigh 250 lbs., so we'll need some strong friends to come on over and help the day it gets delivered.  The plan is to oil it using food-grade mineral oil, so we can use it as a ginormous chopping block.  Over the years, the wear on the wood will tell the story of holidays, intimate dinners, and parties with good friends.   That means more to me than having a perfect-looking polyurethane varnished top that I wouldn't be able to carve the Thanksgiving turkey on.  So currently, we have a temporary plywood top, polyurethaned so that it is functional. And hey, it might even make a statement.  Who knows, it may catch on!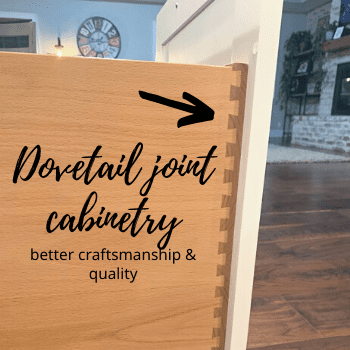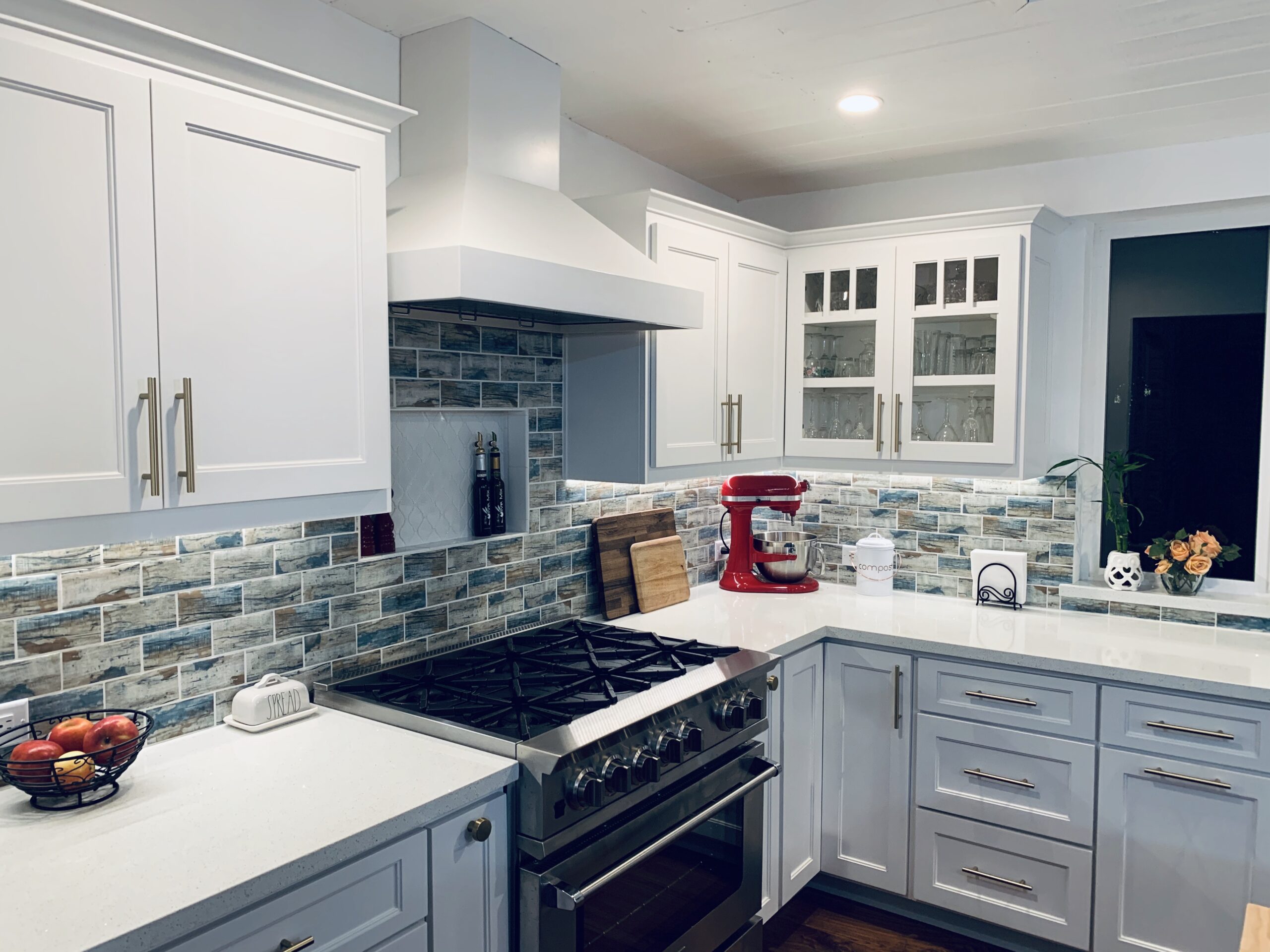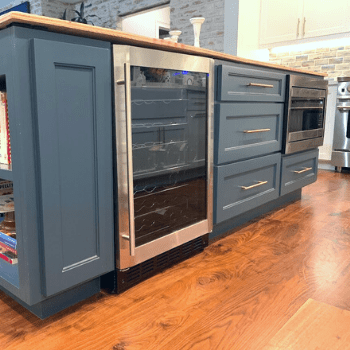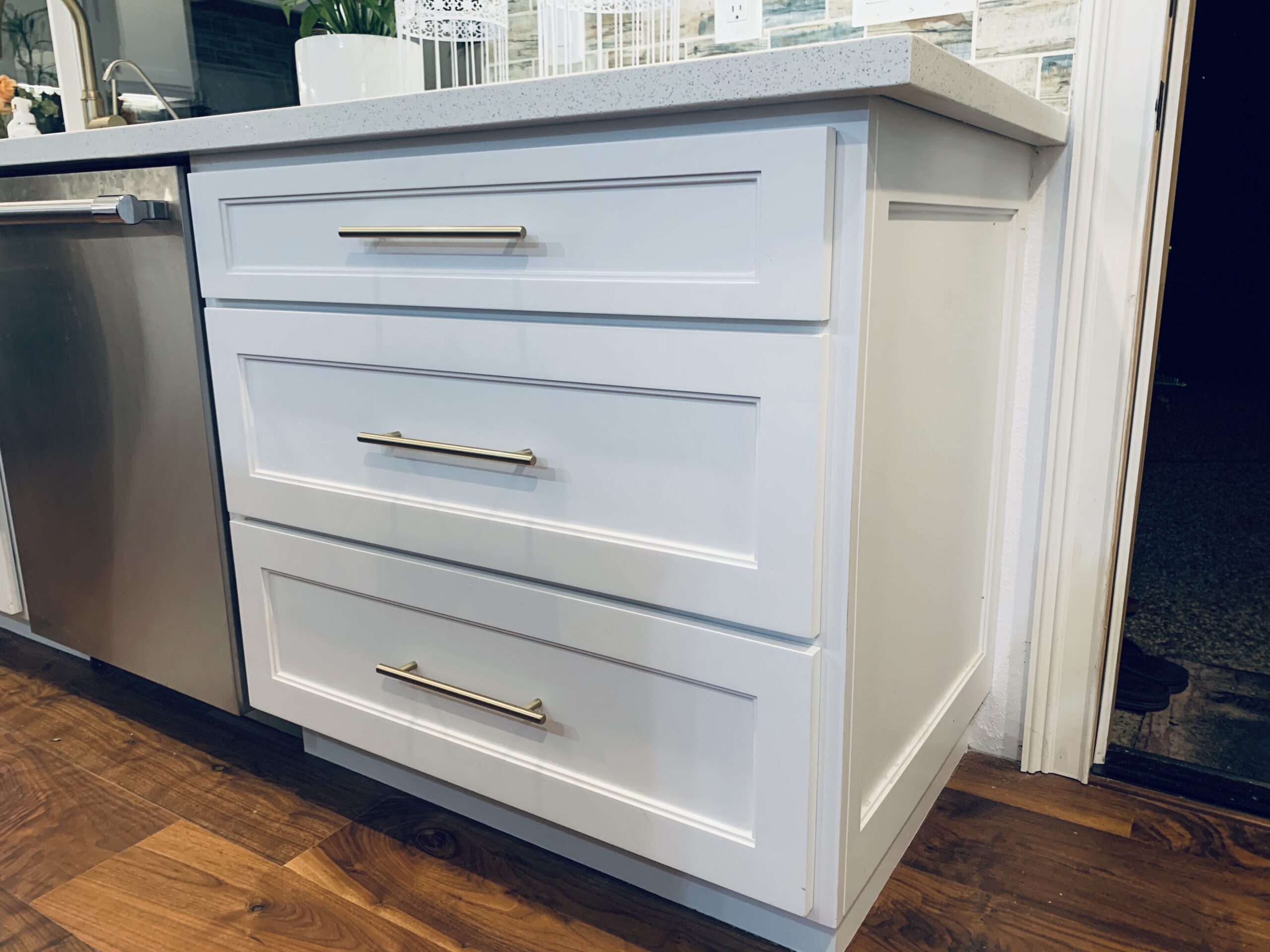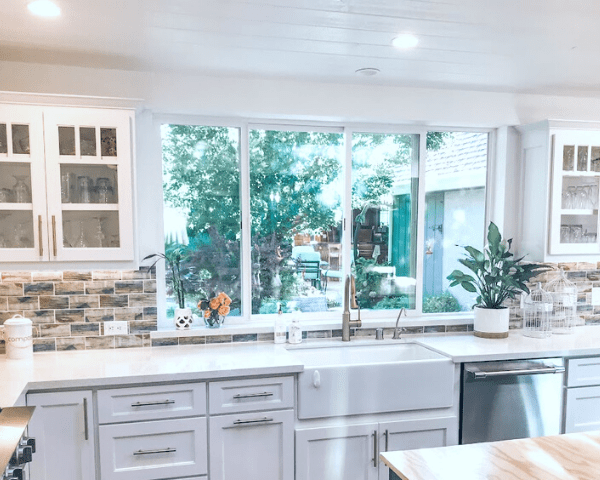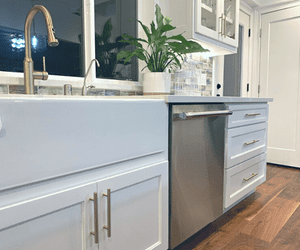 Appliance List
Refrigerator – Bosch
Dishwasher – Thermador (subsidiary of Bosch, so we have the same large door pulls on both)
Range – 36″ Bluestar 
Range hood – Zline
Wine fridge – Magic Chef
Microwave – Frigidaire
Other Items
6 stage reverse osmosis water system – Pelican (now Pentair)
Double basin Farmhouse sink – Wayfair- Elkay w/ cutting board
Gold drawer pulls – Amazon Basics
Countertop – Quartz – Sparkling white
Cabinet glass – Seedy Reamy
Flooring – 8″ wide plank walnut, no stain, clear coat
Island light fixtures – West Elm
Since we were starting from scratch, there were specialty items I knew I wanted.  We went with drawers for most of the lower cabinets.  The deep drawers hold our plates, bowls, & pots and pans.  I really wanted a pull-out garbage & recycle drawer, a pull-out utensil organizer, a dove-tailed heavy duty drawer for all the cocktail makings (the bottles are heavy!), and I designed the simple mullions, after searching the internet for hours, for the glass doors.  Our cabinet maker went above and beyond and even included maple-lined drawers and cabinets, instead of the standard white melamine.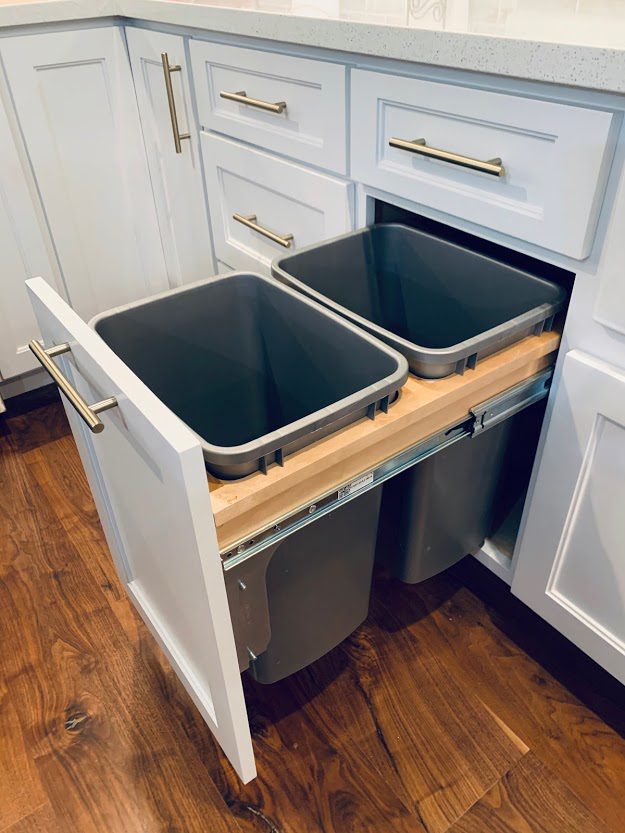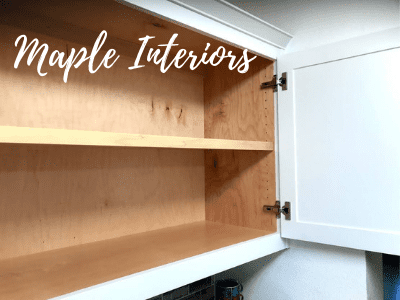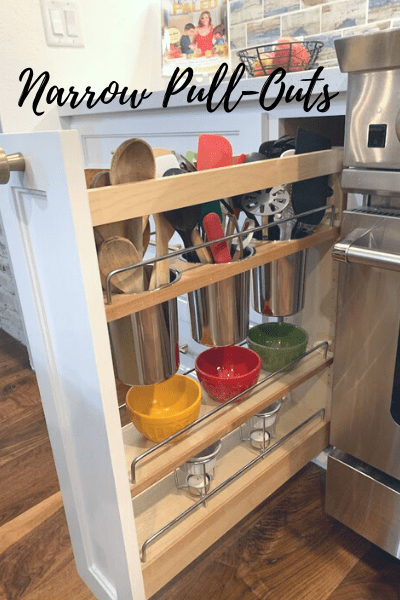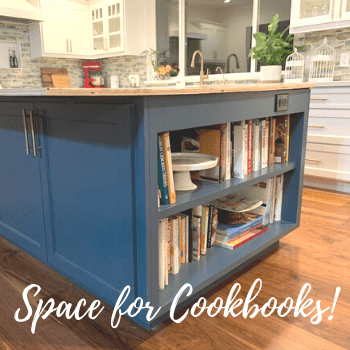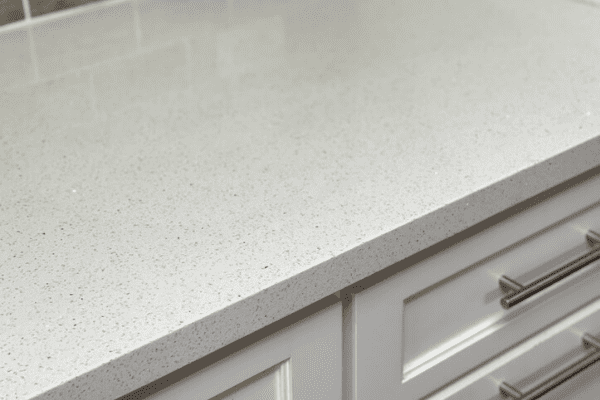 Quartz Countertops
After working with multiple types of countertops during my career in design, I went with a quartz material.  More than a trendy material, there are many advantages that quartz has over other options.  The most attractive for me is that they are virtually maintenance-free! Simple soap and water clean-up. Gently scrub or scrape off food or grease.  (Never use bleach or products that contain bleach)  And granite naturally resists bacteria.  Other key features: they are nonporous, stain, scratch, and heat-resistant. 
Caveat – heat resistant does NOT mean pulling your 400° casserole dish straight from the oven to your countertop.  Be smart and use a trivet. Having said that, your counters are perfectly safe up to 300°.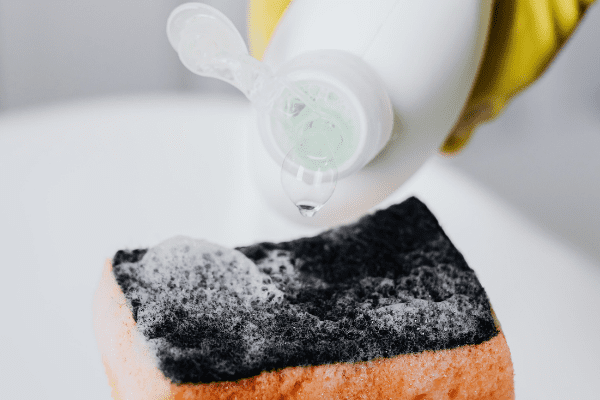 Why I love it
Unlike granite, which needs to be sealed annually, quartz is maintenance-free.  The non-porous nature also means it can handle almost anything without staining.  Red wine, yellow mustard, or tea won't be a problem.  Even if you spilled three days back, the most you'll have to do is a slight scrubbing. Quartz is tough! You'd have to work hard to scratch or chip it (it's harder than granite).  But if something were to happen, it's easier to repair because of its uniformity.  Meaning color matching can easily be done. Speaking of colors, you'll find an almost endless range.  If anything, it may be tough to narrow it down to only one!  Quartz is similar in price to granite and much less expensive than marble, yet can be made to look just like copycat of almost any material.
Choosing the glass for the cabinet doors took longer than expected. After sending off for multiple glass samples, my first choice was (of course!) the most expensive. Hand-blown, delicate, and beautiful.  But since every home remodel has to draw the line at cost somewhere, we decided to shop locally (shout out to Miller Glass in Chico, Ca) and find something similar with a lower price point.  I chose a glass with texture and movement that would align with the coastal theme of the room. (Think moving water) Seedy Reamy glass was the winner!  The right look for the right price.  And Miller Glass had the four doors complete in less than 2 days!
Now we just need to work on that island top…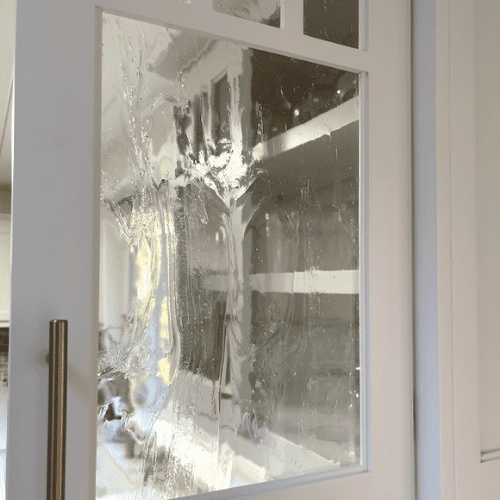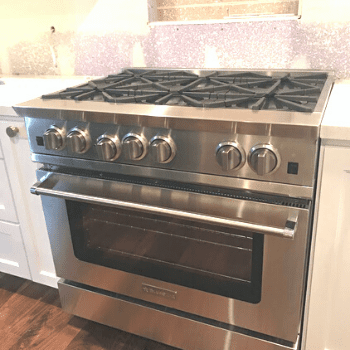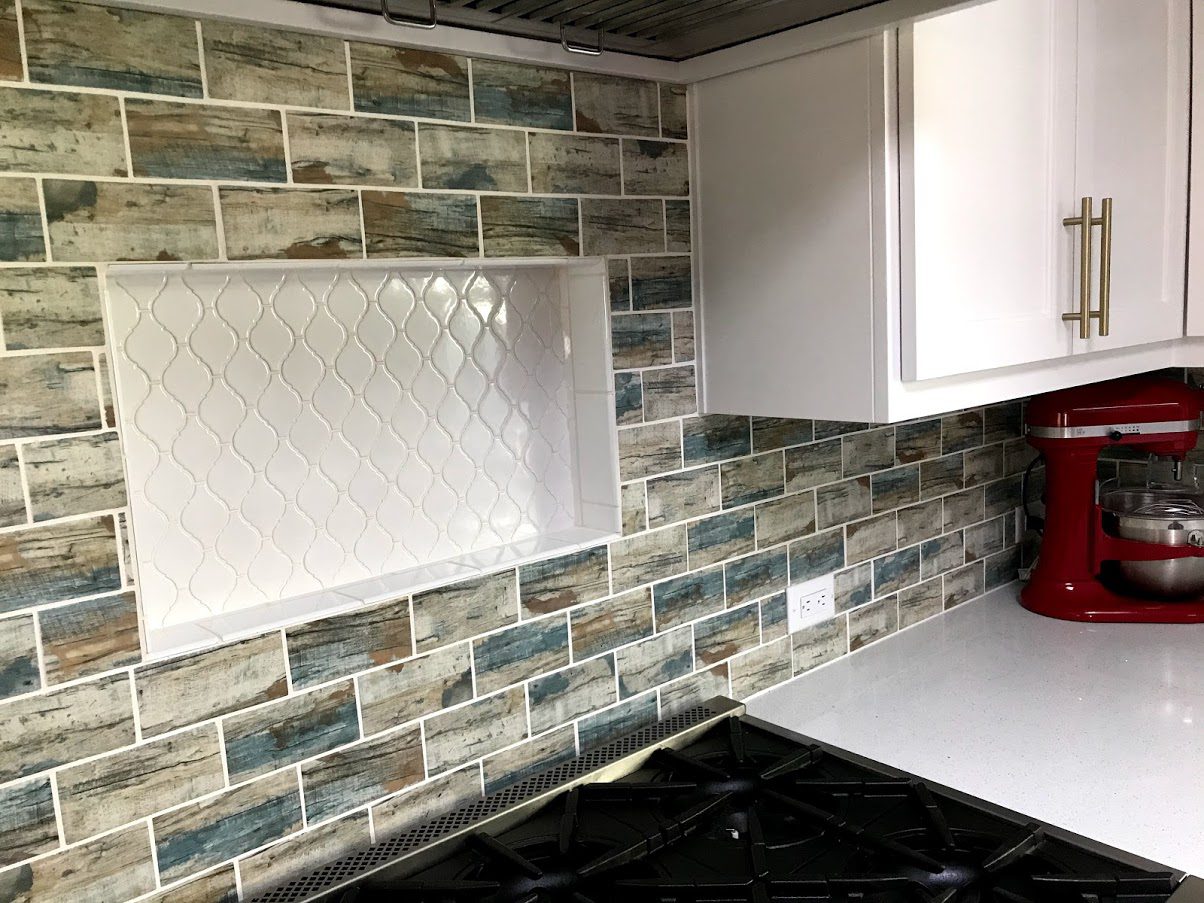 We went back and forth for some time before we decided on the range. I knew I wanted a big statement that was also a workhorse. (as close as I could get to a commercial-grade range) We went with a BlueStar 36″ 6 burner slide-in range.  It has open burners capable of a 22BTU output (that's hot!) and the continuous cast-iron grates allow me to move pots and pan around easily. It boasts an extra-large convection oven and an insanely intense 1850° infrared broiler.  I love, love, love it! And my husband loves all the culinary masterpiece meals that I make with it!
I did all the backsplash tile work myself and I'm pretty proud of it. (minus the spots where I know I messed up).  I ordered my tile from Mineral Tiles for both the backsplash and the wall niche behind the range.  The price was right and shipping was fast.   It took me 3 weekends to finish, because I'm slow, didn't have the right tools, and kinda hated doing it.  Will I ever tile a backsplash again?  Nope.  But I'm glad I took on the project and know that I'll never become a tile setter.  Mad props to those guys who can do it day in and day out!
Expert tip ~ place the electrical outlets horizontal and lower than normal.  Now the eyesore outlets won't distract from the painstakingly long hours of labor that went into the beautiful tile backsplash!
So much more…
Each element of building this kitchen could be a blog post of its own, but for now, I'm going to end here, knowing that we still have more work to do.  And no matter how many years we live here, there are always more projects and always more things to improve, repair, or bring into this decade.
Ahhhh….the joys of homeownership!
Refresh your home with spring decor, spring cleaning, and a bright new season to cheer you up after a long winter of hibernation.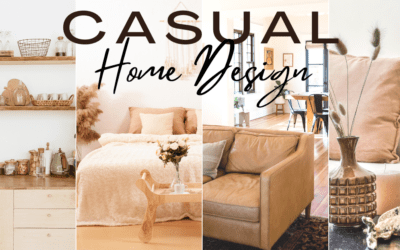 Soft and comfortable. Natural and relaxed. Lived in and refined. Modest and chic. The Casual Home Design is a comforting warm embrace to come home to each day and one that we just can't get enough of.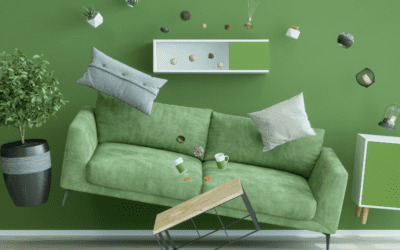 Home design is ever changing. Are we moving past the grays of the last several years into to an actual color? Green is showing up everywhere, so let's take a look!
This post may contain affiliate links. Danelia Design is a participant in the Amazon Services LLC Associates Program, an affiliate advertising program designed to provide a means for sites to earn advertising fees by advertising and linking to amazon.com. For more information, please read my disclaimer here.