A home coffee bar.
something you never knew you needed
(and you really do need one!)
The ubiquitous caffeine fix has turned your standard countertop Mr. Coffee machine into a morning moment to treasure. What was once a .50 cent cup from Denny's no longer satisfies the average person. The fancier the order the better.  However with all that fanciness comes a price.  The answer? A Do It Yourself Home Coffee Bar!
Oh Coffee, how do I love thee? Let me count the ways…
Your One-Stop Morning Coffee Routine, all while wearing your jammies
Whether it's coffee, tea, or hot cocoa, we can all agree that a cup of something warm in the morning is the best way to start your day.  And Starbucks isn't the only way to get your fix.  With easy to operate home espresso machines, high-end coffee from around the world one click and pay order away, and every flavor of 1, 2, or 3 pump yumminess found right at your grocery store, why wouldn't we set up a special spot in our home to congregate and enjoy a cup o' joe?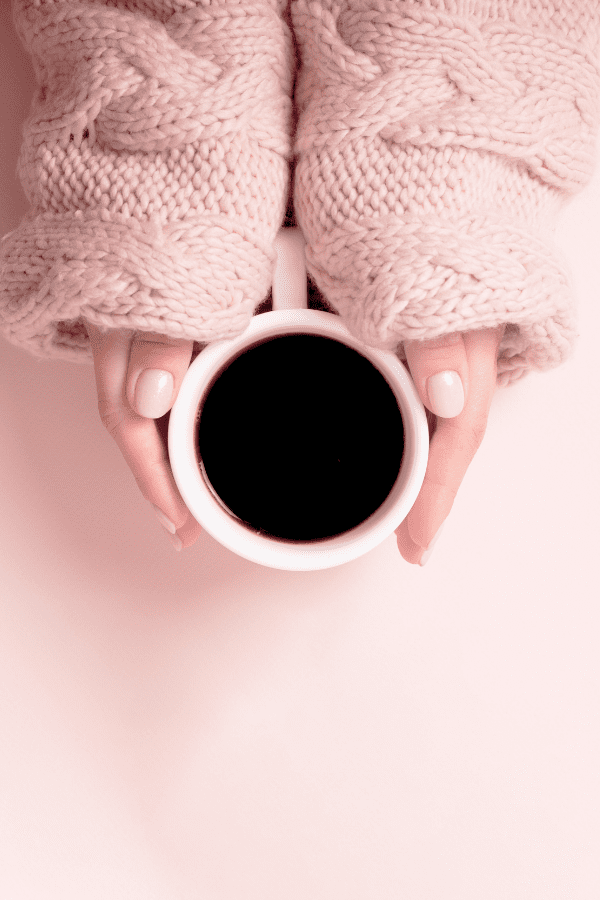 I bought myself a Nespresso maker a couple years ago.  This one purchase changed my life forever.  Seriously.  I've always been a tea drinker.  And I love tea. Black loose leaf Earl Gray.  The stronger the better.  Every day.  And then came along the Nespresso.  There I was, minding my own business, walking through a Sur La Table store, when I passed by a woman sampling cups of espresso made with the Nespesso machine.  Cue the angels singing, because folks, it was AMAZING!  So when I got home, I opened my laptop, found the Nespresso store, and whipped out my credit card. Take my money, please!  When the box arrived I was like a kid at Christmas.  The wonderful people at Nespresso even gifted me a full sample box of coffee to try.  And I just had to have the milk frother, of course.  Can't make supreme lattes without one.  So from that moment on, my morning ritual now includes a fancy-pants cup of coffee, in my jammies, taking deep breaths, and just BEING.
What you'll Need for a DIY coffee Bar
An old armoire that you no longer use
Decorative wall paneling, cut to size
Paint and painting supplies
hammer, nails, glue gun, or staple gun
Coffee signage, cups, baskets, string lights, and other fun accessories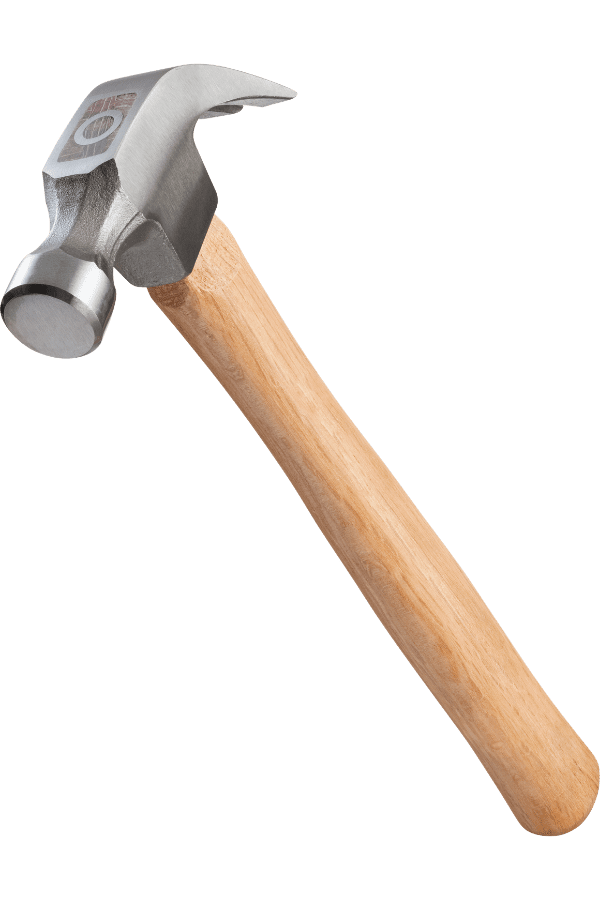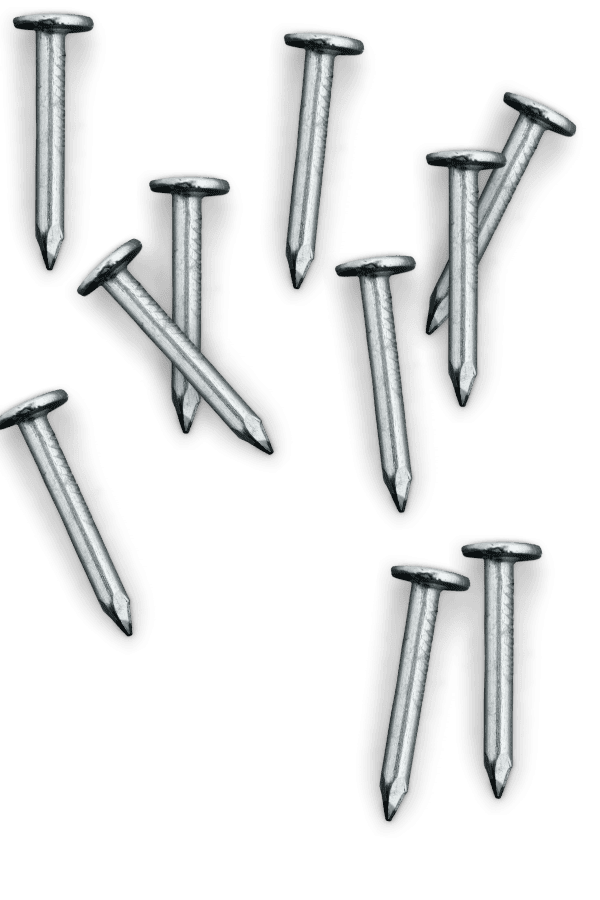 There are dozens of ways to design a home coffee bar.  Go ahead and Google "home coffee bar" images and you'll fall down a rabbit hole of caffeine-inspired wonderment.   I just happened to stumble across this computer armoire on FB Marketplace for $30 and figured I could do something fun with it for very little cost.
The piece was in great condition, other than the back panel, which I planned on replacing anyway.  Removing the back panel was a breeze!  The nails just popped right out of the pressboard wood, so I was able to save them for later.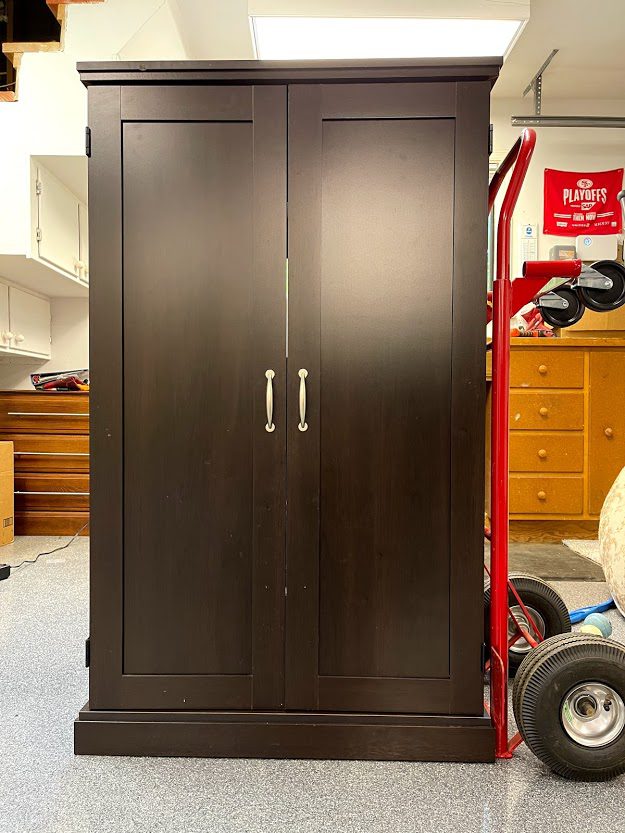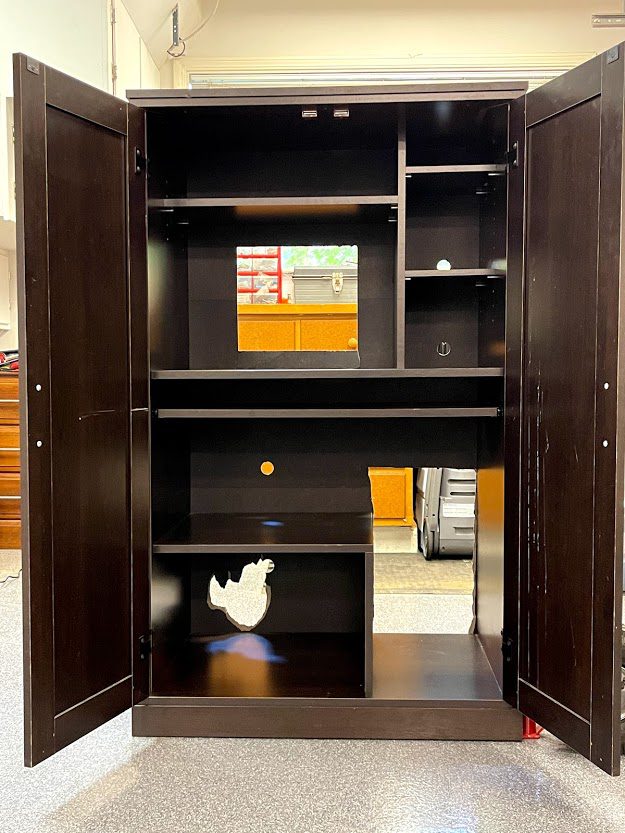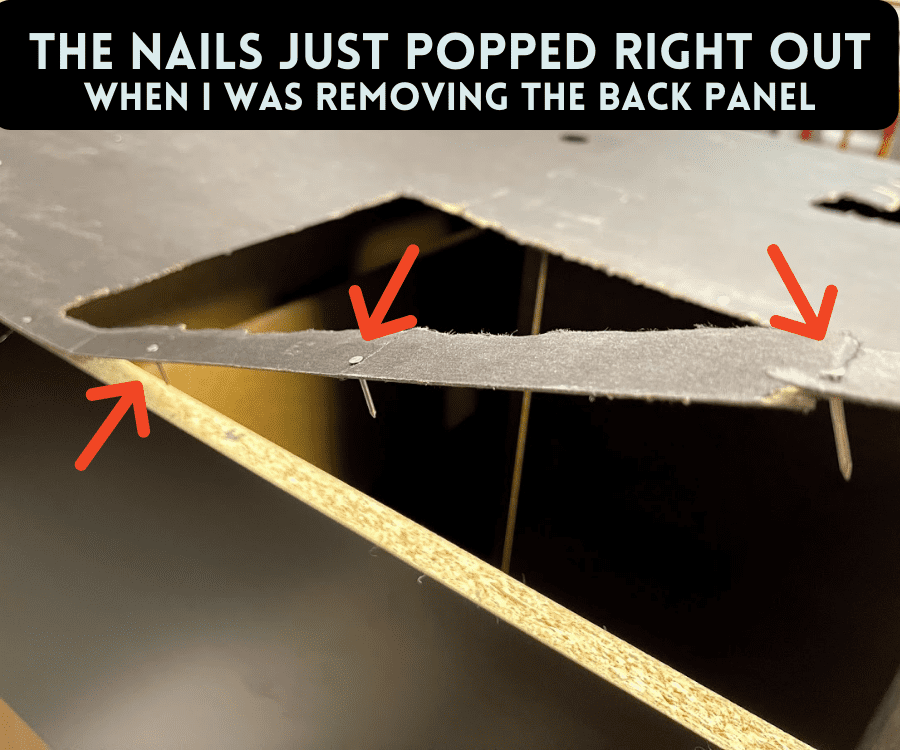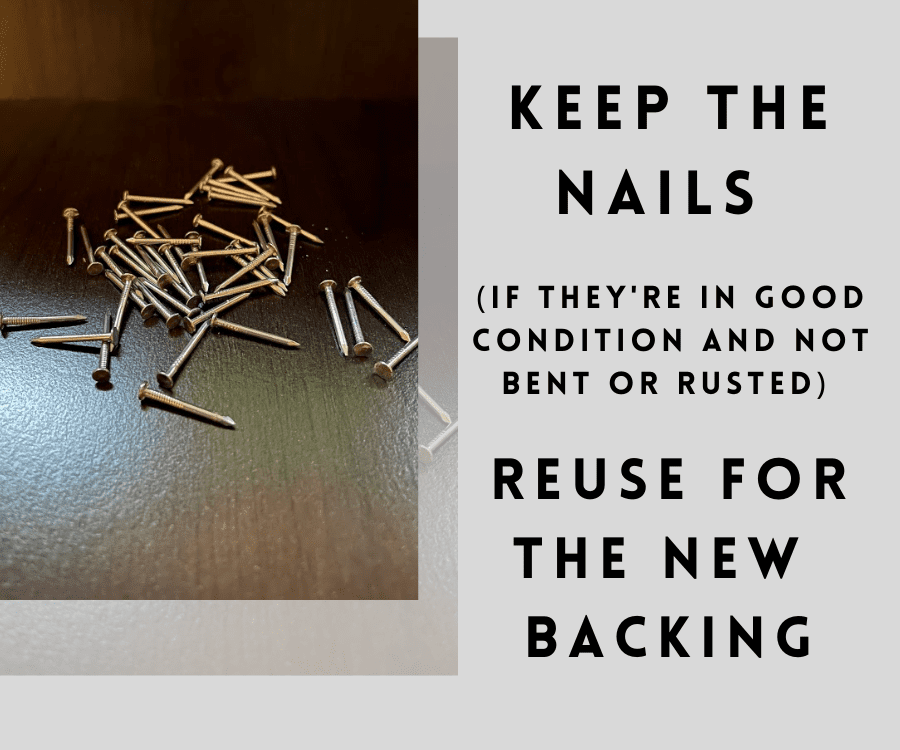 When shopping at Lowe's or Home Depot, they will make up to 6 free cuts for you. They charge after that. (The number may vary by store location)  I brought in my measurements for the back panel and had their cool cutting machine do all the work for me.  Plus, it's just fun to watch!
The wall panel selection choices were enough that I could find something to fit almost any design I wanted to go with. I decided on a brown woodgrain pallet look.  But I could have just as easily gone with beadboard, barnwood, or something with texture.   Paint or wallpaper would give you endless options for the backdrop, too.  Get creative and use your imagination.
With the back panel cut to size, it was fairly easy to nail in.  I used saw horses to lay the cabinet down for easier access and better leverage with the hammer.  I had decided to use the same door handles, but if those had been removed, the cabinet could have been placed face down on the ground for this process.  I used painter's tape to keep the doors closed for easier moveability.
To remember where the interior nail line went, I marked the centerline and used a string to guide the nail placement.  Drawing a pencil line with a straight edge is another option.  Once the back is on and you can't see,  it can be a bit tricky to be exact with your nail placement.  The nails were evenly spaced around the perimeter of the cabinet, and for additional stability, they were lined up with the red arrows marked on the image.
Once all the nails were in, I measured for the location of the cut-out for the electrical cords. I pulled out my reciprocating saw and made the cut-out small enough so it wouldn't be so obvious from the front, but large enough that a 3-prong plug could easily fit through.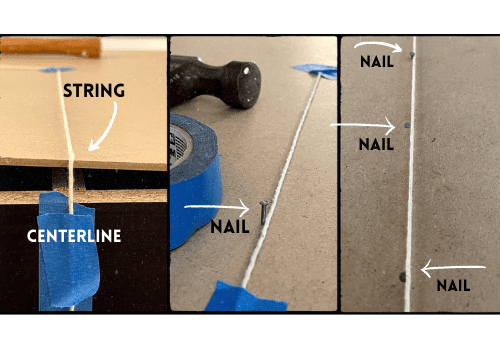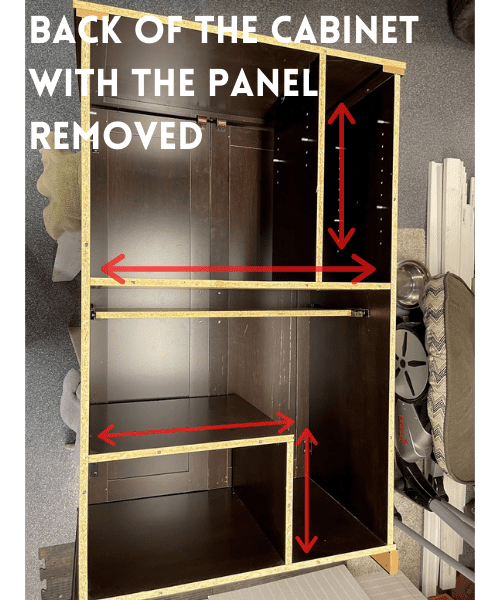 I removed the doors to paint the interior center sections using chalkboard paint.  I could have also added an initial layer of magnetic paint.  I've done both in the past with great results. They come in handy quart-size containers for smaller projects.
I used painter's tape to mask off the "framed" area, and a roller to apply 3 coats of chalkboard paint.  You can also buy a spray paint version, or contact paper, peel & stick, and cut to size.
Now to reinstall the doors, change out the handles, (I kept the originals), and set everything up!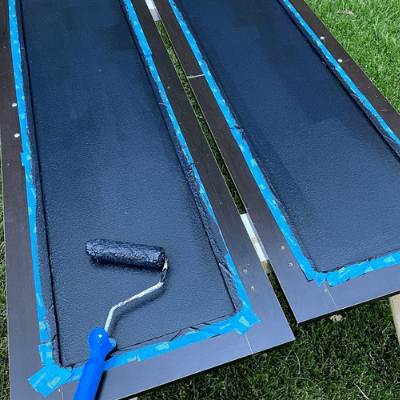 now for the fun part...
Setting up your home coffee bar!
The sky is the limit when it comes to ways to decorate and use your coffee bar,  Or tea bar,  Or hot cocoa bar,  Or  ???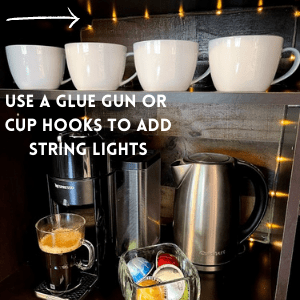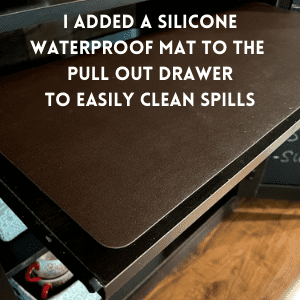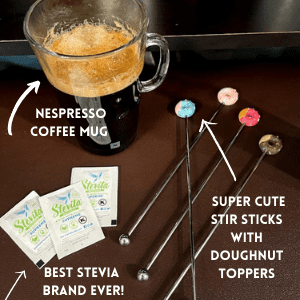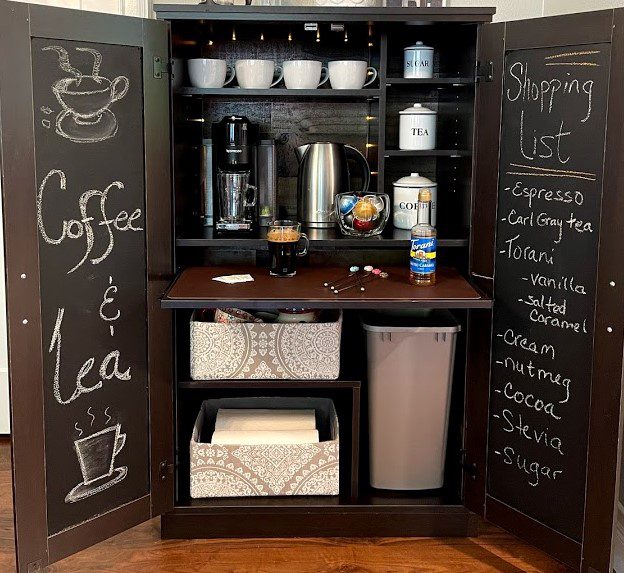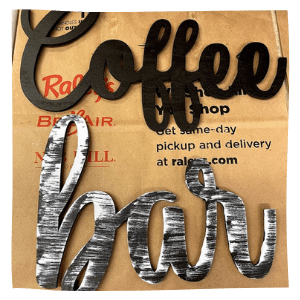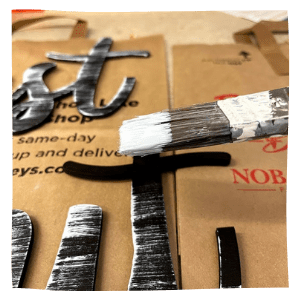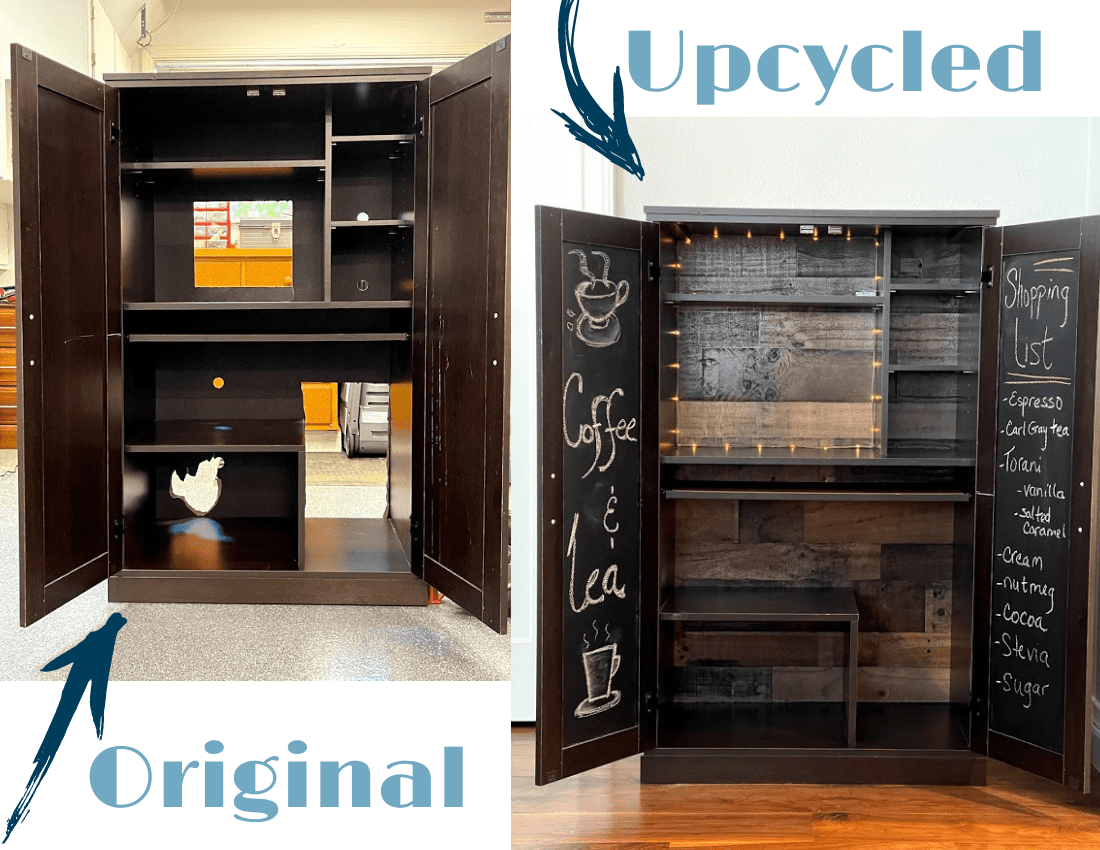 coffee drinkers in the US (per the US coffee association)
Americans who prepare coffee at home
women in the US who drink coffee
men in the US who drink coffee
people who prefer their coffee black
Melita Porcelain Pour Over Set
Kicking Horse Coffee Beans
This post may contain affiliate links. Danelia Design is a participant in the Amazon Services LLC Associates Program, an affiliate advertising program designed to provide a means for sites to earn advertising fees by advertising and linking to amazon.com. For more information, please read my disclaimer here.