Organizing your spices
What is the best way to keep and organize spice containers?  If you've bought cream of tarter three different times because you didn't know you had any from the last time you made a meringue or the time before that from five years back, then organizing your spices in a way where you can easily find what you need, when you need it, will save you time and money.
I cook.  I cook A LOT.  By default that means I have a ton of spices and every time I try a new exotic recipe that means I buy another jar of something I'd never heard of.  For me, it's fun to try new flavors, something that I may have experienced dining out, or a smell that brings memories of a faraway place, or something that I might only use once, but the dish was AMAZING and so worth it!
The downside to having a copious amount of spices is WHERE exactly do I keep them and HOW can I organize them so they're easily reachable.  I've tried baskets and buckets and drawers and cabinets, but something inevitably gets stored way in the back that I forget I have.  Pumpkin spice.  I buy it every couple of years forgetting I already have some. Cream of tartar. The same.  And for some reason, I kept buying celery salt. Who needs 3 jars of marjoram?
Cruising down memory lane, this is the spice rack my mother had hanging on the kitchen wall. We mostly used garlic salt and Italian spices. We had a large family and spaghetti was cost-effective, could be made in large amounts, and would typically provide leftovers (a rare treat for lunch the next day).  Every Sunday throughout my childhood, my stepdad Tom made his version of spaghetti. Tomato-based sauce that simmered all day on the stovetop, filling the house with smells of oregano and garlic.  The recipe changed week to week, depending on what, or how many, vegetables he added and what type of pasta happened to strike his fancy.  For us, and the friends who would join us for Sunday dinner, this pasta and sauce feast (always served with garlic bread) became known as "Tom-Slop".  Unappealing name, but a weekly meal in our household that brings back happy memories of friends and family coming together to share a meal.  To this day I run across friends from way back who remember Tom Slop Sunday!
"Once you get a spice in your home, you have it forever. Women never throw out spices. The Egyptians were buried with their spices. I know which one I'm taking with me when I go."
"Even just a few spices or ethnic condiments that you can keep in your pantry can turn your mundane dishes into a culinary masterpiece."
"He who controls the spice controls the universe."
"A good spice often deceives us into thinking that someone is a good cook."
What spice can't you live without?  Or what spice do you use regularly that most of us aren't familiar with?  Are you a crazed spice hoarder like me? I'd love to hear in the comments below!
Refresh your home with spring decor, spring cleaning, and a bright new season to cheer you up after a long winter of hibernation.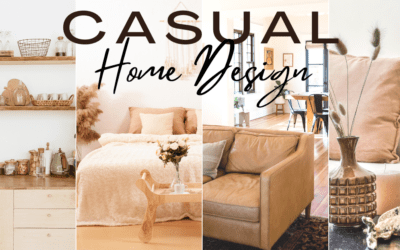 Soft and comfortable. Natural and relaxed. Lived in and refined. Modest and chic. The Casual Home Design is a comforting warm embrace to come home to each day and one that we just can't get enough of.
How to keep and maintain your New Year's Resolution. It may be as simple as making the RIGHT resolution that brings joy and happiness into your life. Stop thinking about what you shouldn't do, and change your resolution to what you can add into your life to gain more happiness.
This post may contain affiliate links. Danelia Design is a participant in the Amazon Services LLC Associates Program, an affiliate advertising program designed to provide a means for sites to earn advertising fees by advertising and linking to amazon.com. For more information, please read my disclaimer here.