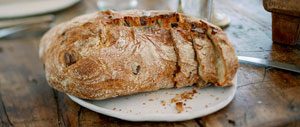 Mix things up
dining al fresco
There is something magical about taking your meal outdoors. Make a simple plate of food into a magical moment.  It can take a boring bbq to another level.  An evening cocktail tastes better while under the glow of string lights.  Who doesn't like to breathe in the fresh summer air and hear birds chirping in the distance?  Stepping outside can transform your meal into a short vacation from the call of dishes and laundry waiting back in the house.
A perfectly designed outdoor entertaining area can bring you to any spot in the world, simply by adding a few accents.  Tablecloths, candles, & the good china.  Make it a big deal and your family and friends will remember how special you made them feel.  (and if you overcook the burgers, they might not even notice!)
Outdoor entertaining can be as simple as a BBQ and paper plate.  But to really up your game, put some time into the details.  Ideally, you'll want to create an outside dining experience.  More than just the meal, think about the space you're working with.  Whether it's a patio, balcony, deck, or an acre of open space, create an intimate setting by boxing in an imaginary room.  Using an outdoor rug as an anchor, arrange your furniture in the same way outside, as you would indoors. When designing an outdoor living space create three "rooms".  A place to relax, a spot to eat, and an inviting area to visit.  This can be an "all-in-one" by using the right furniture.  An outdoor seating set can double as a dining area and a smaller chair or two will give you a great conversation spot.
Consider the use of your space.  Do you want your guests to relax on an outdoor sofa?  Add a side accent table, somewhere to put a drink down.  Make sure you have an outdoor coffee table or ottoman to put your feet up, add some throw pillows and a cozy blanket for when the sun goes down.  Lighting is just as important.  String lights will set the mood, while solar or low voltage path lighting can be both attractive and functional.  Where you place your furniture matters, too.  Shade in the heat of the day is ideal and there are plenty of options for outdoor umbrellas.  If you're able to add a fire pit, create seating to best enjoy the heat.  If a nap is in your future, there's nothing better than a hammock that cradles your while you sleep.
outside rooms
Accents matter //
Bring the indoors out and add accents that you may only normally consider to be interior decor.  When it comes to building a special spot to entertain, the small things can have a big impact.  Adding a rug, some pillows, and a throw blanket or two will keep your guests cozy when the cooler temperatures show up.  Switching up your pillows will set the scene for any event.  Think red, white, and blue or tropical floral prints.
Seating for all
When unexpected guests show and seating is short, grab the fold-up camping chairs from the garage.  Bring over a bench from the other side of the yard.  For simple DIY table space, use concrete blocks or two wine barrels and add a wood slab between them for the tabletop. Not all seating has to be formal. 
Create your menu
Think ahead and prepare side dishes in advance.  Use the BBQ to grill a simple main course and you can spend the time with your guests, instead of bent over a hot stove while your friends are outside, enjoying a cocktail, and waiting for the food. Don't be behind the scenes,  Be a part of your part-y!

Relax & Unwind
Not all entertainment has to be loud and festive. Find an intimate spot to share a quiet moment with your best friend or with a loved one.   Sit and enjoy the early morning sun on your face or an evening by the fire, reminisce about old times, create new memories, and enjoy the moment.
quick meal
no cooking required //
My hands-down favorite and the easiest throw-together meal doesn't even involve cooking.  Pull out your wooden cutting board and load it up with some deli meat, cheese, fruits, and veggies.  Add some crackers and you have a meal fit for a king!  Anything goes for these platters of yumminess.  Whatever is in your fridge or cupboard is fair game.  Finish it off with some dark chocolate squares or dried fruit to compliment the savory items and you can have a complete meal in no time flat!
Make it fun
For the competitive ones in your group, include lawn games as part of your get-together.  Corn hole, darts, ladder ball, or a giant game of connect-four are all great ways to add some entertainment to your event.
Creative
Any Day,
Any Time //
Outdoor entertaining in the evening has advantages like a firepit, string lights, and stargazing, but don't limit your outside meals to nighttime only.  Inviting friends over for brunch doesn't have to wait until Mother's Day or Easter.  Share a meal with family and good friends over coffee and bagels.  Or go all out and bake a quiche and create a DIY mimosa bar.  Start a tradition with an Annual Ladies Luncheon and have it catered.  Let the kids decide the menu and have the family eat outside as they serve you.  Any excuse is a good excuse to spend some time outdoors.
Sunday brunch with the family equals memories in the making.  Enjoy pancakes in your pajamas.  Or dress up and serve champagne. Or drink champagne in your pj's. Anything goes!
BBQ can be as basic as hot dogs and hamburgers or as elegant as lobster tails.  Firing up the grill keeps you outside with your guests, and who doesn't want the title of "Grill Master"?
There's nothing better than ending a fabulous meal with a sweet treat.  Homemade is great, but don't underestimate the power of Pepperidge Farms. And a cordial counts too!
Mood lighting
Add candles for ambiance. Solar lights are fantastic, and you can never go wrong with industrial string lights.  A few flaming tiki torches thrown into the mix are always a party favorite.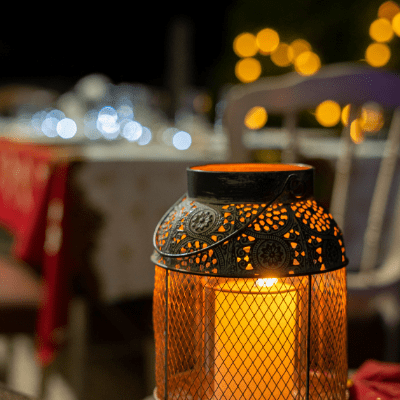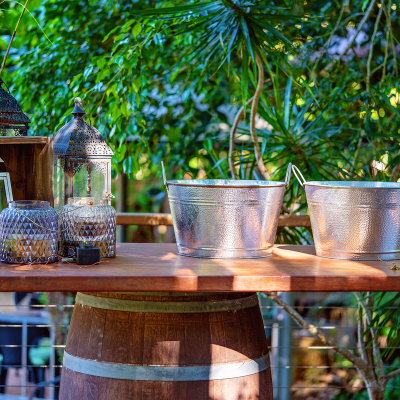 Buckets for cold drinks
Ice-filled buckets hold cans of adult beverages, white wine, or bottles of beer, keeping everything frosty cold and quickly available for self-serve.  Add a second bucket for sodas and bottles of water.
Make it a potluck
Let your friends share their favorite recipes while saving you time and effort.  What's under the lid is a surprise every time!  Make sure to have plenty of serving utensils on hand, you'll most likely need them.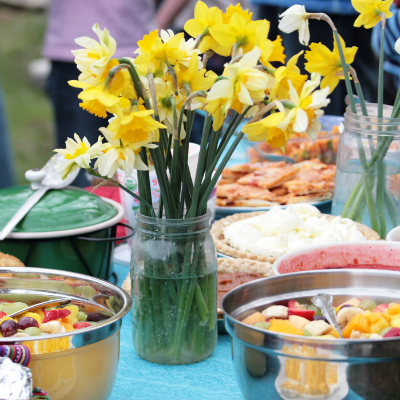 Reviews
Raving Reviews
Making memories with outdoor entertaining can be the best part of summer.  Backyard BBQs or morning coffee is a special treat to share with the ones you love.  Focus on making your guests feel cared for and make sure they leave with a smile on their faces.
I don't know if you should "always leave them wanting more" as the saying goes. My thoughts are to spend some time, put in a little effort, and you'll…
"Always leave them wanting to come back!"
Refresh your home with spring decor, spring cleaning, and a bright new season to cheer you up after a long winter of hibernation.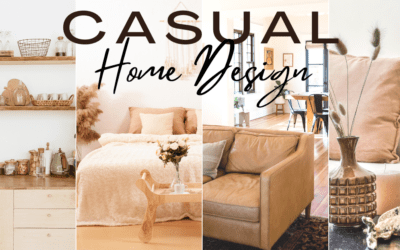 Soft and comfortable. Natural and relaxed. Lived in and refined. Modest and chic. The Casual Home Design is a comforting warm embrace to come home to each day and one that we just can't get enough of.
How to keep and maintain your New Year's Resolution. It may be as simple as making the RIGHT resolution that brings joy and happiness into your life. Stop thinking about what you shouldn't do, and change your resolution to what you can add into your life to gain more happiness.
This post may contain affiliate links. Danelia Design is a participant in the Amazon Services LLC Associates Program, an affiliate advertising program designed to provide a means for sites to earn advertising fees by advertising and linking to amazon.com. For more information, please read my disclaimer here.