Mocktail Recipes
With Citrus Fruit And Flavorful Herbs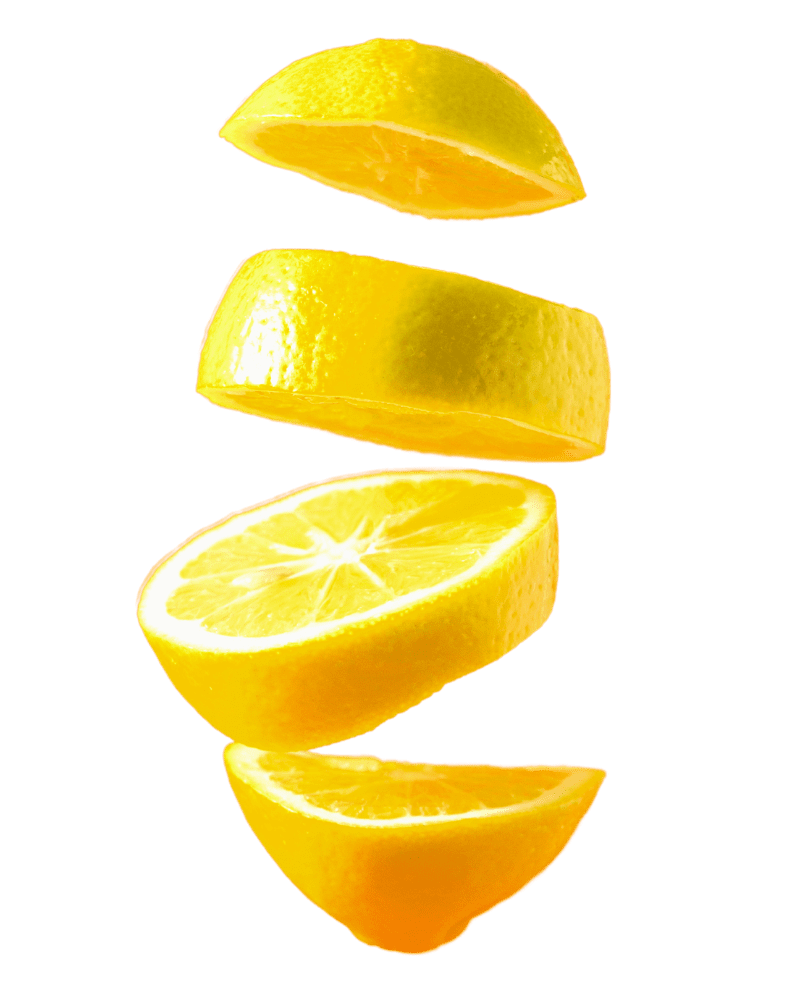 There are just those times when you want something refreshing and non-alcoholic.  Maybe you're trying to be healthier, maybe it's just too hot for a beer (yes, that can happen!), or maybe you want to serve your guests a perfect afternoon alternative that's light and flavorfully hydrating.
A fresh citrus mocktail will hit the spot!
How To Approach
Each Recipe
The quantities are intentionally left out of each recipe.  Modify the flavors to your own taste and sweetness level.  Also,  there's no judgment here if a little vodka or gin happens to spill into your glass! 

Use fresh ingredients where suggested.  The freshly squeezed lemon juice or rosemary sprig really will make a difference.  But if you don't have those things, modifying with dried or bottled ingredients is perfectly acceptable.  It's your house, you do what you want! 

Typically any clear bubbly beverage will be a great addition.  If you want more than just plain seltzer water, try flavored seltzers, ginger ale, or a lemon-lime soda.

Experiment with different herbs or different citrus fruits.  Turn the recipe into your own signature drink.

More importantly, just enjoy a magical mocktail that you will be proud to serve your guests!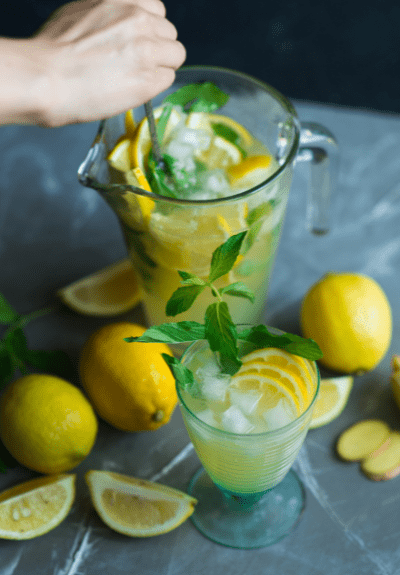 Fresh Citrus
Freshly squeezed lemons, limes, oranges, and grapefruit will make for the best-tasting beverage.  But if they're not available, don't let that stop you! Canned and bottled juices are the quicker and easier route.  And who wants more work than they need?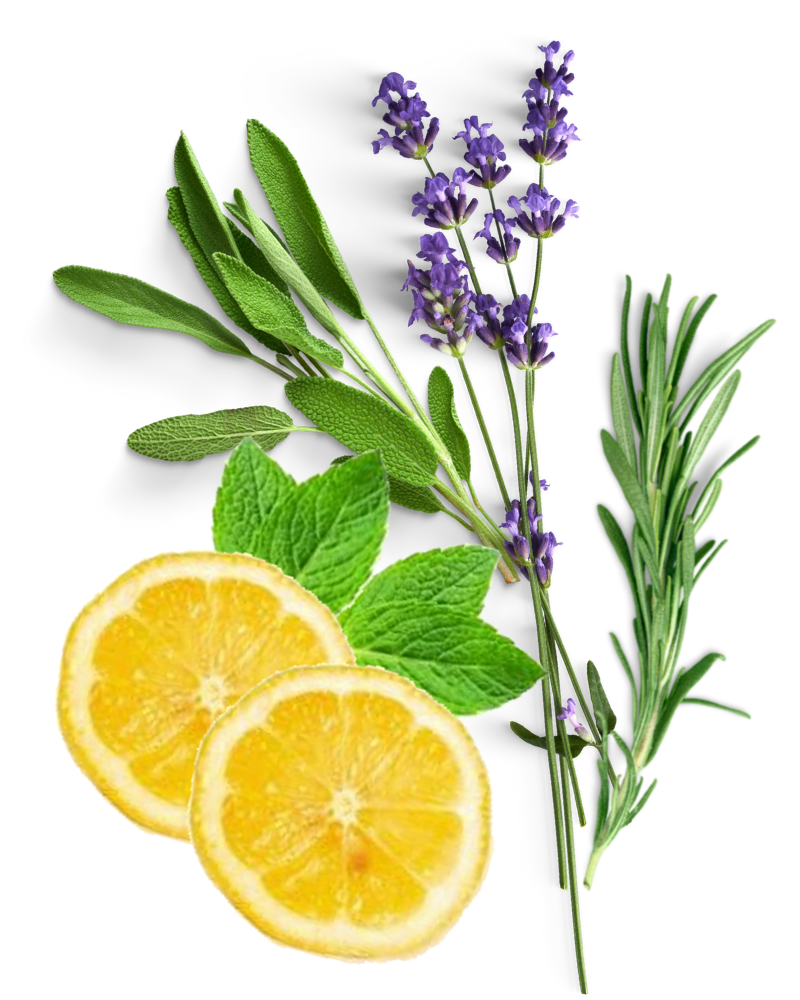 I'm able to walk right out in my yard and pick lemons and oranges off of my trees when they're in season.  I also grow all sorts of herbs year round.  But I'm aware that it's not always that easy.  So if you don't happen to have a mini orchard in your front yard,  the grocery store should carry all the ingredients you need to make the drink recipes below.
Strawberry Sour
Strawberries

Fresh basil

Lemon juice

Seltzer water or

Ginger ale

Sugar or sweetener, if desired
Clean, hull, and cut the strawberries.  (Frozen strawberries are a great year-round ingredient if fresh aren't available)  Chop fresh basil leaves.  Muddle together or use a blender to combine.  Add the lemon juice.  Pour into chilled glasses and top with the bubbly drink of your choice.  Add sweetener to your taste.  Garnish with basil leaves and a fresh strawberry.
Lavender Libation
1 cup water

1 cup sugar

Dried lavender

Lemon juice

Water (sparkling or flat)

1 Tbsp Honey

Lemon slices, for garnish
On the stovetop on low, combine equal parts water and sugar until sugar is dissolved and water is just to the boiling point. (simple syrup).  Remove from stovetop and add the dried lavender and honey and let steep for 10-15 minutes.  Strain the liquid to remove the lavender.  Add water, lemon juice, and ice to a glass. Add the lavender simple syrup to your own sweetness level. (1-2 tbsp) Stir. For a little something extra, add a drop or two of purple food coloring.
Limonada
Fresh limes or lime juice

Sugar or sweetener

Flat or bubbly water

Mint for garnish
This is a ubiquitous drink in Mexico where lemons are hard to come by, but limes grow in abundance.  You'll fall in love with this cousin to your favorite lemonade.
Juice fresh limes or use lime juice.   Pour in water and add sugar or sweetener to taste.  Top with ice.  Garnish with lime slices and a sprig of mint.  
You can make this by the quart ahead of time, and keep it in the refrigerator for when you feel like a fancy drink without all the effort.  Use a martini glass or champagne flute and make it a party!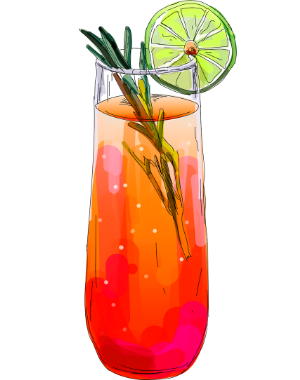 Pink Italian
1 cup water

1 cup sugar

Fresh rosemary sprigs

Lime juice

Pink grapefruit juice

Citrus fruit slices, for garnish
To make the rosemary syrup: On the stovetop on low, combine equal parts water and sugar until sugar is dissolved and the water is just to a boil. (simple syrup) Remove from the stovetop and add the rosemary.  Let steep for an hour.  Strain the liquid to remove the rosemary. This syrup will keep in the fridge for up to a month of fun beverage enjoyment!
Fill a tall glass with ice.  Add 1-2 Tbsp of rosemary syrup (to your own sweetness level) and a squeeze of lime juice.  Fill the remainder of the glass with grapefruit juice.  Stir.  Garnish with a fresh sprig of rosemary and a slice of lime.
A great-tasting mocktail doesn't have to be loaded with sugar or calories.  Leave the sugar out and use a sugar substitute like stevia.  Avoid sugary sodas and use a diet variety.  Buy juices with no added sugars.   Stay hydrated in the warmer weather, feel healthy, and enjoy the process!
"A well-crafted cocktail isn't complete without the right garnish. This final flourish – often citrus or fresh herbs – enhances the drink's taste, smell, and look"
This post may contain affiliate links. Danelia Design is a participant in the Amazon Services LLC Associates Program, an affiliate advertising program designed to provide a means for sites to earn advertising fees by advertising and linking to amazon.com. For more information, please read my disclaimer here.